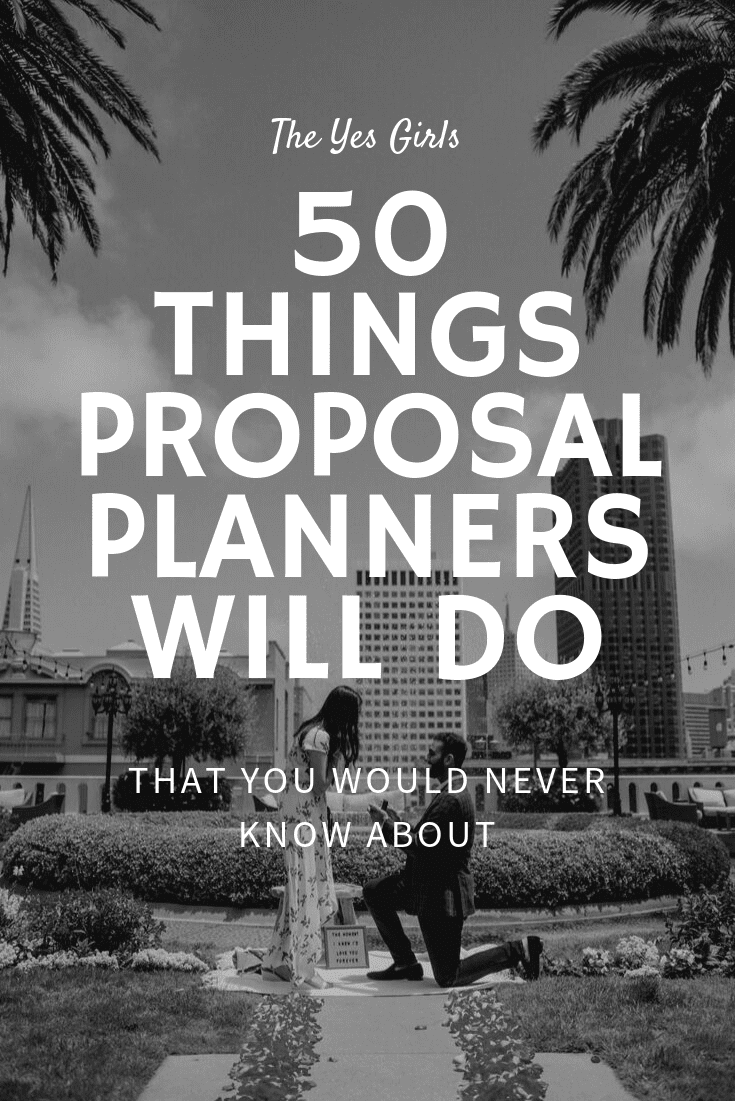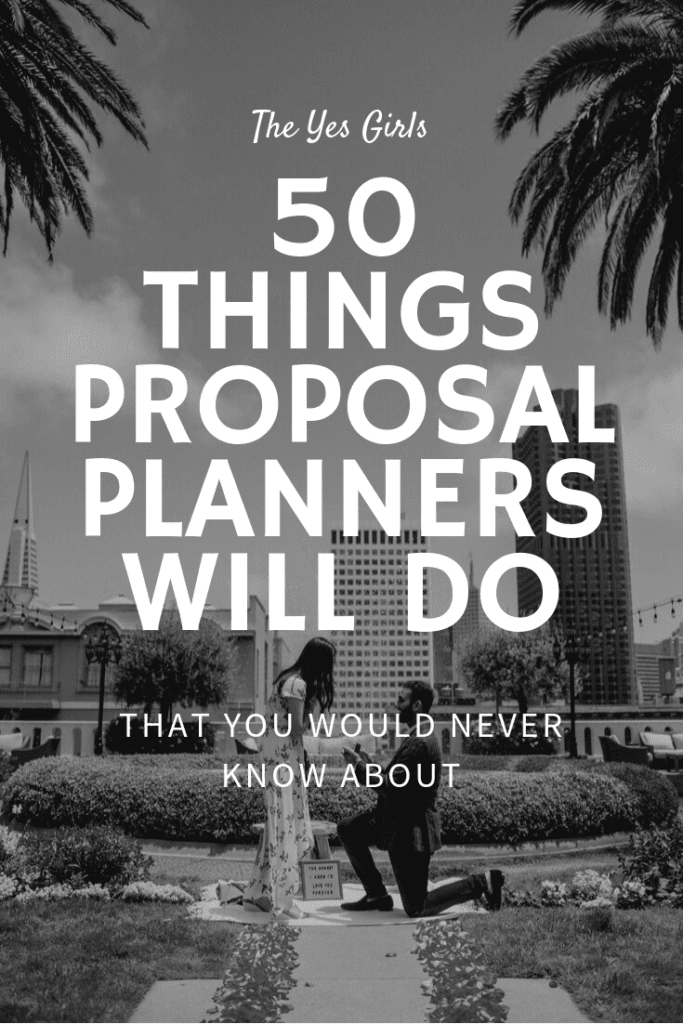 1. Create a distraction when the decor team is running late with setting up and the proposal is in ten minutes.
2. Solve any unpredictable issues with the decor (For example: A hedge wall backdrop blowing over in the wind).
3. Coordinate with the photographer on how to capture the perfect "down on one knee" shot.
4. Play therapist to calm any day-of (week-of, month-of) nerves.
5. Find alternatives if any decor pieces get lost in the mail or don't arrive on time.
6. Reach out to dozens of vendors before even receiving one response about availability or pricing (a time sucker).
7. Stalk your partner's Instagram and Pinterest pages so that we can get a feel for what they want in a proposal.
8. Negotiate pricing to help keep quality vendors and decor within your allotted budget.
9. Coordinate 30+ (sometimes unruly) family members during a proposal to make sure they don't ruin the surprise.
10. Have the florist move and re-move awkwardly placed decor pieces until they look just right.
11. Find an entire new team of vendors in an entire new city within one day when a hurricane decides to make landfall on the day of the proposal.
12. Give the photographer a shot list to make sure they get all the right photos- details, down on one knee, ring shots, etc.
13. Purchase the items that no one thinks about… batteries, tape, fishing line, sharpies, etc.
14. Have the florist remove the bright red flowers they single-handedly decided to place in the all-white flower display.
15. Have the florist drive to the flower market to pick up the client's specifically requested pink peonies so it's present in the final display.
16. Think about proposals on the weekend. We don't turn work off during the weekends. While we may not be sitting at our computers, we're always thinking about the solution, the next best idea, or our to-do list for the week ahead.
17. Find a middle ground between client expectations and what the vendor can actually provide, and then deliver it in a way that's beneficial to everyone.
18. Mediate issues with vendors before they even go to the client (especially in cases of overtime charges).
19. Offer fashion and apparel advice as to what to wear for any given proposal situation (this question is more common than you think!)
20. Doing what we can to play up the ruse, whether it's creating a fake flyer or Groupon, or setting up a phony meeting through her work.
21. Play the proposal in our heads to get a feel of how the day will flow. If you've ever seen an awkward proposal video, you know that the flow of the day is what sets the perfect moments apart from the cringey moments.
22. Find solutions for problems before we even tell the client there's an issue.
23. Chase off non-permitted party-throwers from the park gazebo that was rented for your proposal. Trust us- there's no one worse to argue with than a family that thinks they can barbecue there without a permit.
24. Urge the venue to find another (private) spot for the proposal when they book two parties on the same evening, at the same time.
25. Go back through months of vendor emails to find the one sentence where a vendor promised to provide something and then didn't follow through with it on the day of the proposal.
26. Call the restaurant where the after-party will be happening and let them know that the dinner is to celebrate a marriage proposal. They typically bring out champagne or a surprise celebratory dessert!
27. Follow up with photographers multiple times after the proposal to make sure the photos arrive in a timely fashion.
28. Have the hard conversations with vendors and respectfully push back when we need to for the good of our couples.
29. Purchase items ourselves and overnight them to the proposal location when Amazon Prime won't deliver in time.
30. Find a public area for the florist to start prepping flowers when they need 3 hours to prepare, but only have 45 minutes to set up at the venue.
31. Track the flight that the fiance-to-be is flying in on, just in case there's a delay and the proposal needs to be pushed back.
32. Ensure the florist uses specific flowers so they don't spend the entire floral budget on grocery store hydrangeas and filler (MOST florists won't do this, but it's happened!)
33. Get the whole team involved. Several heads are better than one, and if there's a problem, our creative brains can come up with a solution simply by talking it through!
34. Ensure that all venue rules are followed so that there aren't any additional fees (at many venues, even one flower petal left behind can result in a several hundred-dollar penalty).
35. Anticipate the spaces in the timeline that may be too tight and add buffer space to keep everything on track.
36. Search for hours on Pinterest and Google to find one inspiration photo to send to the florist so that we can clearly show our vision.
37. Guide lost guests and vendors via phone to the correct location.
38. Send permits and contracts to county rangers when they "shut down" the proposal, and then go on with the proposal as if there was never a 45-minute time delay in setting up.
39. Sweet talk a limo driver into letting a dog ride in the car to the proposal, when it's against company policies.
40. Make sure that no one else's proposal is the exact same. We browse the internet and social media to make sure that, since our client's ideas are copyrighted, no one is using the exact same idea!
41. Clean up ugly spaces. There's no telling for sure what a venue will look like until you show up, so we take care of the ugly distractions like branches, seaweed, footprints, etc. that make for not-so-pretty photos.
42. Consider the worst but focus on the best. Proposals are positive, happy situations so we try to keep the energy up until we know without a doubt that we have a poor situation on our hands (which is why we don't look at the weather until a few days before the proposal).
43. Compete with our coworkers, but not in the way that you think. When creating ideas for clients, we love to see who can come up with the better idea, and which the client will pick. Ultimately, it's a win for the client since we're always striving to make our ideas better.
44. Spend most of our workday emailing. Emailing new vendors for new proposals, reaching out to past vendors about proposals a few weeks back, send inquiries, emailing with team members, emailing clients, forwarding receipts, sending off timelines and floor plans, etc.
45. Have the concierge at the international resort we're working with send a staff member out to purchase picture frames so that we don't have to pay international shipping fees.
46. Get on the phone at all hours of the night to talk to vendors in different time zones, or even different days (we're looking at you Japan- 14 hours ahead!)
47. Ask the musicians to play the same song repeatedly until you arrive so that as soon as you step out of the car, you hear your song (no awkward pauses!)
48. Spend days- sometimes weeks- creating a unique, custom decor piece that will be used for five minutes (but hey, it's worth it!)
49. Think of our clients as friends. We learn to know the love story, the fears, the hopes and dreams… and why wouldn't we go above and beyond to help our friends?
50. Celebrate YOU! While we can't always be at every proposal (planning remotely), we're always celebrating our sweet clients that entrusted us to be a part of this once-in-a-lifetime moment. Just know that we're sipping champagne right along with you, friend!