According to a recent wedding study from The Knot, the average wedding size in America is 131 guests. Sounds like a lot of guests, doesn't it? Interestingly, the number is lower than it has been in years, down from a high of 153 over a decade ago. There are a plethora of benefits of an intimate wedding, from money to logistics to the undeniable romance of an intimate vibe. We definitely do not blame them! Here are some of the most-cited reasons why the soon-to-be-married often go for intimate over oversized.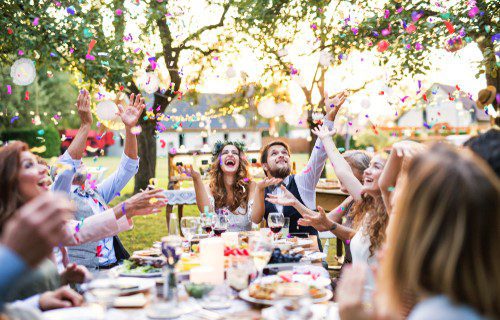 1. It Costs Less… — Of course, the most obvious reason why you might keep your guest list short is funds. The cost of catering is the biggest drain on the wedding day budget — ringing up for an average of $70 per person in the U.S. — but then you have to consider the other items that will spike your budget when you have a higher guest count. Table and chair rentals, your wedding cake, the wedding favors. They all cost money per-guest, which means more of them will mean a higher bill. Oh, and let's not forget the venue itself. Bigger locales that hold more guests tend to cost more, while smaller ones may be more affordable.
2. …So You Have More for Other Things — A house, an incredible honeymoon, those gorgeous silicone wedding bands you've been eyeing, your favorite local band or DJ. When you have less to spend on food, rentals, the venue and favors, you'll have a lot more to spend on the things you actually care about. We recommend having a conversation with your spouse-to-be about the things that matter to you both. Ask each other, "What things do we value the most?" For example, would you rather spend money on an amazing, all-inclusive party for your whole social circle or a luxury honeymoon for just the two of you? If celebrating with all your friends and family is a value, that's totally OK and a worthy way to spend your dough! Just be sure you're doing it for the right reasons, not because it's expected.
3. It's More Eco-Friendly — When you start to tick things off your wedding planning list, you'll realize rather quickly that weddings can be really wasteful. The boxes and boxes full of favors and décor, the wasted food from the buffet and dessert table and extras like fireworks can amount to a lot of pollution, energy use and packaging waste. Fun fact, though: The traditional post-I do rice throw is actually not bad for birds, so don't stress about that if you want to include it in your eco-friendly nuptials!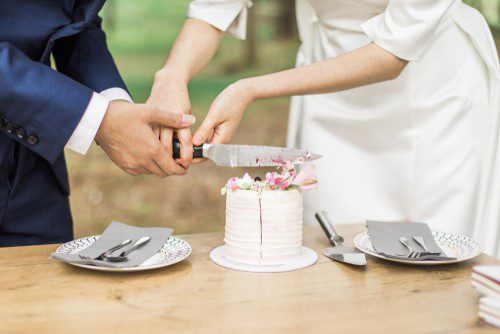 4. It's Less to Coordinate — For wedding planners and newlyweds-to-be, the to-do list seems to be pretty much never-ending, starting the day of the engagement. Naturally, smaller weddings require a lot less coordination, especially if you keep it local and only have a few out-of-town guests. On the other hand, if you're inviting your entire social circle and then some, you have to figure out lodging, transportation, entertainment and more for many people coming in from elsewhere.
5. It Makes for Gorgeous Photos — If you want candid and staged photos of you and your spouse-to-be mingling and dancing with your closest friends and family, then go for a smaller wedding. The photographer will also likely be able to get all or most of your guests in one big shot that you'll undoubtedly cherish for a lifetime! Get creative and snap a few unique group shots with your entire wedding party and all your guests.
6. It's More Authentic — These days, a 100-plus guest wedding is the standard, but sometimes that just doesn't feel true to the couple, and that's totally fine. Maybe you're the kind of pair who wants to ditch the precious metals for silicone wedding rings or swap out the standard tux shoes for Chuck Taylors. Never do anything that doesn't feel completely and totally you, especially if it requires you to double or triple your budget.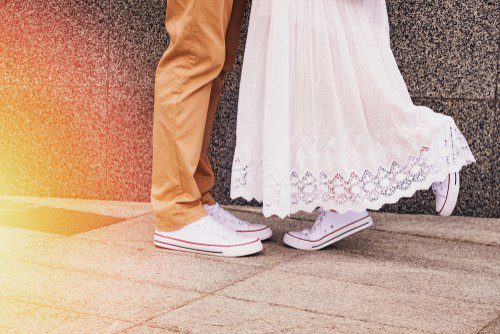 7. It's Less Limiting — When you're working with a smaller headcount, it's so much easier to nail your precise wedding vision without going way over budget. Here's why: When you have hundreds of guests, you're already limited to relatively few venues. On the other hand, if you keep it small — say, between 20 and 60 guests — you open up a whole wide world of intimate spaces ideal for warm and cozy wedding ceremonies and receptions. Many of the most extraordinary and unique venues — parks, historic homes, art museums, restaurants, etc. — have limited space to work with, which tends to rule them out for people who have longer guest lists.
8. You'll Get to Mingle with Everyone — Last but not least, when you aim for a more size-conscious wedding, you'll have a lot more time to spend with every guest. From the traditional post-dinner table visit to the bar and dance floor, you'll get a chance to thank each guest individually when you keep things small. Remember, your attendees traveled from far and wide to share their day with you, and it is truly a special thing to be with all of your loved ones in the same place at the same time!
Your Wedding, Your Vision
At the end of the day, it's important that you put together a wedding that suits your specific vision, regardless of what others may expect. Whether that be a massive 300-guest soiree or a small backyard gathering doesn't matter. If it represents the love and desires of you and your future spouse, you can consider it a wedding well-planned!
Post by: Samantha Schneider, Senior Marketing Coordinator at QALO