So you've proposed and she said yes. Congratulations! Now that the moment has passed and you've had your celebration, you'll have to determine how you want to tell others about your engagement. There are many ways to digitally announce your engagement, but your final decision will depend on what feels right to you and your soon-to-be spouse. Here are some things to consider when announcing your engagement and before you begin researching men's wedding bands.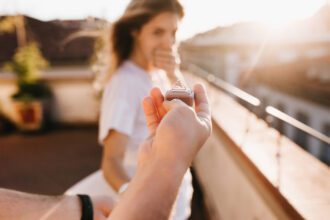 Source: Look Studio/Shutterstock
First off, make sure you agree.
Before you begin planning your digital announcement, you should talk with your partner. It's important the two of you are on the same page so that you're making an announcement that feels right. Consider who you want to tell, how you want to tell others, whether you want to tell some people in person and leave the others to digital announcements. This will depend on your relationships, personalities, and more. For instance, it might feel right to inform your parents in person. Why? They'll appreciate hearing it firsthand and you'll be able to share the excitement face to face.
Take a breath before you post.
There's no need to be digitally connected at all times. Before you rush to posting online, take the time to enjoy the moment for yourselves. That includes embracing, kissing, having a good cry, and popping open a bottle of wine (or three). And don't feel compelled to tell all the world on the day of your proposal. Call your parents and closest friends in the first few days, and then move on to making a digital announcement for everyone else to see.
Start offline.
As mentioned, begin by telling your closest family and friends about your engagement. If they live nearby, that can include seeing them in person to tell them the big news and show off the ring. If that can't be done, move on to making a phone call to hear their response.
Jump to social media.
Once you've told others about your engagement in person or by phone, move on to social media. Whether you decide to use Instagram, Facebook, Snapchat, YouTube, Twitter, or TikTok, you can properly spread the news to everyone you know. And, as we'll soon discuss, you can combine many different forms of content to let everyone hear the good news.
Announce your engagement with an Instagram post.
Want to get the news out with ease? Create a simple Instagram post. If you were able to get a photographer to capture the moment, you can share them directly with your followers. The timeless photo of the engagement ring works just as well. Also, do the two of you share pets? Put the two of them to use by taking a photo of them hugging or cheesing it up for the camera, placing a little sign in front of them that says "Future Siblings!"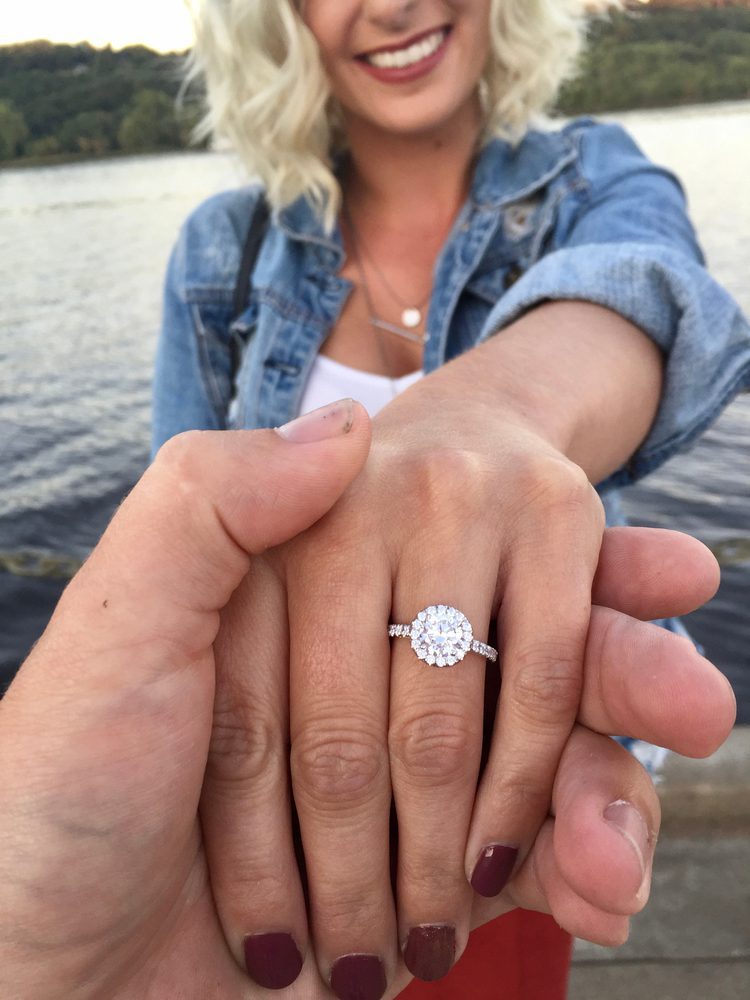 Source: Kassidy Dodge/Shutterstock
Make a dance or skit for TikTok.
TikTok has become all the rage in the past few years, especially for the dances and skits users learn and share. Do the same together, sharing the news of your engagement at the very end. You could even create a dance or skit of your own, whether it's making a funny engagement announcement or you work traditional proposal posing and reactions into an interpretive dance.
Keep it short and sweet (or not).
One way to announce your engagement is to upload a short post. That means posting nothing more than a photo and saying "Just engaged!" or "She said yes!" But you can take it a step further if you want to. Go completely heartfelt. Tell your entire story, from when you met to how you began dating, to the troubles you've faced, to the day you proposed. Your choice will depend on your personality, whether you're the type to share way too much information at once or keep your personal life close to your chest.
Make a video for YouTube.
Looking to make your announcement a little more personal? Turn it into a YouTube video. It could look like a photo collage with a voice-over from you and your fiancé, explaining your relationship and how much you're looking forward to getting married and starting a family. It could also be a video of your proposal along with a video of you breaking the news to your closest friends and family. Showing the natural emotional reactions of your parents will be a real tear-jerker for many viewers.
Hop on Photoshop.
Are you the creative one in your family? The guy who can make anything in Photoshop in less than an hour? Put those skills to good use and make something wild for your engagement announcement. It could be a sci-fi movie poster showing your adventure through the universe to a crazy photo including celebrities cheering you and your engagement on.
Spread the news but save the details.
If you already have dates set for your wedding, keep them to yourself. You don't want to invite every single person who sees your post. Instead, share the news of your engagement but keep it just to that. Live in the celebration but don't go any further.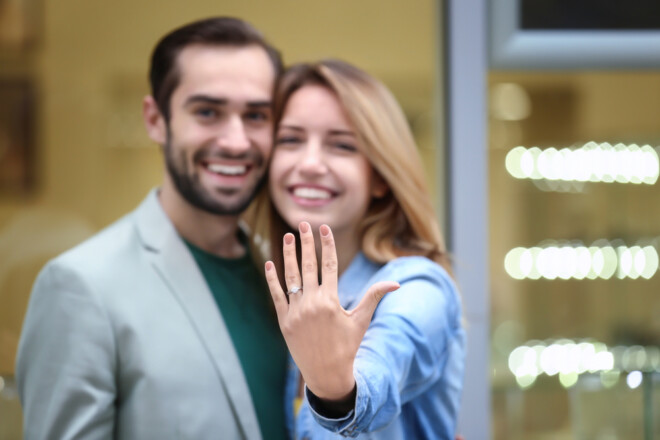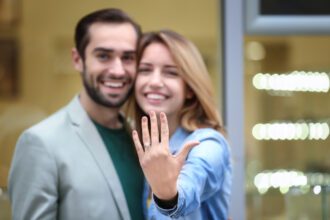 Source: Africa Studio/Shutterstock
Always say thanks.
One thing to keep in mind is to show your thanks to whoever extends their best wishes. Show your gratitude to whoever reaches out. If anything, think of it as good karma that will relate to your future marriage.
Make it count.
Find that you and your fiancé aren't digitally savvy? Prefer face-to-face interactions? Run with that! Do what feels right. It's your engagement, and you can announce it in person or by mail. It's a once-in-a-lifetime experience; make the most of it when you can.
Brought to you by Manly Bands