Few things are as romantic and heartwarming as a surprise proposal, especially at a stunning location like Crystal Cove State Beach with an Ocean View Picnic Proposal. Imagine a breathtaking picnic setup with blue hues and rattan accents, resembling serene ocean waves. This dreamy scene etched a love story in the hearts of Eric and Kenia. Let's dive into the details of this stunning ocean view picnic proposal, blending nature's beauty with love's essence.
The Proposal Details
The private outlook was the perfect backdrop for Eric's heartfelt proposal. Overlooking the ocean, it was adorned with blue jugs, symbolizing seaglass, decorated with stunning ocean-toned florals and delicate peach pops. The soft sea breeze swayed the flowers, creating a whimsical atmosphere mirroring the couple's love.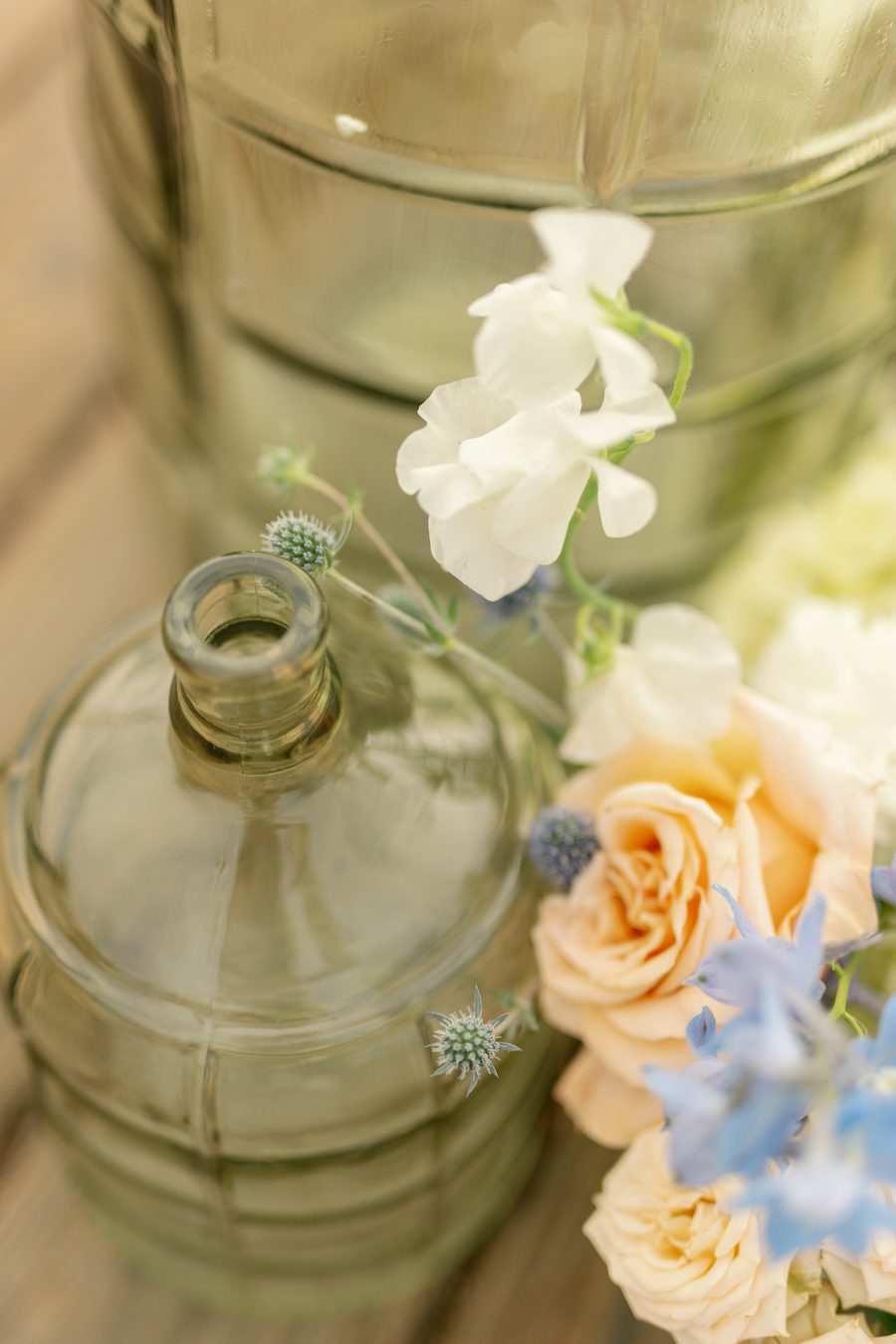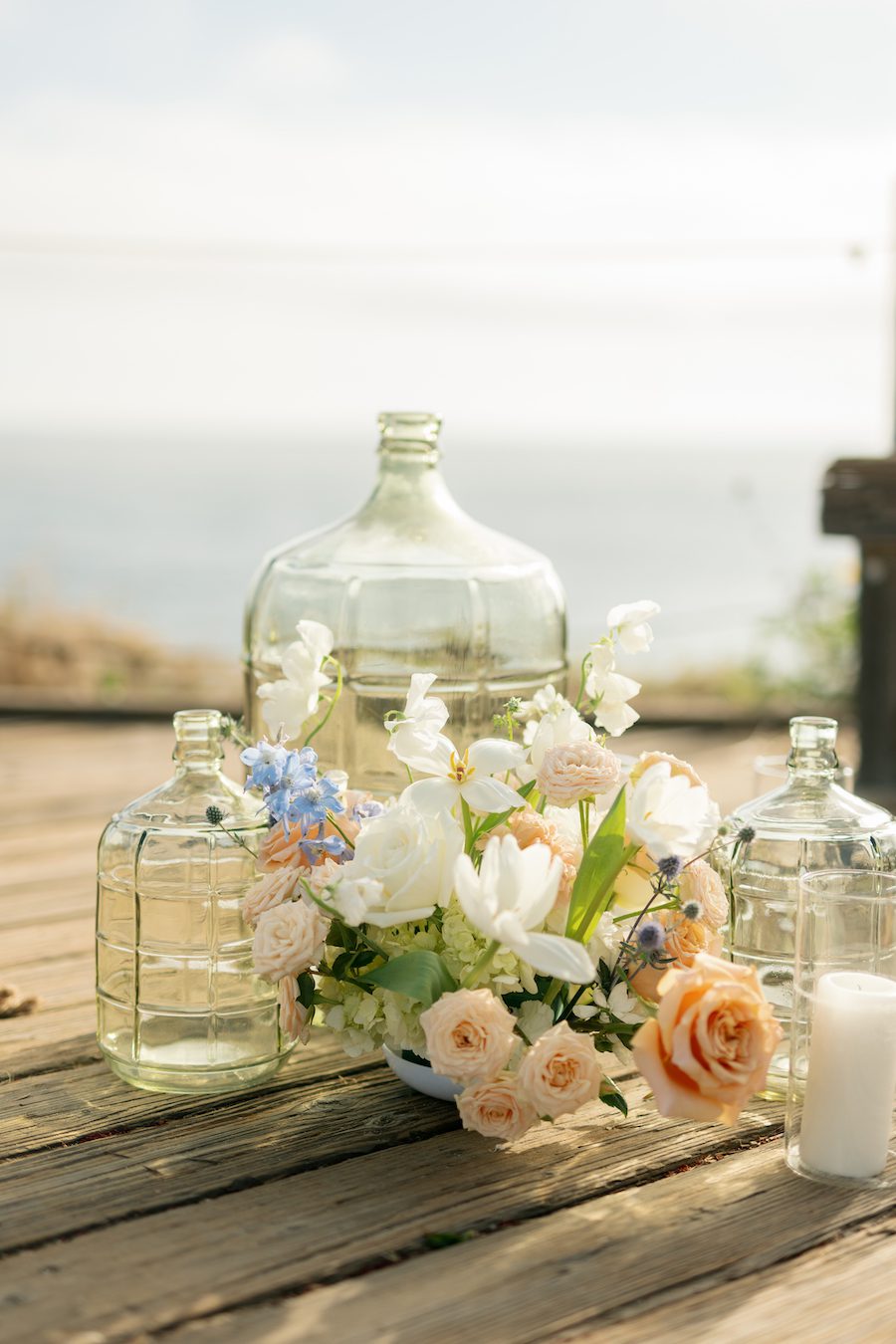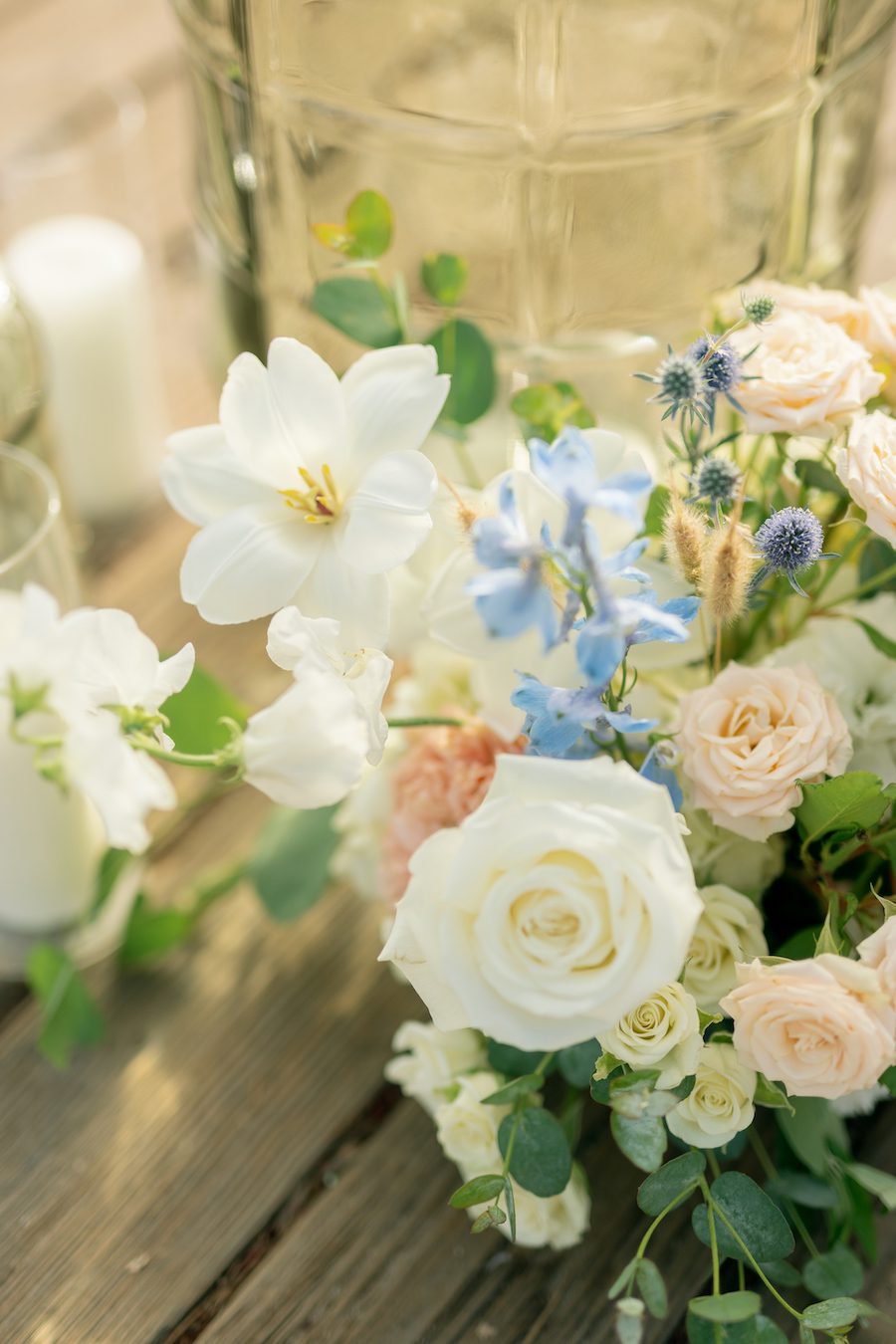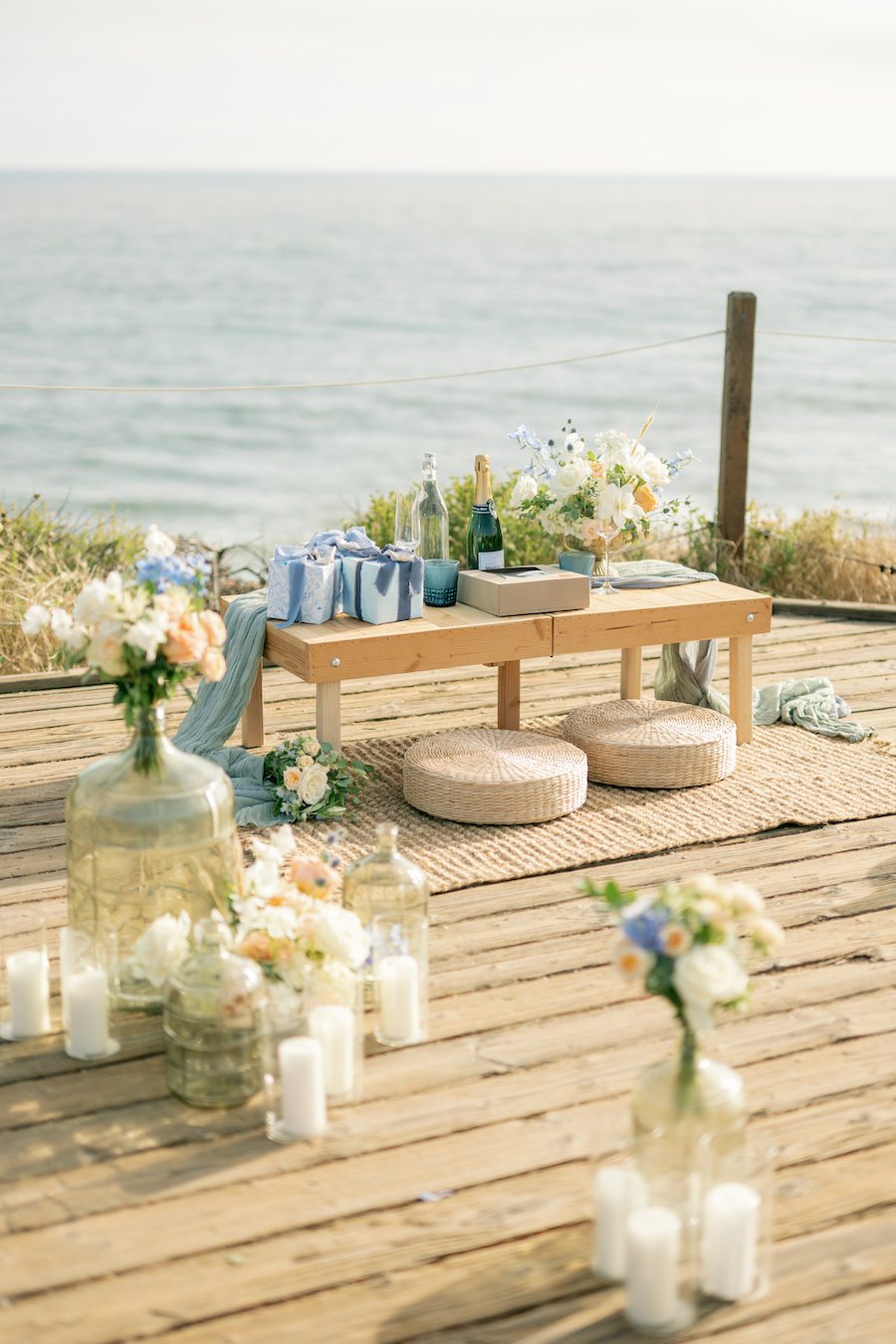 Upon arriving at the setup, Kenia was greeted by three gifts, each adorned with a custom shell. The first two gifts were charming tokens of their journey together, holding memories and moments they cherished. As Kenia opened the third gift, she found a heartfelt letter penned by Eric, expressing his love, gratitude, and hopes for their future together. The letter served as a prelude to the moment Eric was about to create—the question that would change their lives forever.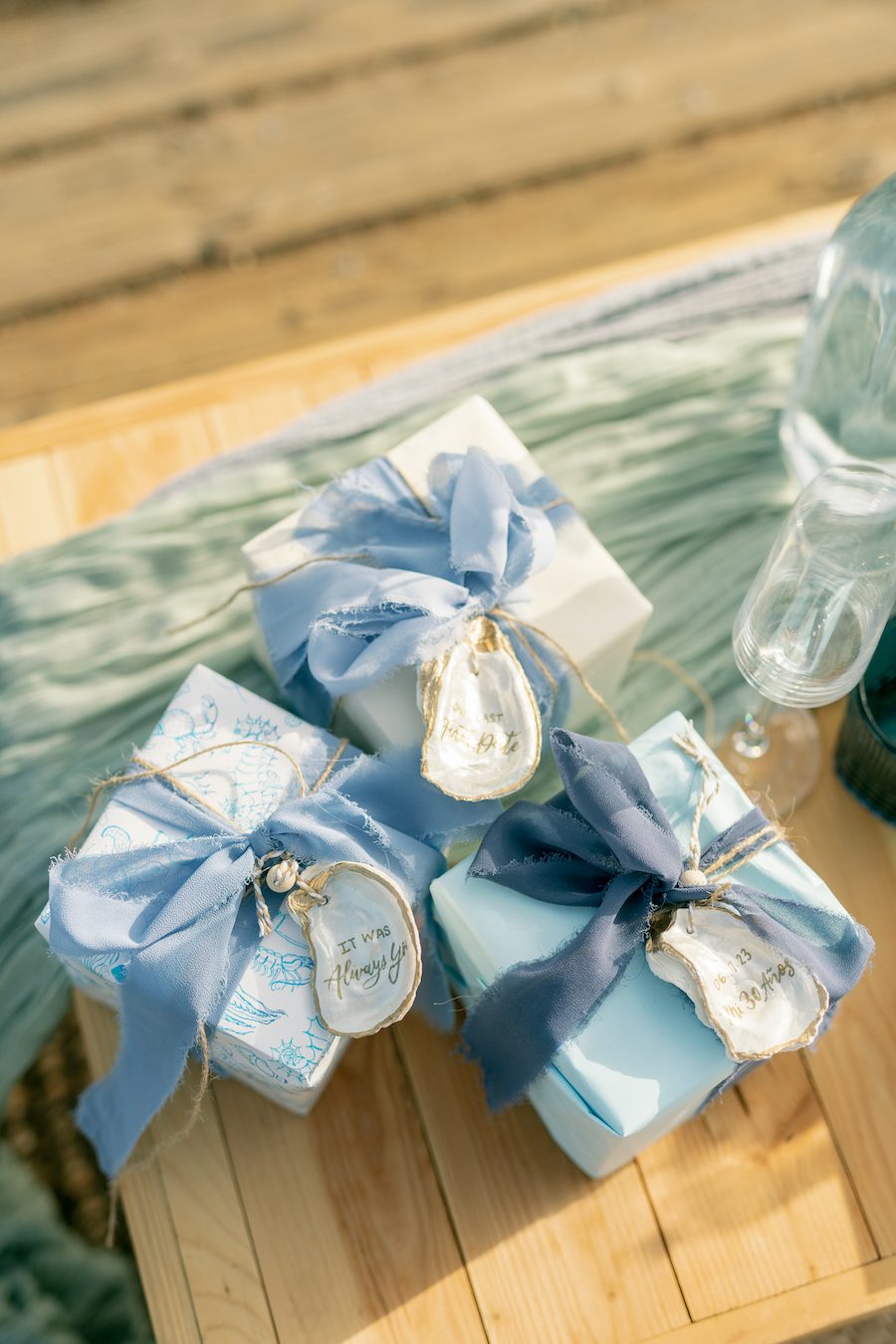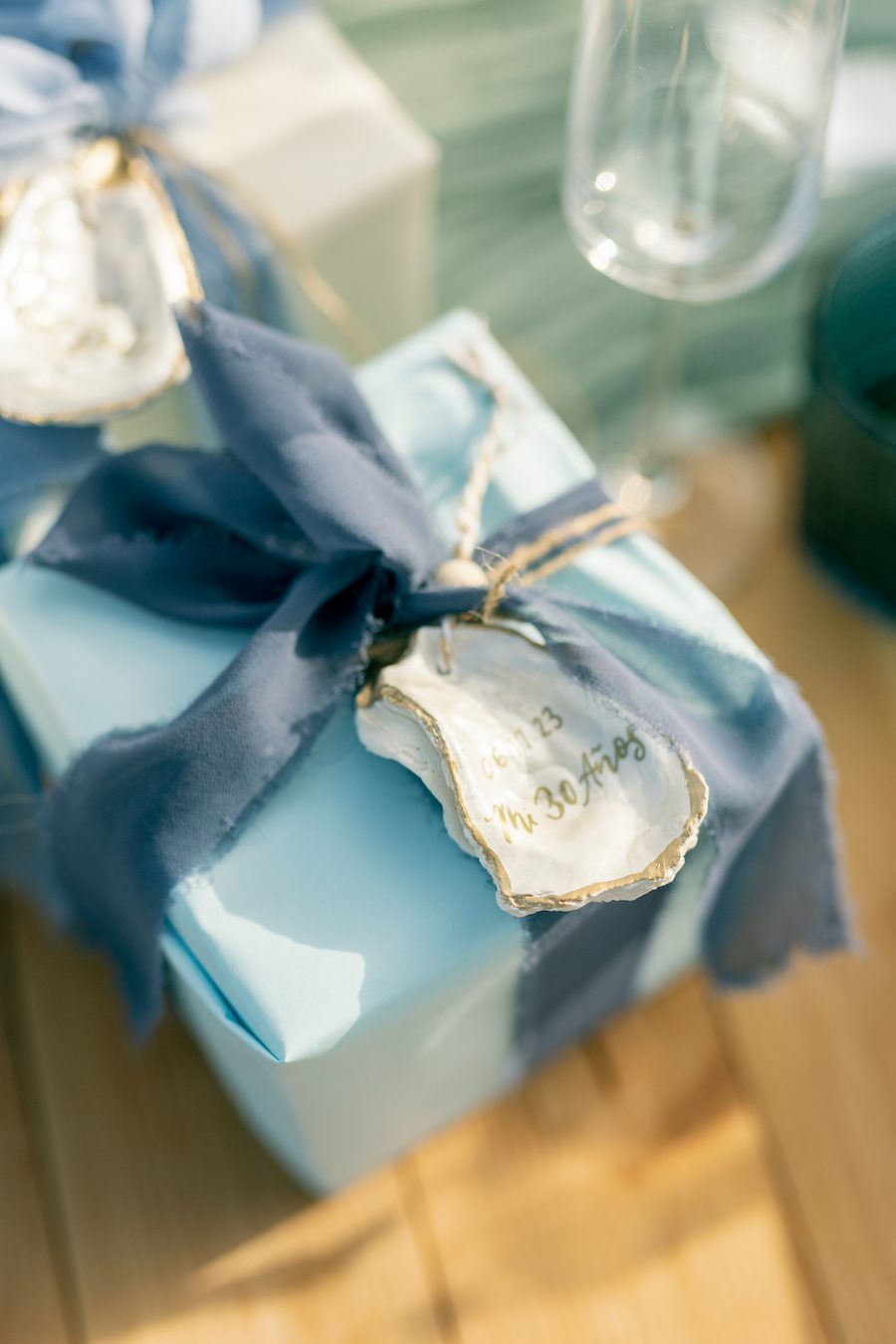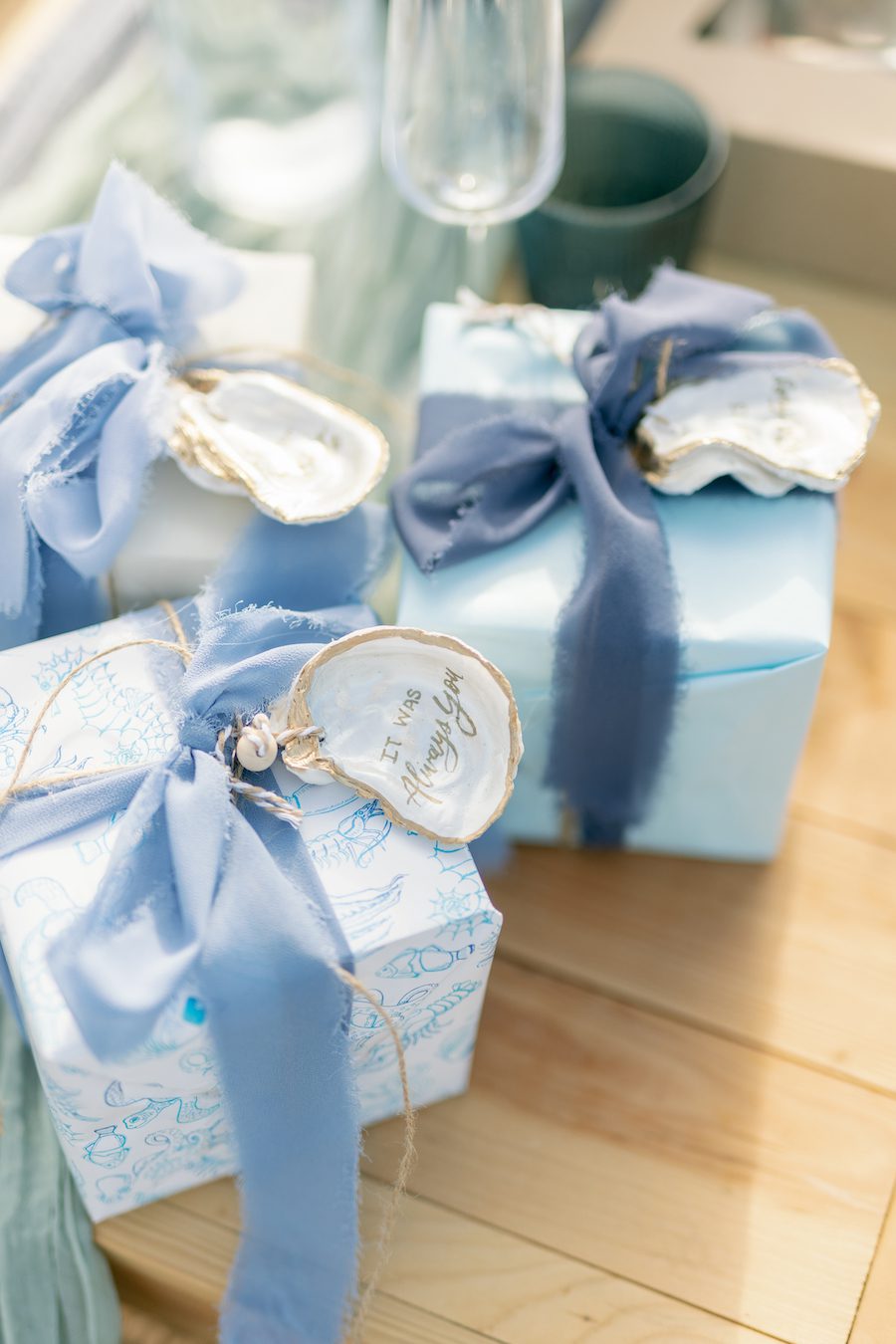 Ocean View Picnic Proposal
Kenia arrived by private limo to stunning surprise location, unbeknownst to her that the love of her life was waiting just moments away, to ask her a life changing question!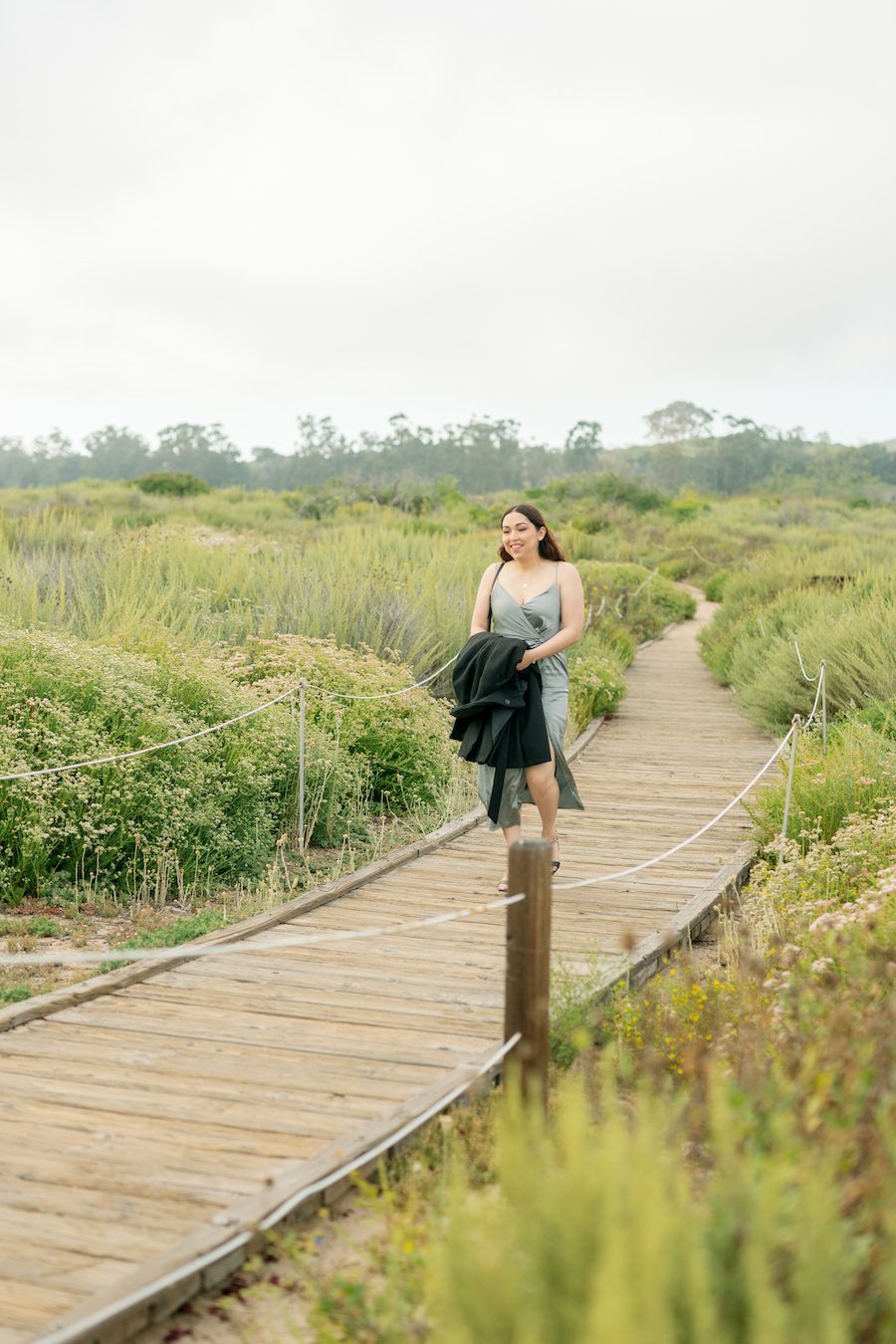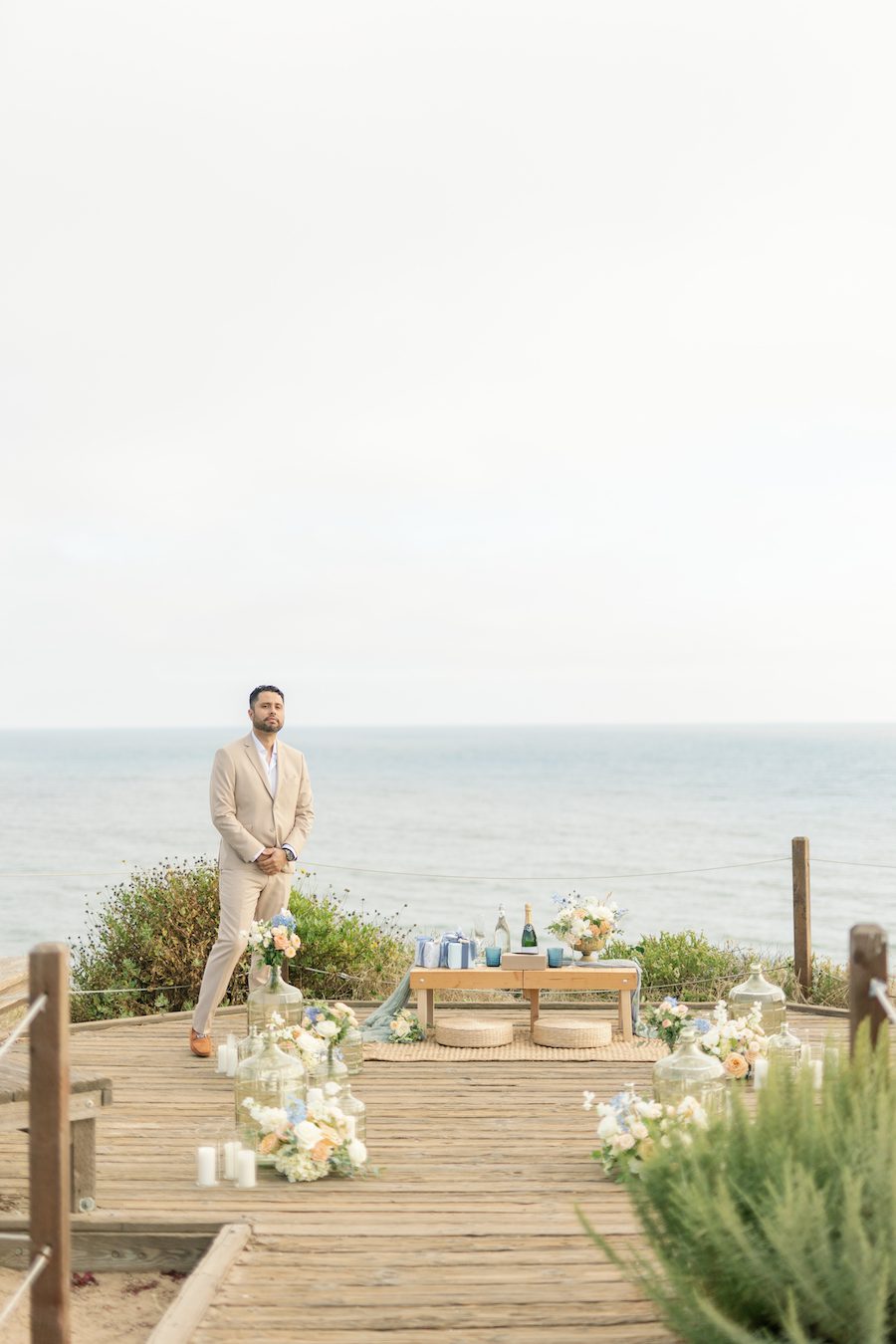 Eric greeted her with open arms and with an excited smile, he presented her with the three gifts. As Kenia finished reading Eric's touching words, he knelt down on one knee, holding the symbol of their love—a sparkling engagement ring. The sun was beginning to set, casting a warm glow over the ocean, and time seemed to stand still as Eric poured his heart out, expressing his unwavering love and desire to spend the rest of his life with Kenia.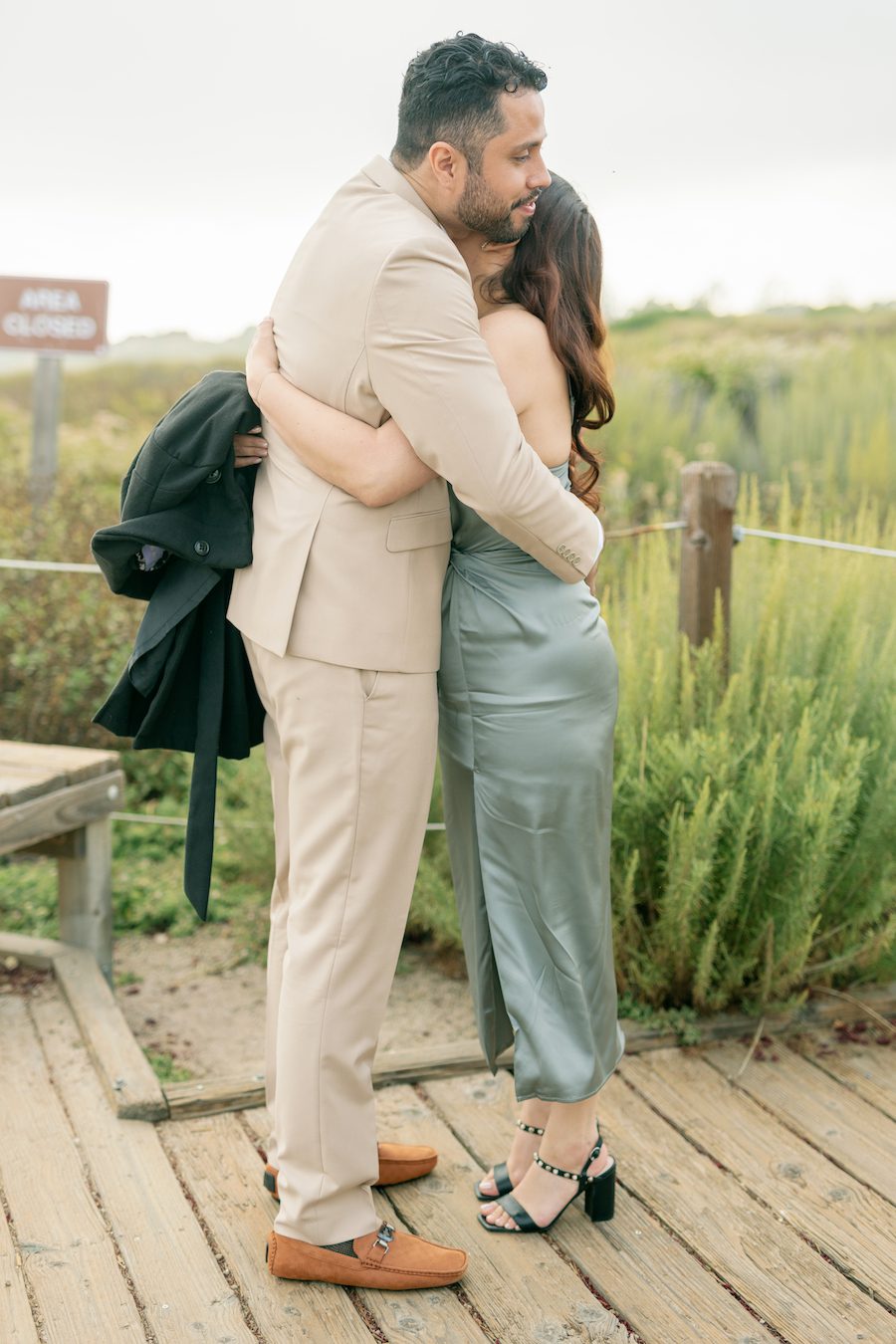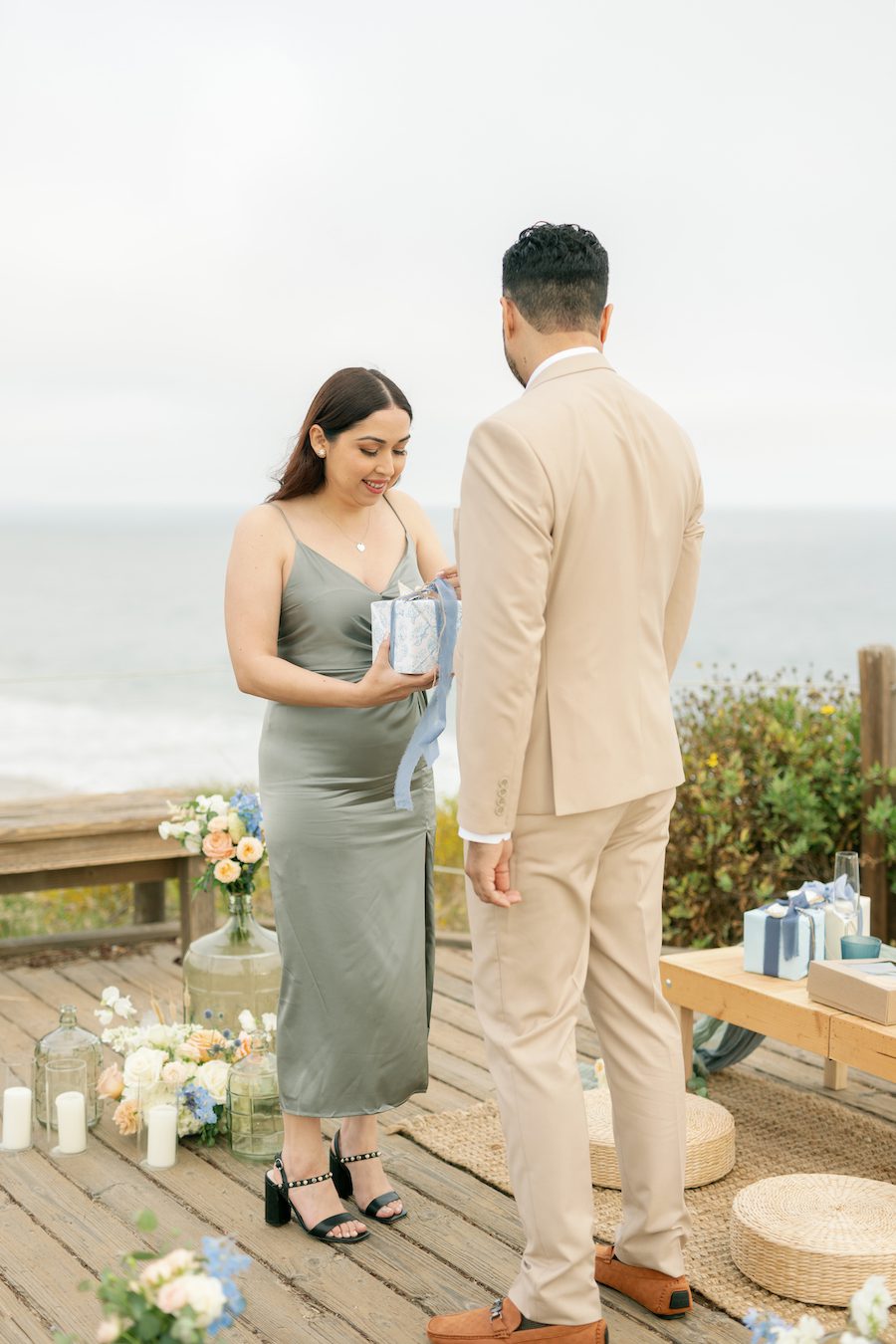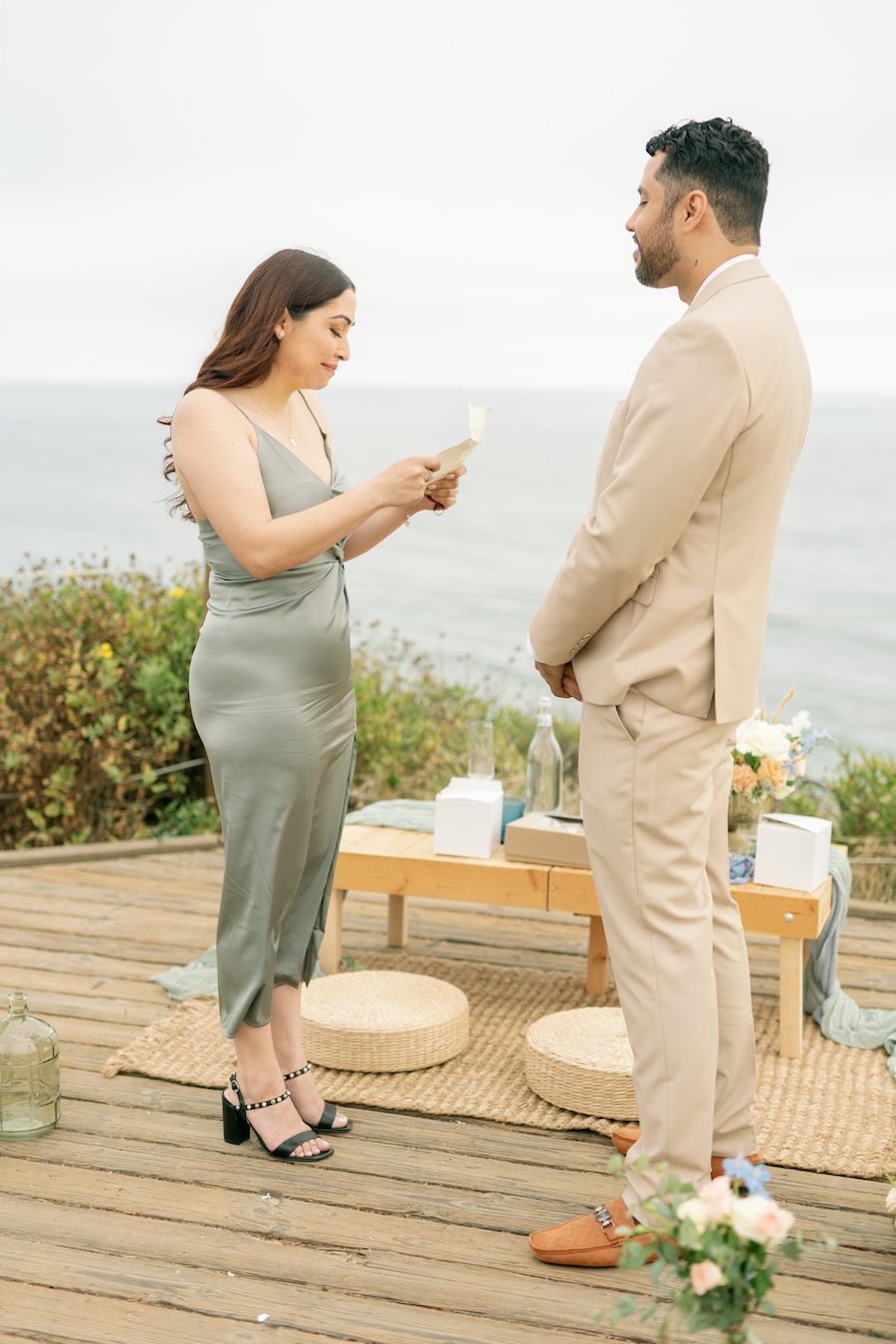 With the waves crashing against the shore as if in approval, Kenia was overwhelmed with emotion. Tears of joy streamed down her cheeks as she joyfully exclaimed "Yes!" The couple shared a tender embrace, savoring the magic of the moment, surrounded by the beauty of nature and the love they shared.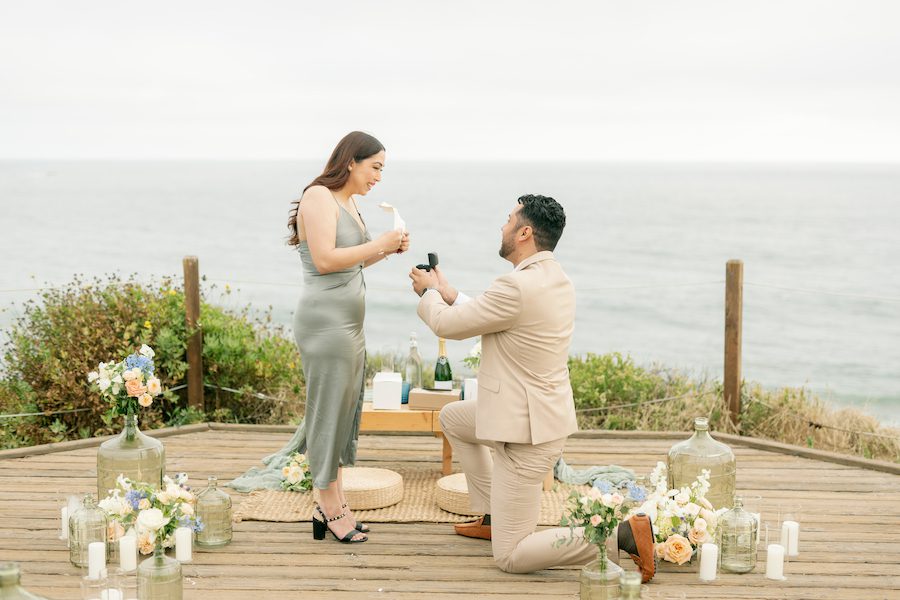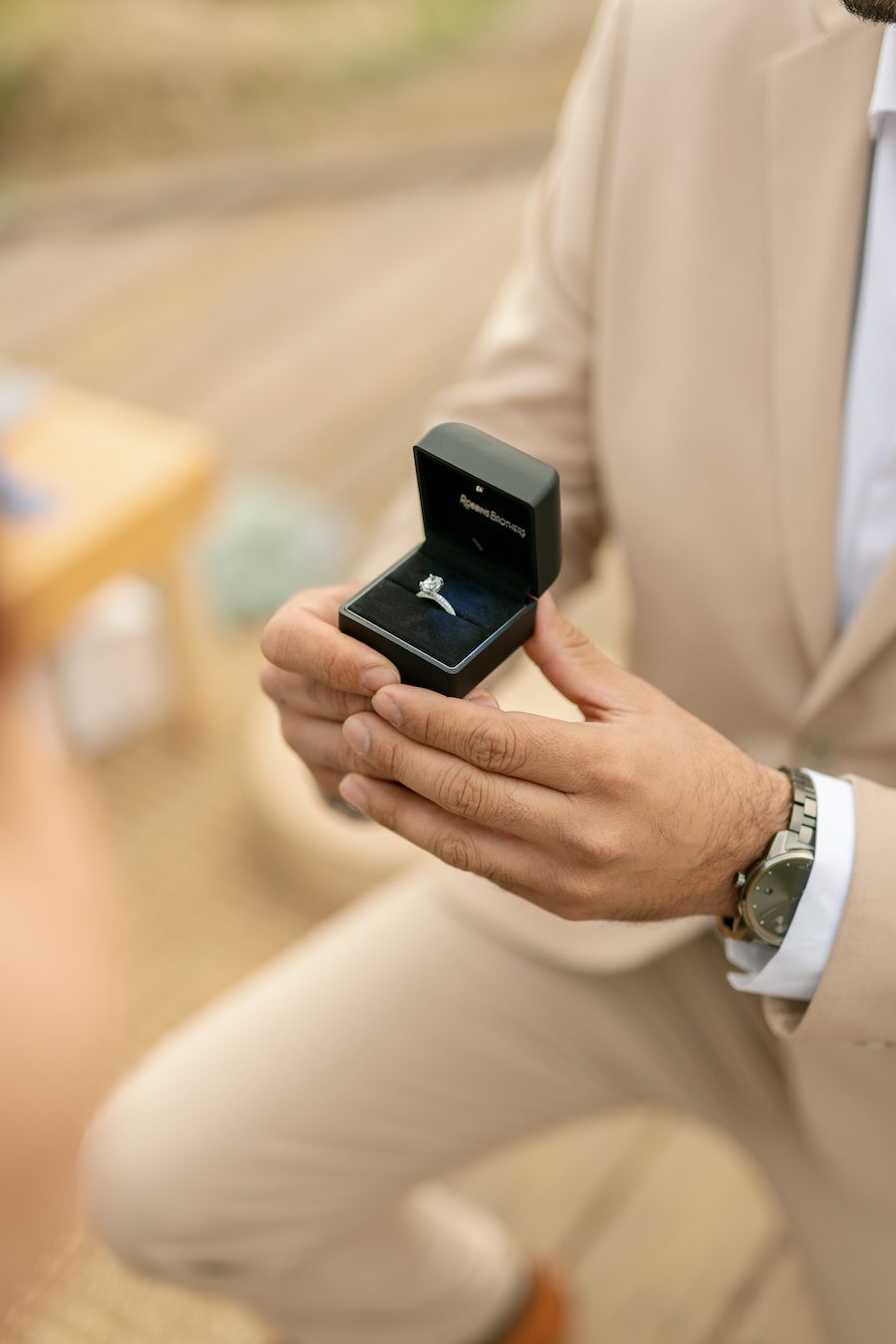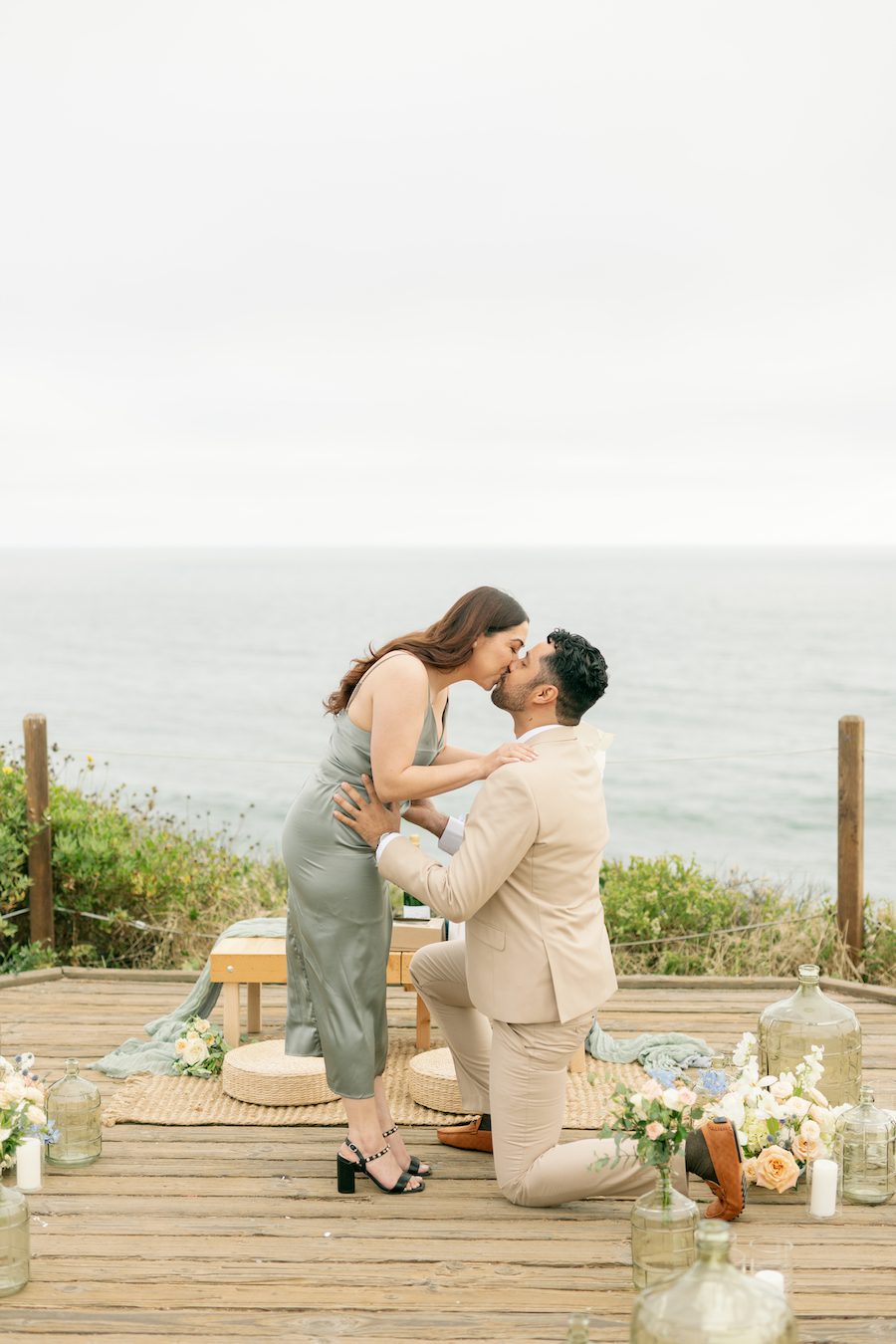 After the emotional proposal, Eric and Kenia settled into the picnic setup, where they enjoyed a delectable charcuterie box filled with their favorite treats and a bottle of chilled champagne. As they clinked their glasses in celebration, the setting sun painted the sky in brilliant shades of orange and pink, signifying the beginning of their new chapter together.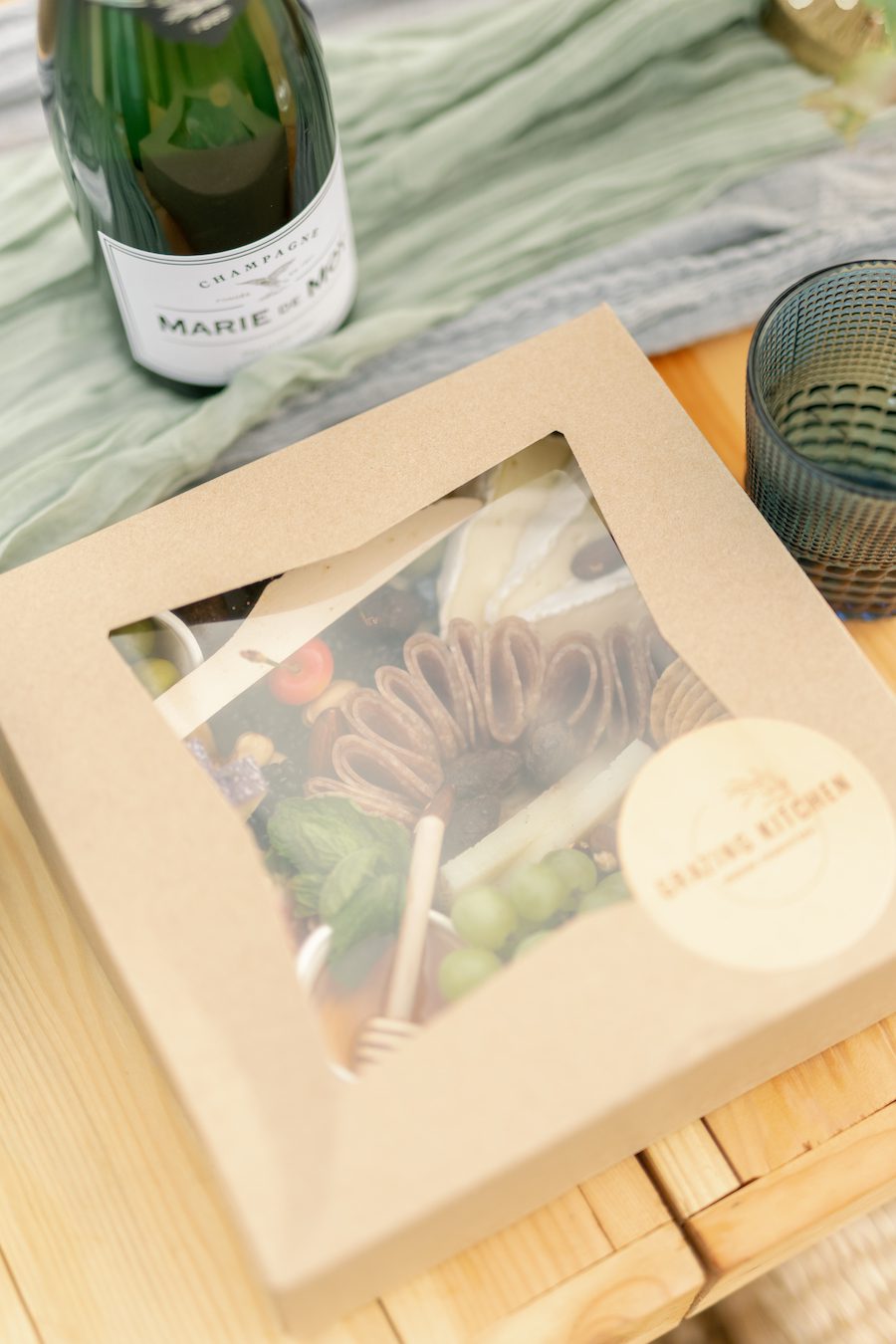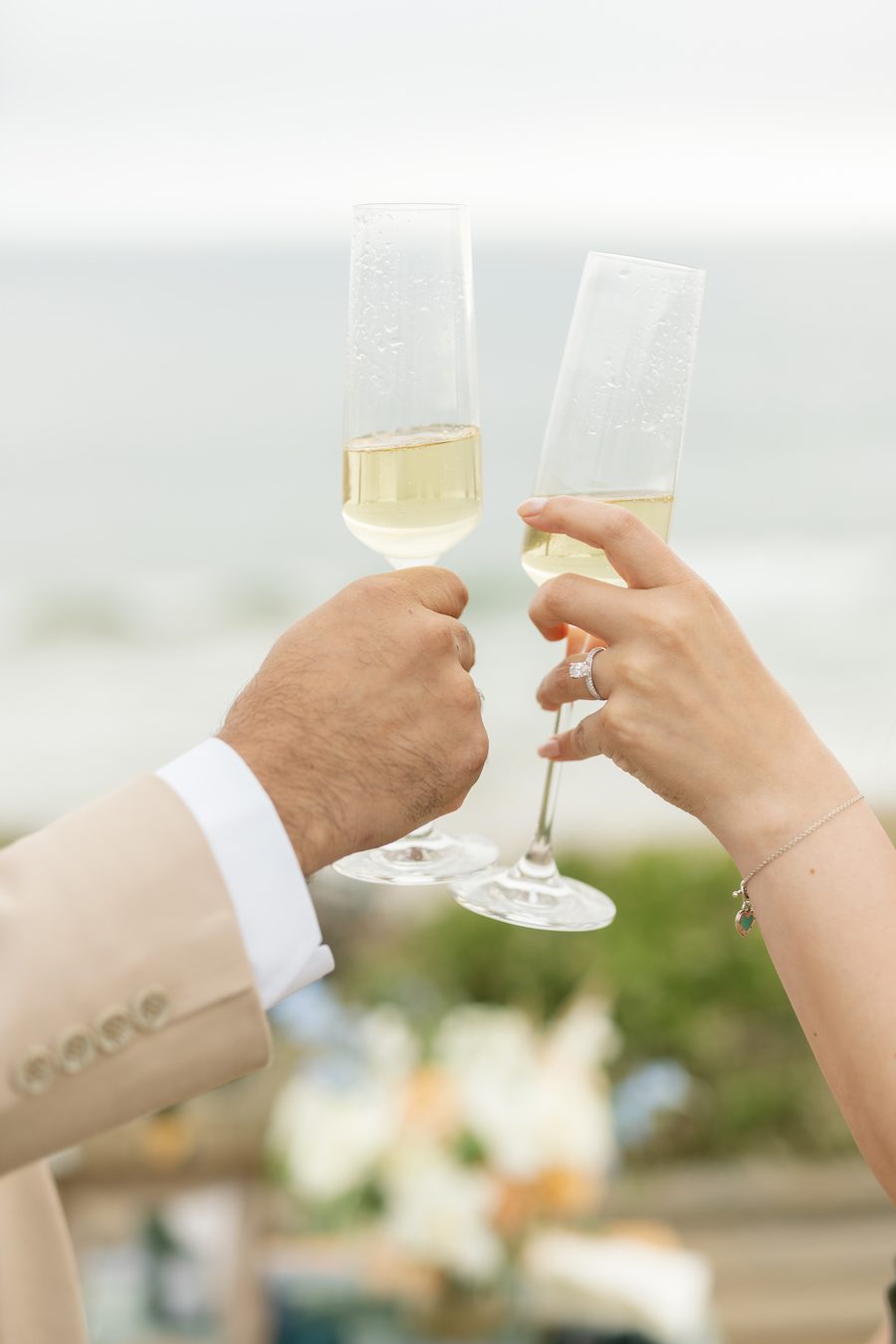 The Perfect Ending to a Perfect Day
Eric had one more surprise up his sleeve for his love! After she said "yes", a surprise Mariachi band came out and started playing some of their favorite love songs. The two dance together as fiancés and toasted to the future!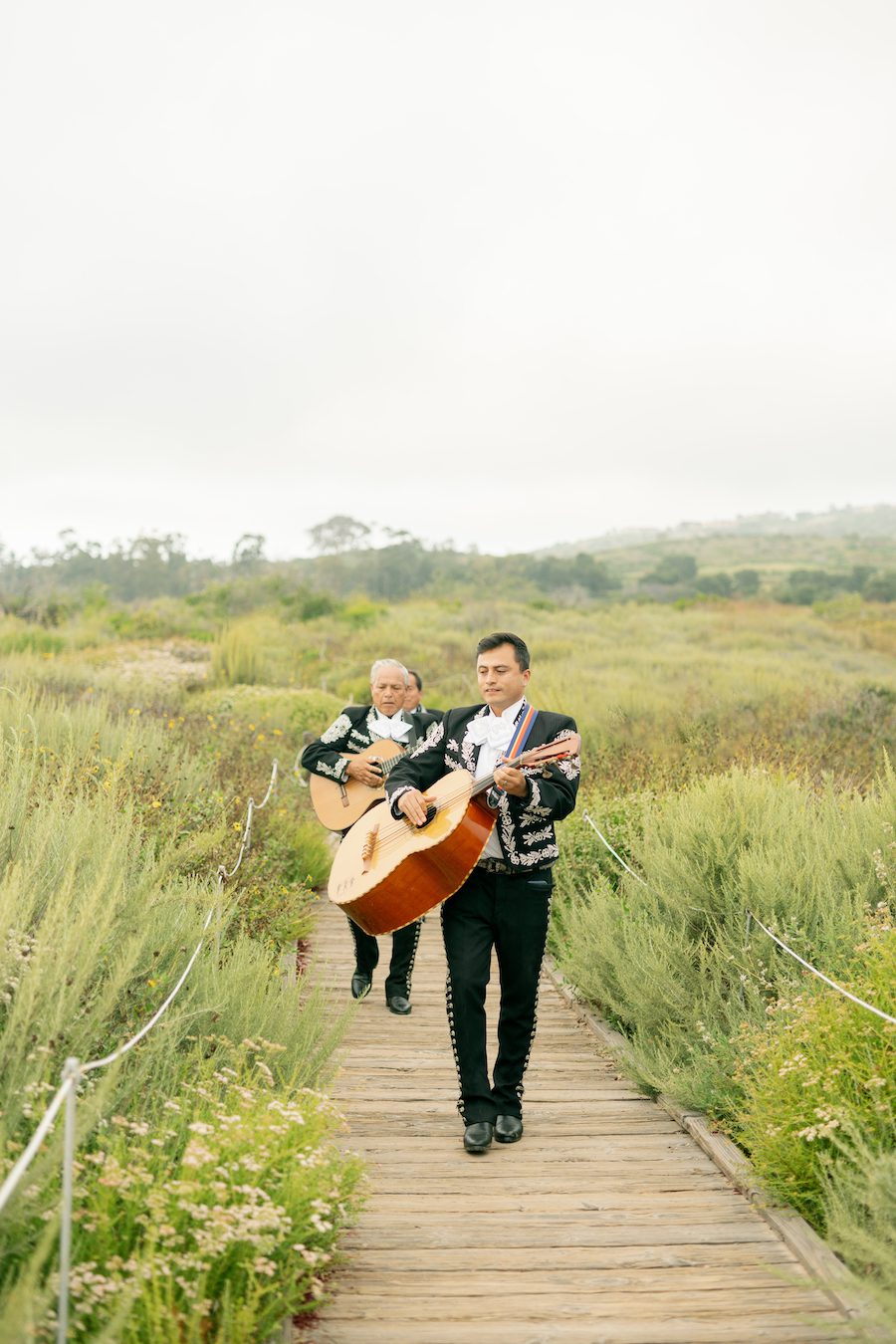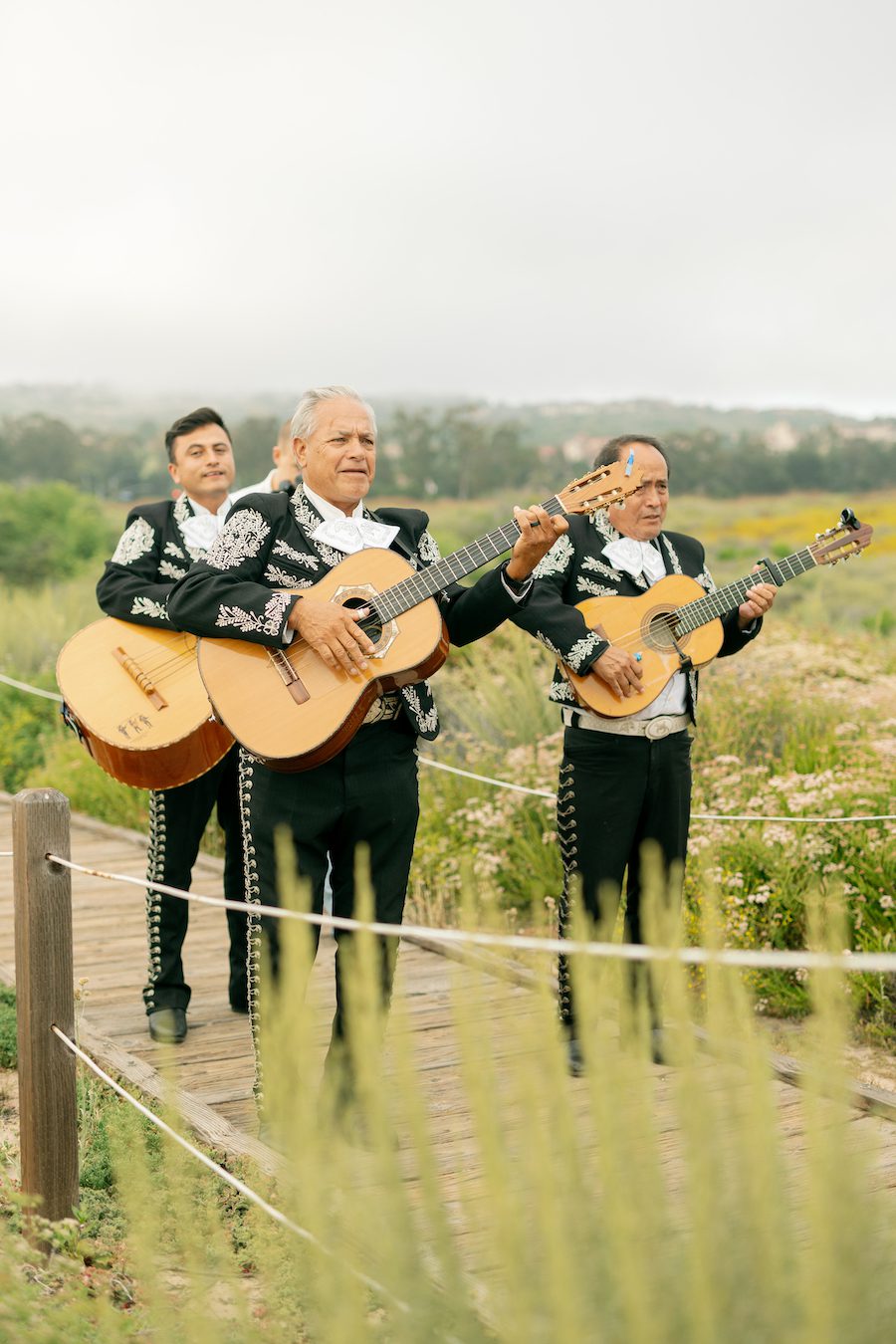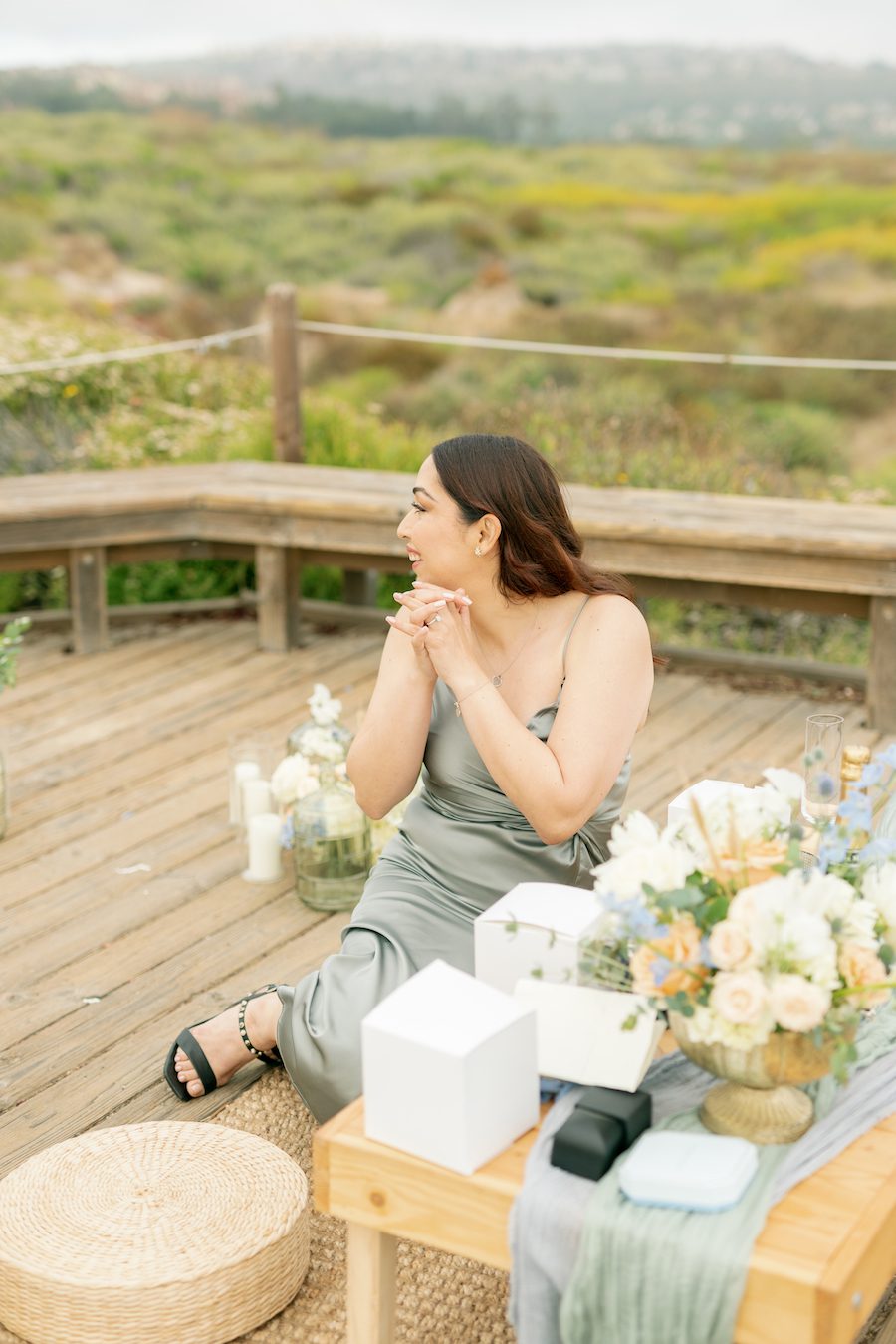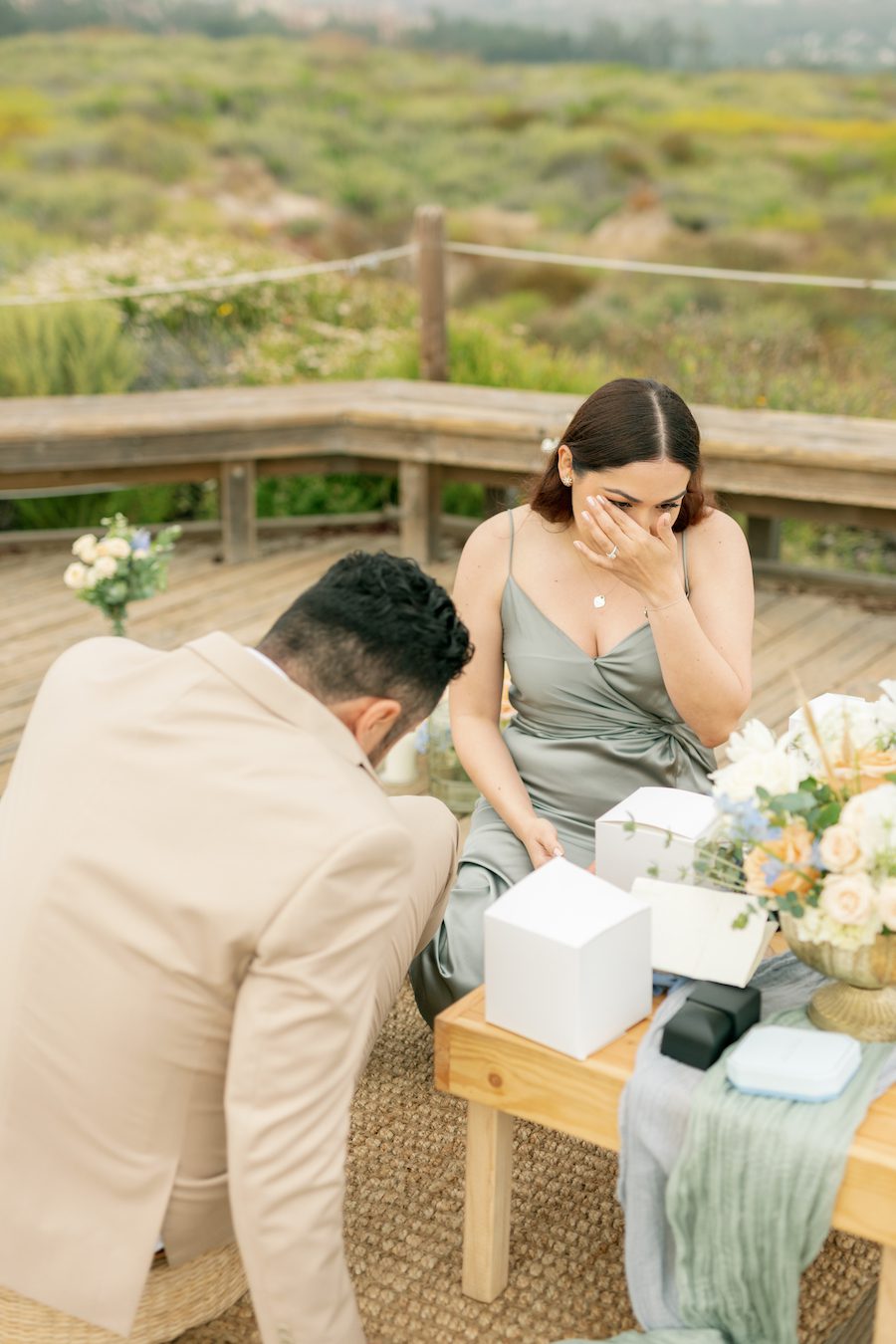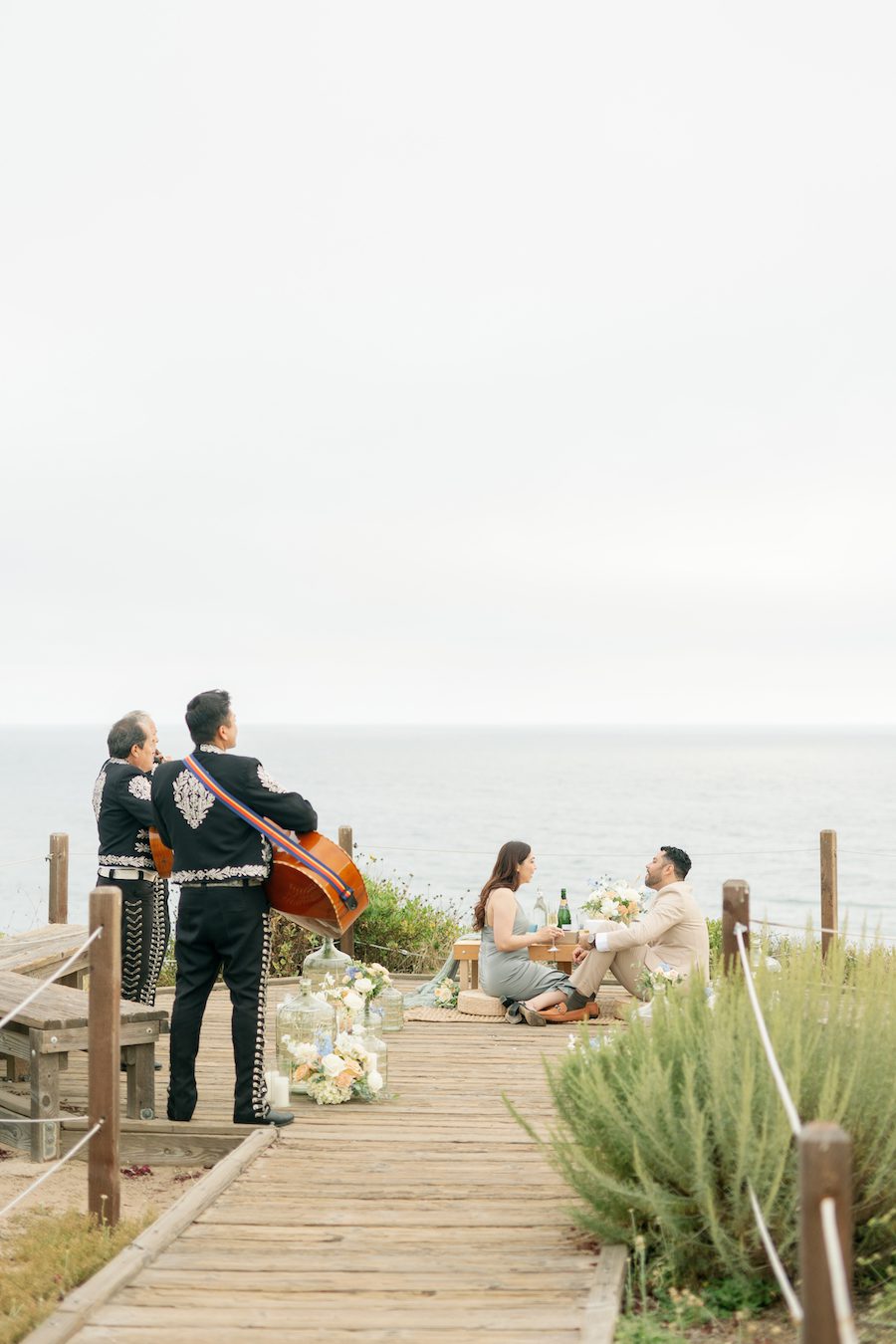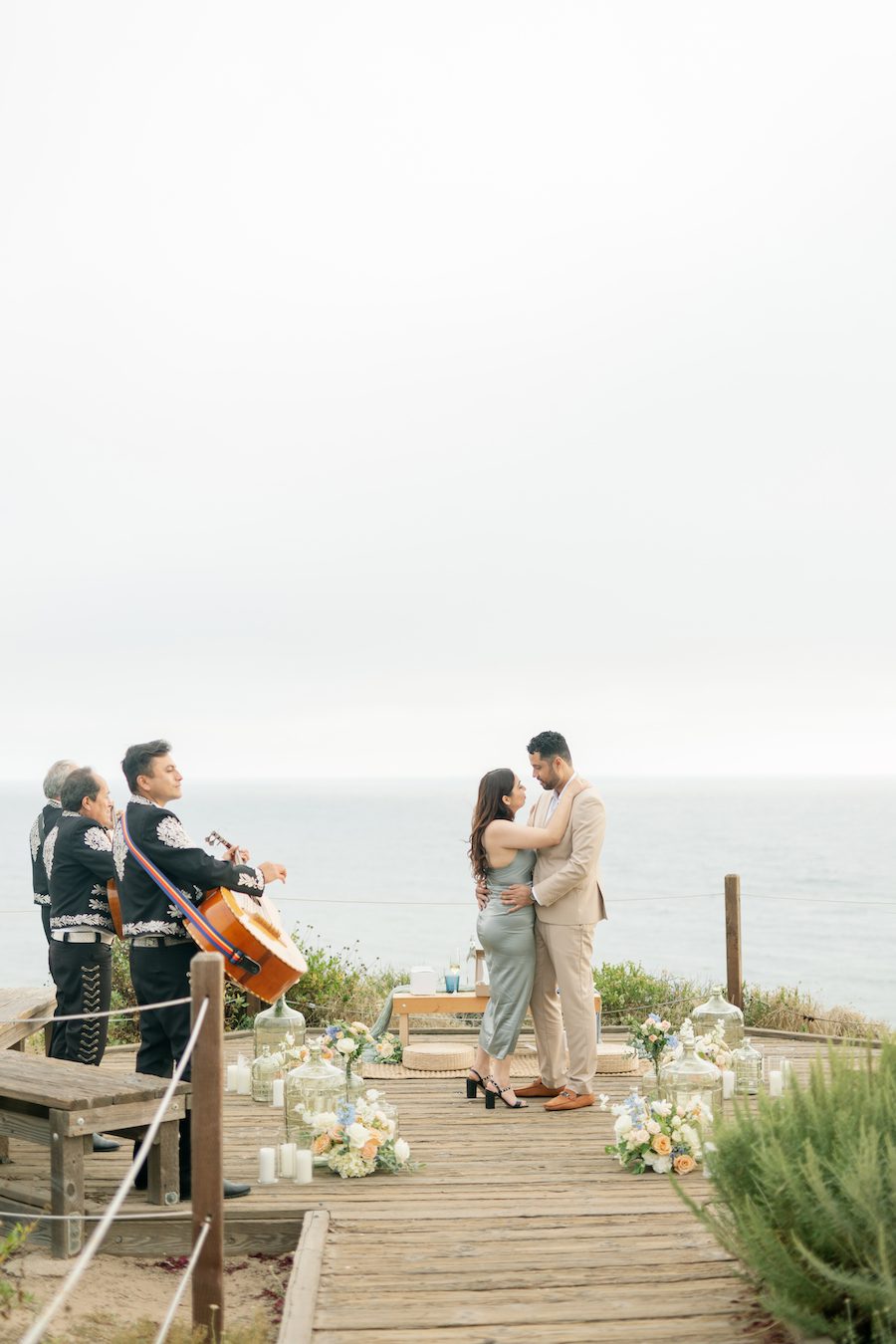 The ocean view picnic proposal at Crystal Cove State Beach was a mesmerizing display of love, thoughtfulness, and nature's beauty. The careful attention to detail in designing the setup with blue hues and rattan accents, coupled with Eric's heartfelt letter, made it unforgettable for Kenia. They celebrated their love overlooking the vast ocean and knew their journey together would be full of stunning moments like this, forever.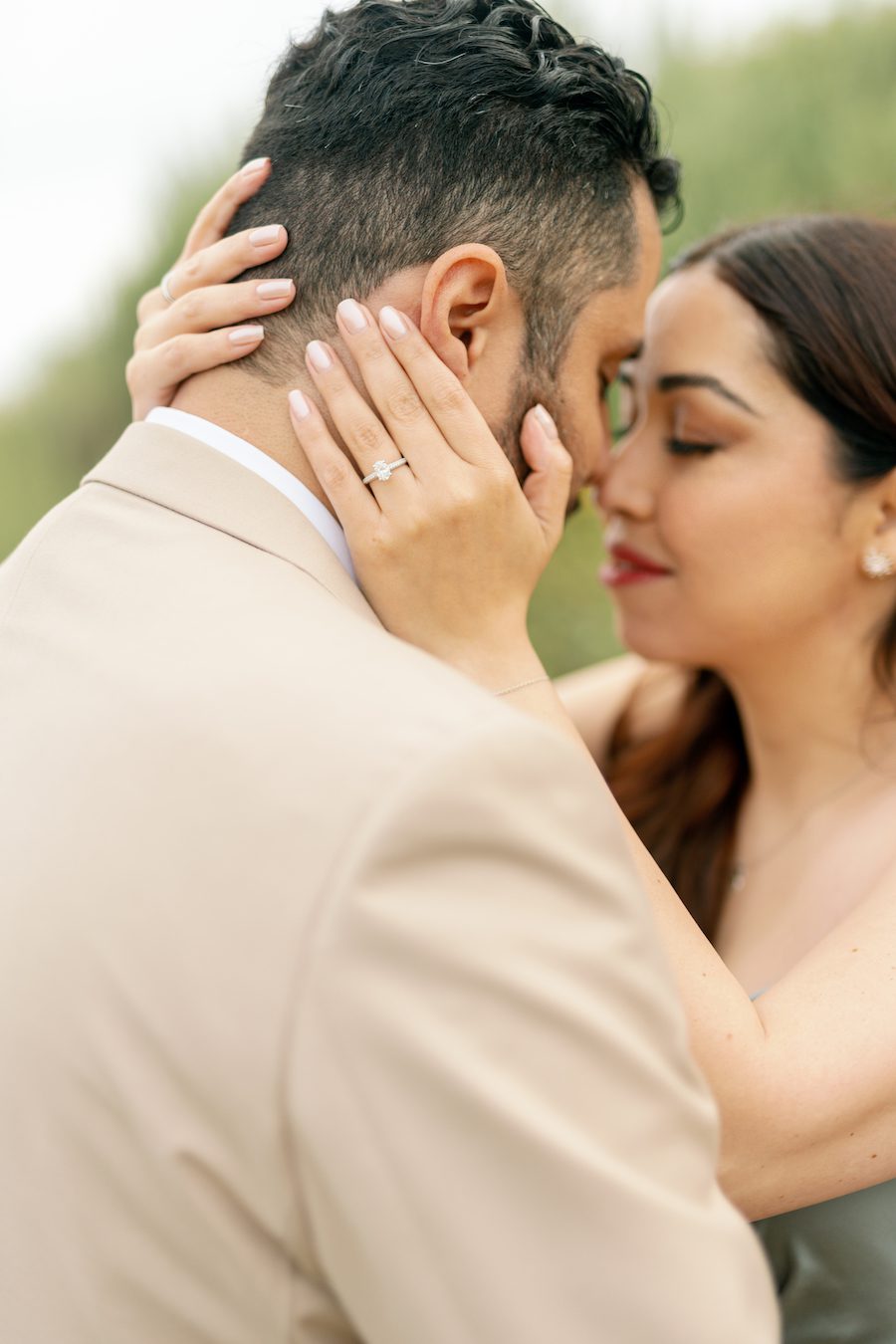 We are so happy! This stunning ocean view picnic proposal was a success. All of us at The Yes Girls wish you all the happiness in the world! Cheers to many memories to come! Congratulations Eric and Kenia!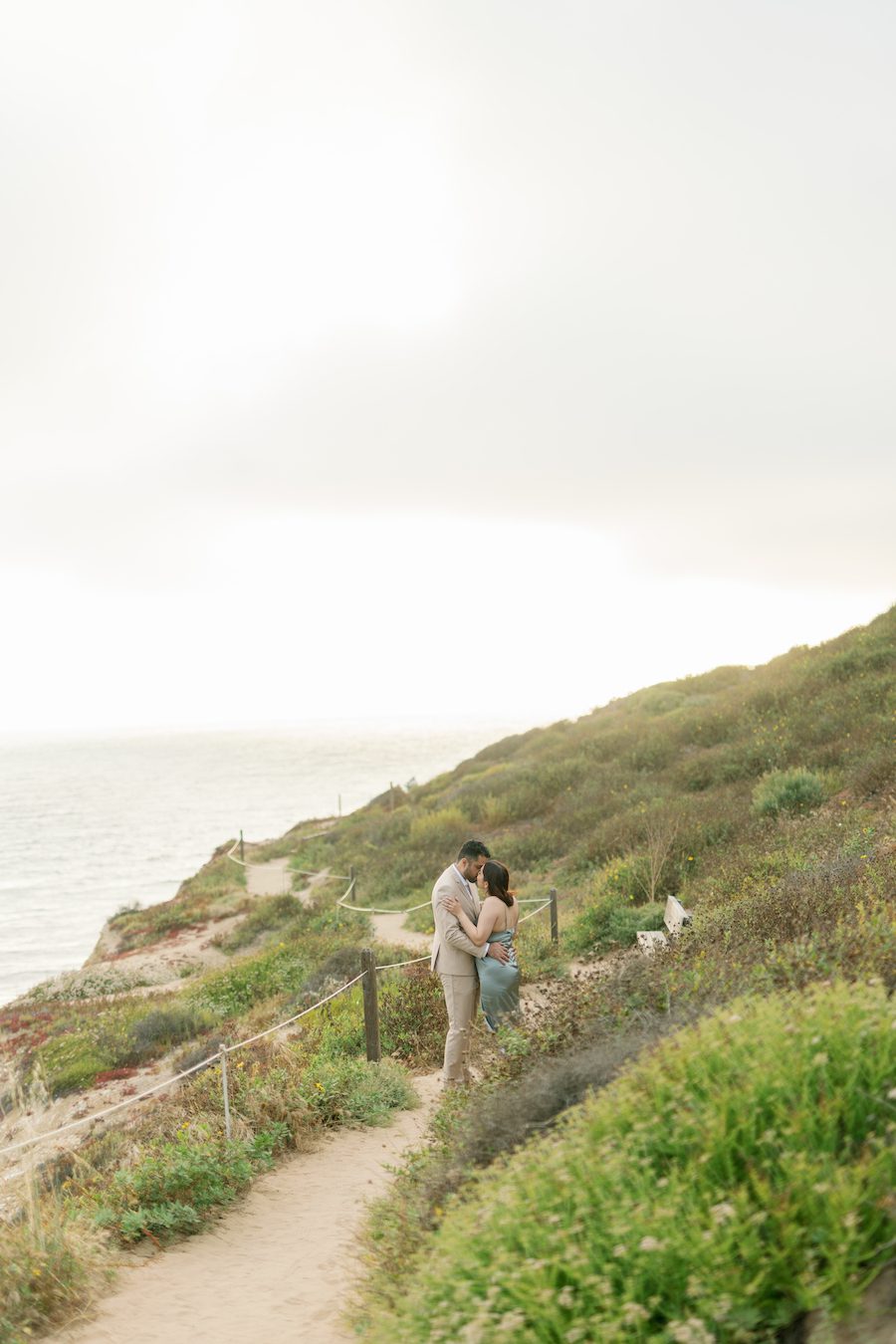 Looking for a memorable beach view proposal experience?
Proposal Design and Planning: The Yes Girls | Photo: Purity Weddings | Proposal Socks: Box Sock