Don't tell me that you are thinking of a polite way of telling your girlfriend that she might not be part of the bridesmaids' squad because her baby bump is big and out.
Hey, I'm not judging you. I know that you love your friend, want her to be part of the fun, and are not even worried about the cutie on the way, but you really want your bridesmaids to pull up looking all hot and matching the aesthetic you have in mind.
But who says your preggo BFF can't slay too? As long as she has the energy to be part of the entourage and she loves you, that's all you need. In this article, I will unveil recommended bridesmaid dresses from AW Bridal for a pregnant bridesmaid and how to style your preggo babe for her to slay and be safe. Ready? Come along!
Comfortable Fabrics For A Pregnant Bridesmaid Dress
Ease and comfort should be the goal when choosing the best bridesmaid dress for your pregnant bestie. And this falls back to the fabric type chosen. You have to know the fabrics that would feel gentle and lightweight on her skin and at the same time, would make her look and feel stunning for the occasion.
1.   Chiffon:
 Chiffon bridesmaid dresses are always a stunner. The fabric itself is one that is able to pull off any style nicely and guess what? It's a perfect pick for a pregnant woman. This fabric is airy, lightweight, and drapes beautifully on a baby bump without clinging to the expectant mom's skin.
2.   Linen:
Linen bridesmaid dresses are so skin-friendly and comfortable, making them a good party wear for a pregnant lady. Beyond being a natural material, Linen is highly recommended for how warm it feels on the skin throughout its entire wear and how well it absorbs and dries sweat, making her feel comfy.
3.   Crepe:
Crepe bridesmaid dresses, no doubt, provide a graceful appearance for anyone when worn for events. Crepe is a light and stretchy fabric that can be worn by a pregnant lady. It offers optimal ease on the skin while flattering the wearer gorgeously.
Other highly ideal partyish outfit fabrics suitable for a pregnant lady include Tulle and Knitted Fabric. Like the other aforementioned fabrics, they provide a fantastic slay, are soft on the skin, and pregnancy-friendly.
4 AW Bridal Bridesmaid Dresses Recommended For A Pregnant Bridesmaid
What stands out about AW Bridal Bridesmaid dresses is how they are all designed with built-in bras to support the bust. For an expectant mom, this feature has guaranteed her a great level of comfort for her body. Below are trendy AW Bridal bridesmaid dress styles that would definitely suit a pregnant Bridesmaid: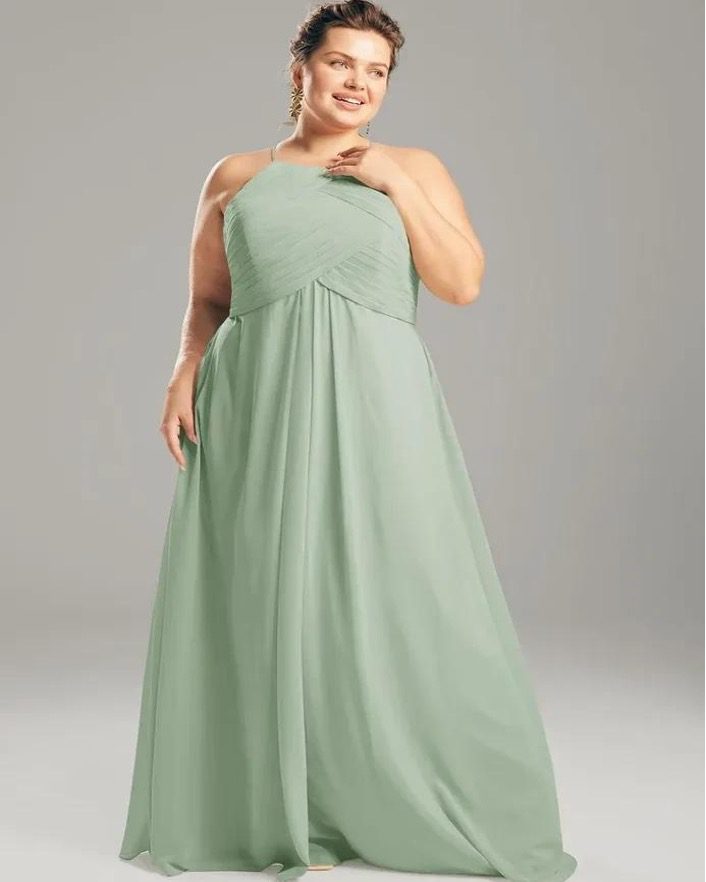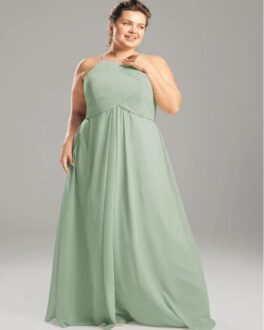 AW Aderes is an elegant dress with a beautifully pleated bodice. This dress offers comfort for the baby bump from the tulip-like waistline to the flowy skirt. It assures you of a fun experience in a modern and outdoorsy wedding. 
AW Largo flatters both mother and her cute bump in the most impeccably stylish way. This dress is able to achieve the chic mom-to-be outlook and still gives room for a lot of comfort. And this can be seen from the inverted v-shaped waistline and halter neck, open back design.
2. AW Lorinda Bridesmaid Dress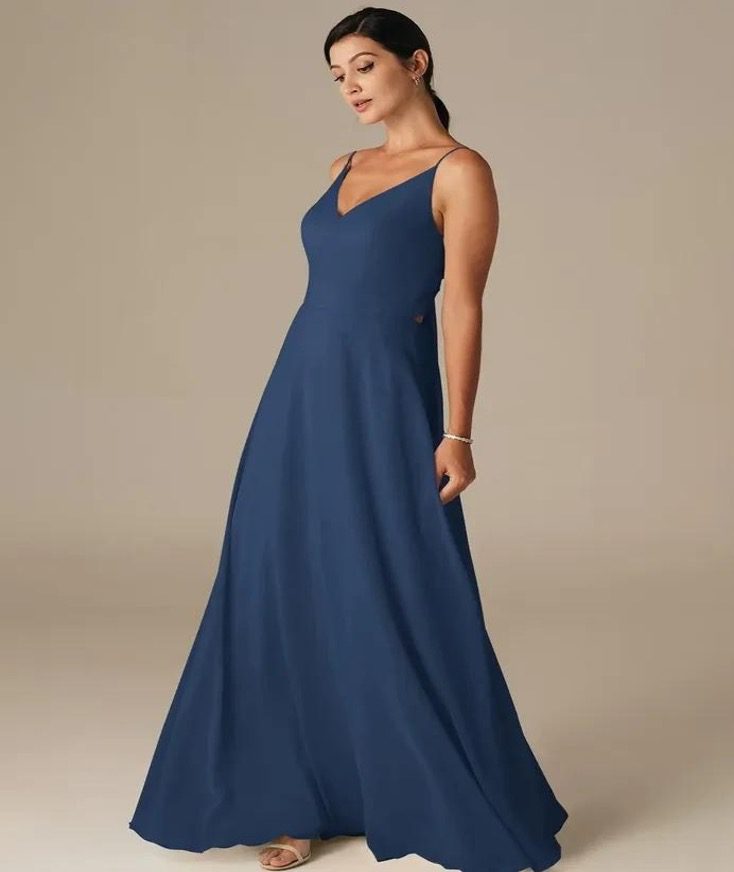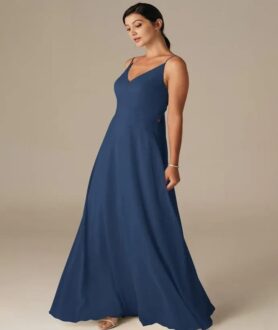 AW Lorinda is an ensemble that is tailored to engulf a pregnant bridesmaid in a rich and tasteful sophistication. This dress fills the wearer with enough snugness and slay thanks to its wavy skirt design and its lovely sleeveless, bowtie open-back
3. AW Griselda Bridesmaid Dress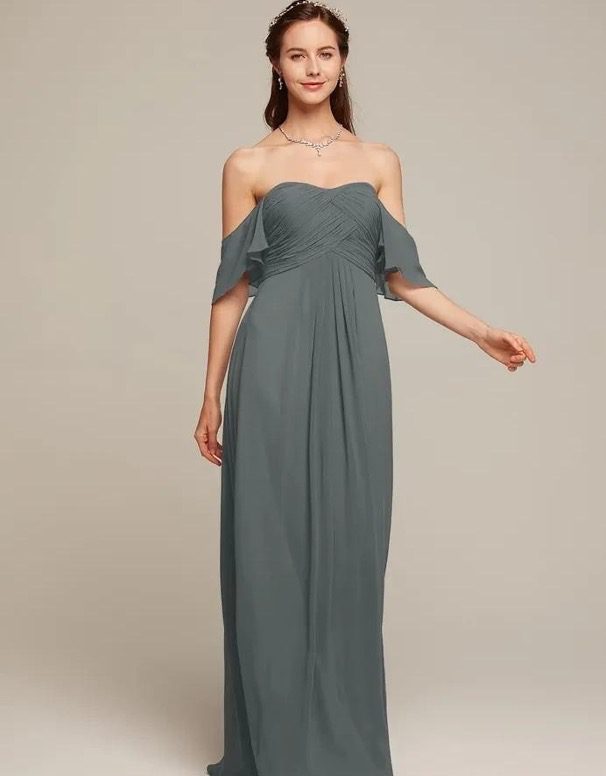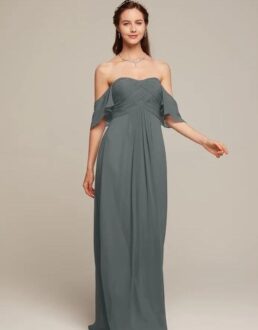 AW Griselda is a bubbly and regal bridesmaid wear. This dress is perfect for an expectant mom who loves a modern dress with a unique flair. It gives room for some airy feel with its off-shoulder sleeves.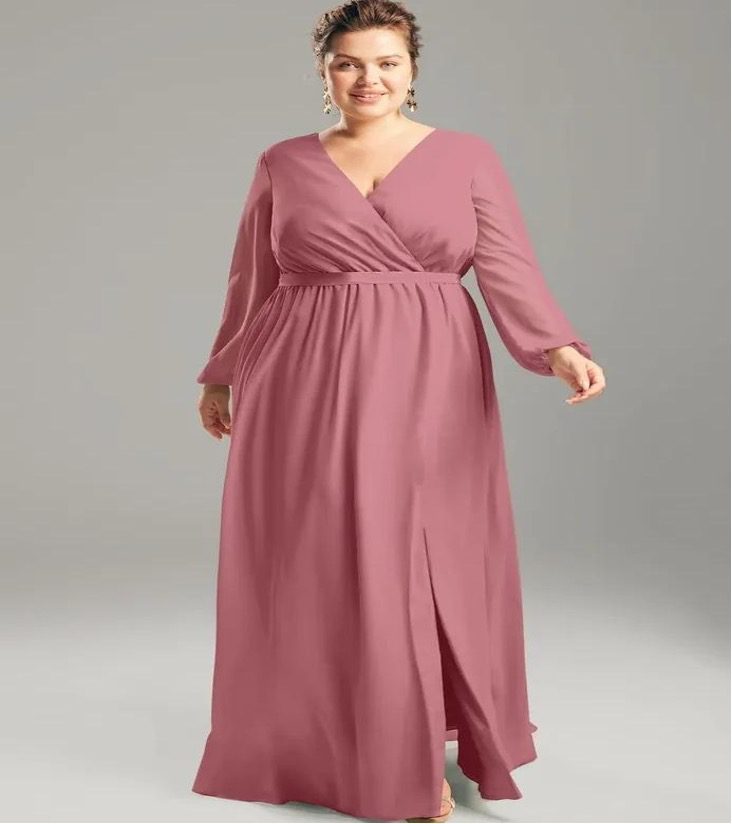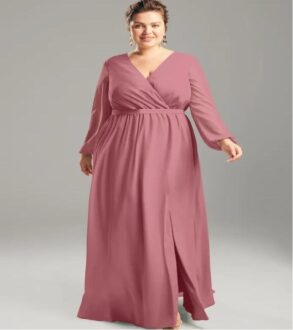 AW Adelle is tailored to make a pregnant lady look bold and beautiful. This dress cascades on the belly like a breeze. The waistband is well secured beneath the bust. Perfect for a formal wedding, the lovely long sleeves are balanced with a sweet slit.
Conclusion
As long as your pregnant bestie is healthy and willing to be on your bridal train, you have nothing to worry about, including the outfits that she would wear to kill your desired bridal squad look. In this article, the best fabrics and dress styles for a pregnant bridesmaid have been discussed and the best part is that they are all available on AW Bridal. Incorporate this knowledge into your upcoming big day and be sure to have the best memories with the ones you love.
Written By: Precious Martins