We absolutely loved this classy and chic beach picnic marriage proposal that took place in San Diego.
Coronado Island Marriott Resort offers the most breath-taking views and will help create a picture-perfect proposal, and that is exactly what it did for Lee and his girlfriend, Yvonne. Lee and Yvonne both love the beach, so by starting their journey as an engaged couple at the place they love the most, sets the stage for a beautiful engagement.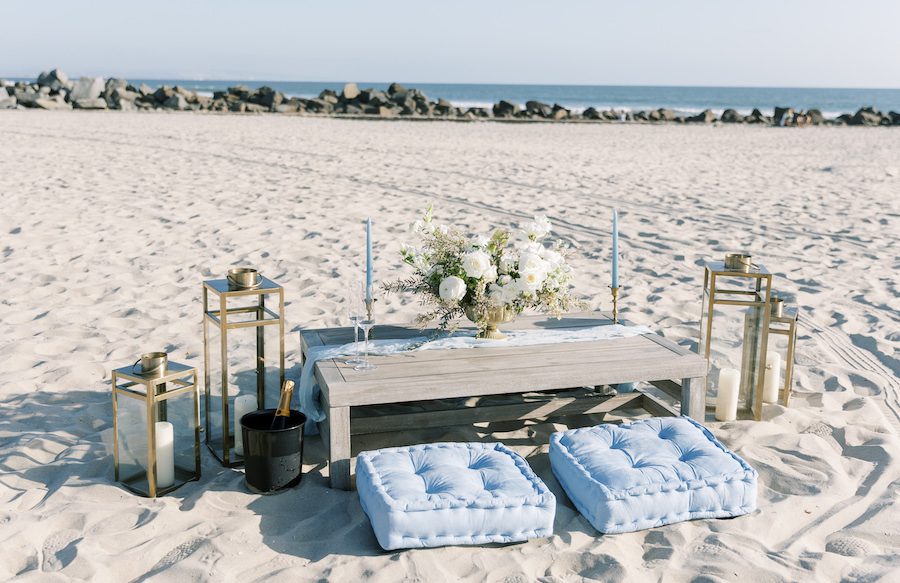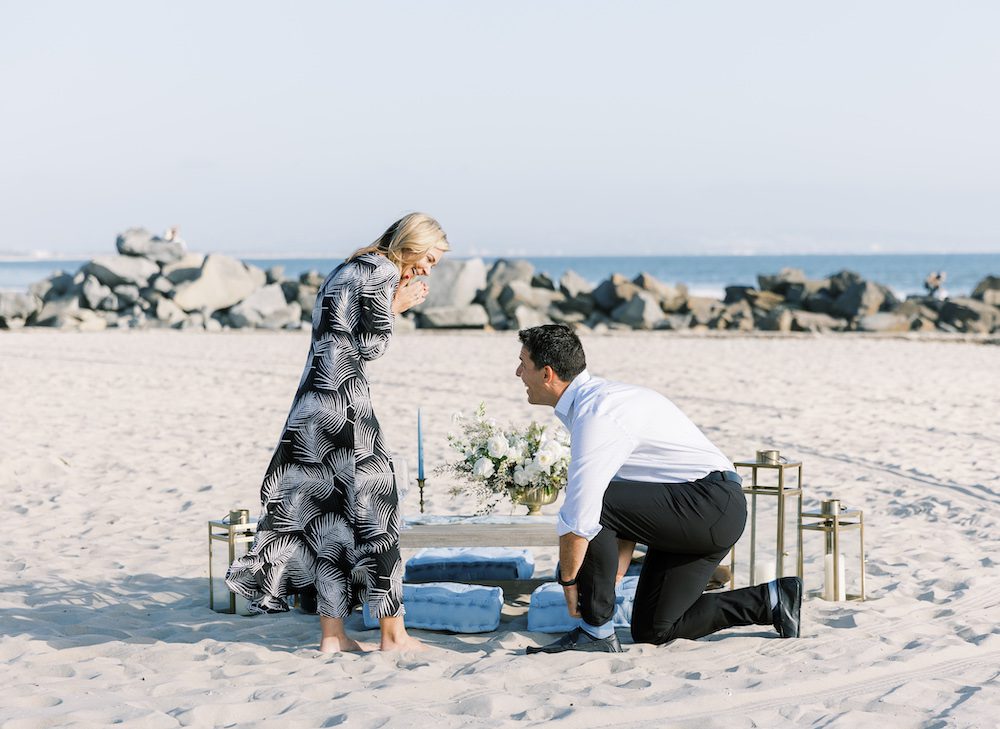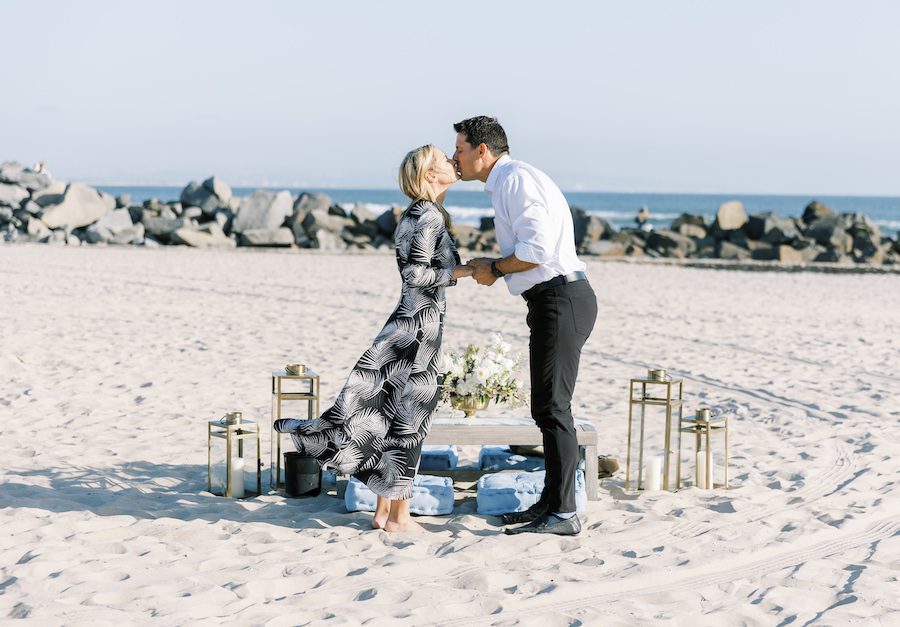 As the couple enjoyed the warm, sunny weather outside the Marriott Resort, they came upon the most luxurious picnic on the beach. Yvonne's eyes lit up when she saw the stunning display with a low, wooden table that was adorned with a bouquet of white roses and vintage candles in a soft blue. Lush, china blue pillows surrounded the table, creating an inviting mood and a comfortable space. Yvonne's favorite color is blue, so by tying the hints of light blue, throughout the proposal set up, helped add a more personal touch. Even Lee's box socks, socks made specifically for marriage proposals, perfectly matched the blues displayed in the setup.  Additionally, golden lanterns laid beside the table in the sand, setting the scene for a romantic proposal.
After taking the gorgeous scene in, Lee got down on one knee and asked Yvonne the classic question, "Will you marry me?" After saying yes to the proposal, Lee and Yvonne take some stunning photos that they will cherish for the rest of their lives. The couple then pops a bottle of champagne and drinks champagne to celebrate their engagement and a new chapter in their lives. They watch the sunset and enjoy the luxurious picnic specialized just for them.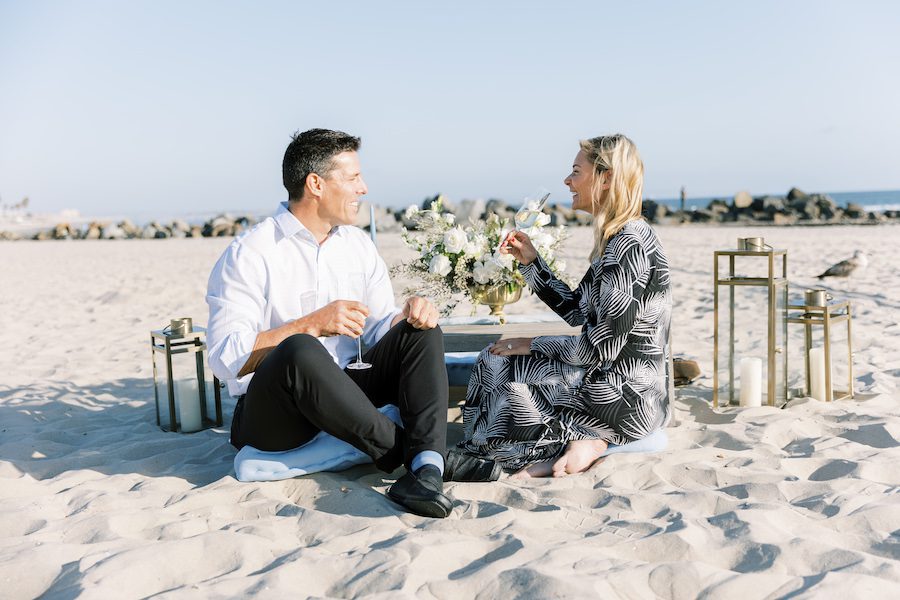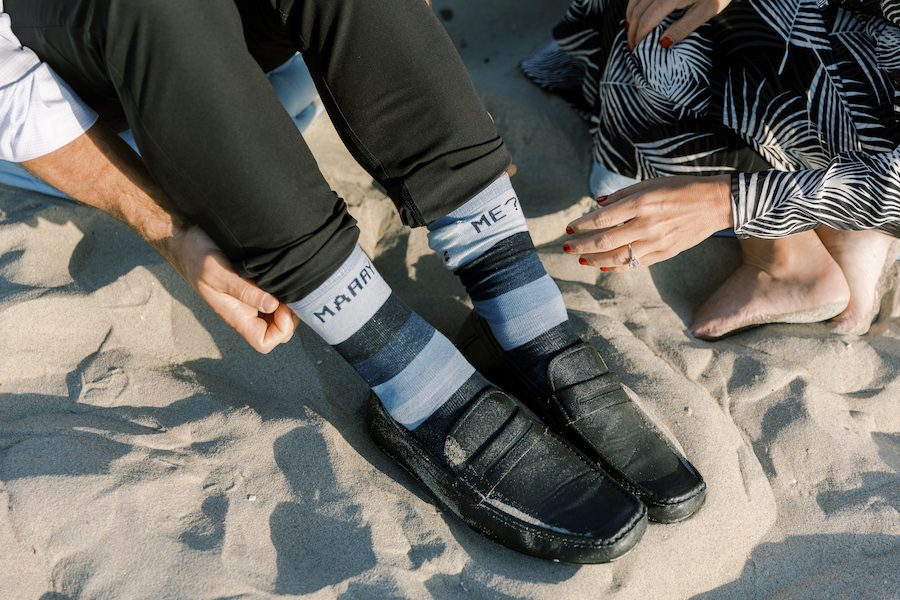 Congratulations Lee and Yvonne! Thank you for letting us share in this intimate moment and the start to this exciting journey!
Proposal Ideas and Planning: The Yes Girls | Photography: Jessica Rice Photography | Proposal Socks: Box Sock