Our post today is by Charlotte Sassman of Texas A&M University (whoop!). Charlotte is our social media intern and very passionate about wedding planning. We are so honored to have her on our team this year and can't wait to watch her bloom as her years as a student come to an end!
With college football coming to an end, you might be interested in taking your loved one to one last game or to take a nostalgic walk around a campus. Maybe even score a touchdown by incorporating your favorite school or alma maters traditions to ask a very special question! Whether these memories of college are fresh or are more than a few years old, your campus is a great place to pop the question! Heres a couple of ideas for using your campus that are sure to impress!
The Place Where You Met
It truly is hard to make a place as special as the location that you first met. Leave a note for them to "meet you where it all began" and decorate the area with candles and flowers with music swaying in the background. Set the perfect tone to bring back the excitement and memories that have built up over the years from that one encounter. (Image below from Alexandra Wren Photography)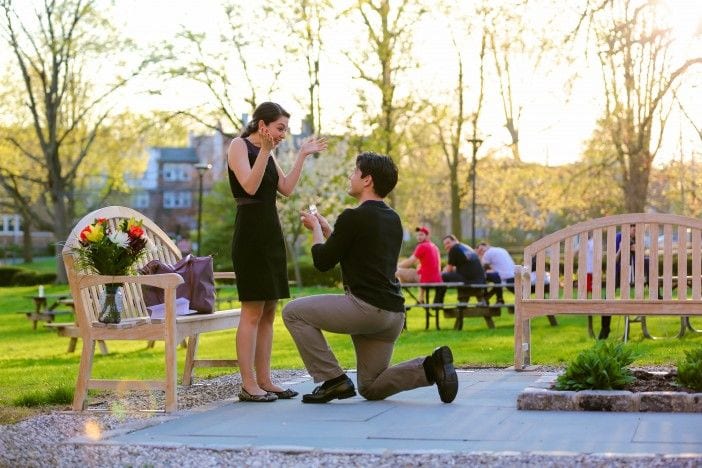 A Meaningful, or Beautiful, Spot on Campus
Many college campuses have places that are special to the college for a variety of reasons. At Texas A&M University, for example, there is a tree on campus known as the Century Tree that holds the tradition for campus engagements. It is said if you walk under it at the same time as someone, you are going to spend the rest of your life together; however, if you walk under it alone, you are set to spend life in solitude. This superstition and the beauty of The Century Tree make it a popular proposal spot for current and former students. Another example is the sweetheart circle at Georgia State University. It is said that if you walk around the circle three times with your sweetheart, you are to be married. These are some of the many, but look into your campus favorite as a backdrop for a meaningful proposal! (Images below from JP Beato III and Advantage Bullock)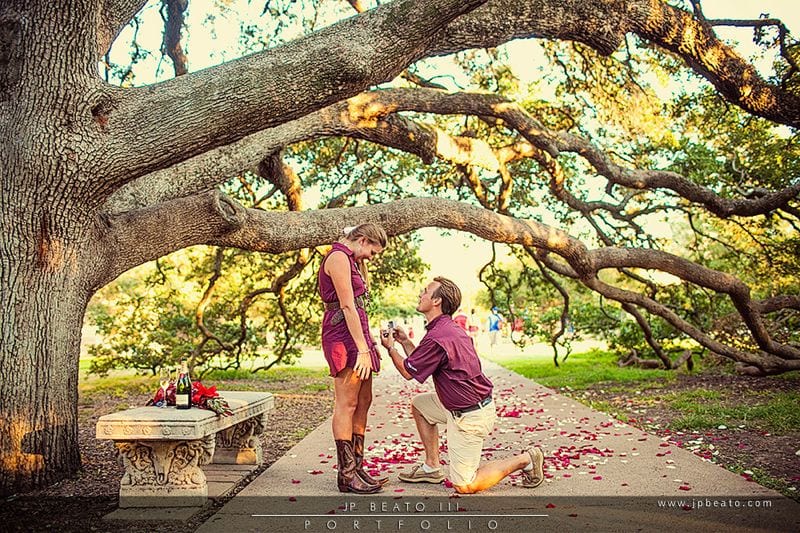 Student Union or Dining Hall
Take your sweetheart to the place where you shared a countless number of meals. You could even arrange for the kitchen to make her favorite meal and serve it on a tray with the the ring that'll change everything! Arrange for your college friends to show up after you propose and join you for dessert.
Sporting Event
If you and your sweetheart share a love of sports, why not propose to your partner at a home game for the team that you spent at least four years pulling for? You could even display your proposal message on the scoreboard! Make sure that this is something she would be comfortable with first! Check out The YES Girls blog post a couple of weeks ago for more tips for this one!


Want to create her dream marriage proposal? We have the perfect way. Contact The Yes Girls to get started on your personalized marriage proposal, wedding plan, vow renewal, anniversary or date night today! We're so excited to work with you!