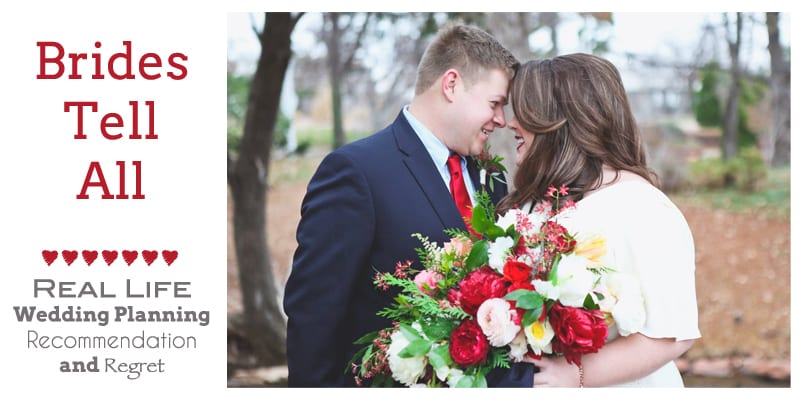 Today's bride is Jessie Casteel, from Oklahoma City, Oklahoma! Here is what she had to say about her big day, and tips for future brides…
An excuse to talk about my wedding? Sure! Why not? Justin and I were married on December 20, 2014 in the sophisticated, but intimate Lycan Conservatory of Oklahoma City. It was most important to us that our guests were treated to a lavish evening full of thoughtful details; including a three-course dinner, custom coffee station and flowers "to-go" bar. By the end of the night, the only thing left to want was a bottle of happiness to always remember the way that day felt.
RECOMMENDATION:
Hire the perfect vendors.
What is your vision for the perfect ceremony and reception? Find a wedding planner who embodies that style. Do you love lush floral arrangements in one-of-a-kind containers or vases? Find that florist. Bakers, caterers, photographers and stationary artists… These people will interpret your style into tangible goods. Client meetings should be lighthearted and exciting because you will create a unique relationship with each of these companies. Choose wisely.
REGRET:
Pay attention to your details.
Fortunately for me, there's nothing I completely regret about my big day! There were lessons I learned along the way and my biggest tip to fellow brides is pay attention to your details. Prioritize the most important details for your wedding and begin at the top. It doesn't have to be traditional, but it has to be you. (Don't lose sight of that!) If you choose beautiful elements that work together, like ambiance, color and texture, throughout the design process, the result will always be beautiful.
Catering, floral and photography were things I invested heavily in. My experience in the industry fostered a love of floral and stationary, which subsequently, covered every inch of my tables. In order to create a vision, use consist words to describe your style and define what is important. Encourage everyone to get on board with your vision. Blogs and Pinterest are wonderful tools, if you isolate why you love the photograph (i.e. flatware, floral, lighting, setting). The feelings your style evokes will bring life to the event and create a night to remember!
*Side note: To my incredible dream team of wedding vendors, I love you! Gibson Events for curating a thoughtful event, Poppy Lane Design for jaw dropping floral, Abbey Road Catering for mouth-watering food, Amy Cakes for delectable desserts, Hannah Hudson Photography for stunning photographs, Lionheart Prints for elegant stationary plus many more, including: All About Weddings, Chirps and Cheers, Evoke, Innovative Event Solutions, Kahoy Studios, Marianne's for Special Events and XO Events & Design.*


Want to create her dream marriage proposal? We have the perfect way. Contact The Yes Girls to get started on your personalized marriage proposal, wedding plan, vow renewal, anniversary or date night today! We're so excited to work with you!