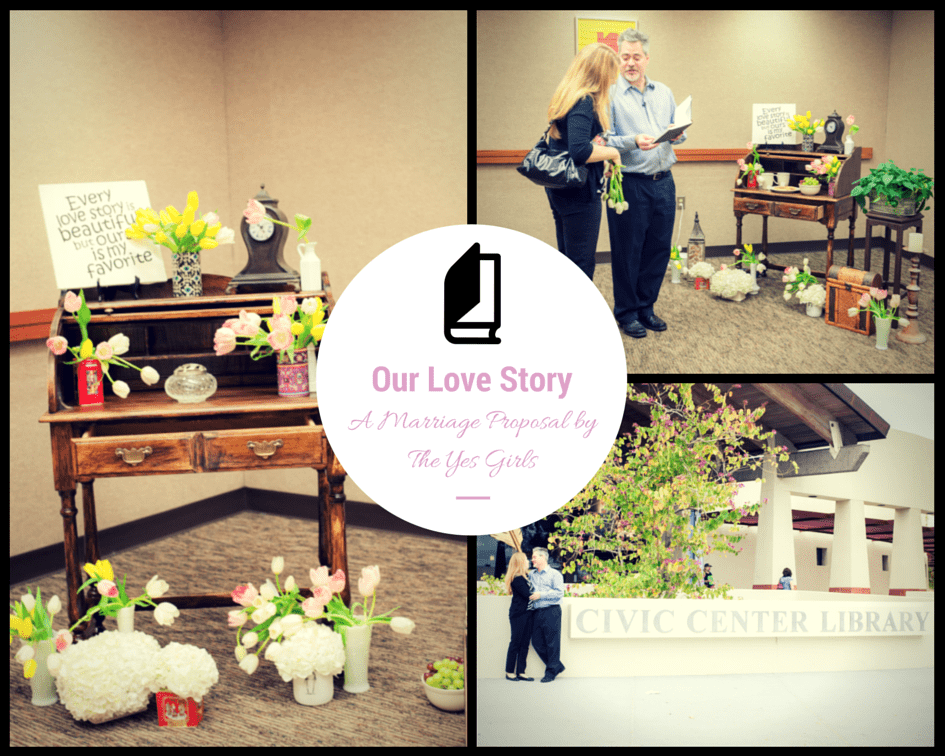 First of all, a big ole congratulations goes out to our most recently engaged couple – David and Kristina! These two love birds went on their first date to the Scottsdale Civic Library in Arizona and so it was only appropriate for their love story's next chapter to start there as well. We created a ruse to get Kristina to the library by sending her mom fake tickets to a reading by Brad Meltzer (Kristina's favorite author). Then when they arrived our Yes Girl (posed as a library staff) kindly took their tickets and gave them a copy of the book that was part of the fake reading, History Decoded. Inside the book was a bookmark that instructed Kristina to go on a little scavenger hunt around the library. Along the way she found books that have different meanings in their relationship and a white tulip (her favorite flower)! The scavenger hunt ended in one of the meeting rooms in the library where David was awaiting his future bride.
David had created a personalized love story that we had bound into a real book – the last page of the book was the question that every girl dreams of hearing!
PS- if you're wondering what that lovely bright yellow picture is on the wall, it's another personalized detail to this incredible proposal! Kristina LOVES Post-It Notes (the smell, the texture, the colors, all of it) so we created a custom mural of her favorite flower out of her favorite Post-Its!!!
Vendor Love:
Marriage Proposal Planning: The YES Girls Events
Venue: Scottsdale Civic Center Library
Photography: RaLa Photography
Videography: Ryan Blake Films (video coming soon!)