Embroidered wedding dresses have been the latest obsession among modern brides-to-be lately. And guess what? They are absolutely worth the hype. Infact, we might spend the whole day here if I get started on the details of the majestic and celestial beauty it permeates on every bride that chooses this style.
Time and again, an embroidered wedding dress has always uniquely nailed the timeless and trendy elegance for every bride who pulls it off, having each bride looking uniquely regal.
If you desire to look like a breathtaking, walking work of art on your wedding day ('cause who doesn't), today is a great day to consider an embroidered wedding dress. In this article, I will fill you in on the beauty, significance, and the reason AW Bridal is your best plug for an embroidered wedding dress.
What Is The Significance Of Embroidery Patterns On A Wedding Dress?
The values and significance attached to a bride's dress being delicately embroidered varies across cultures in the world today. Often, plant and floral patterns are the common styles of designs embroidered on wedding dresses. However, it isn't uncommon to see those that feature geometric and unique shapes.These floral or plant patterns embroidered on the wedding dress could either be crafted in the form of 3-D appliqués, motifs or the blend of both.
A bride who decides to wear an embroidered wedding dress may do so because it is symbolic of a family or cultural heritage. Some traditional views plant and floral embroidery patterns on the bride's dress as an emblem of purity, joy, and flourishing in marriage. Couples can decide to go for an embroidered wedding dress as a way of symbolizing love for one another and the union. Flowers that convey significant meaning or heart-shaped patterns can be designed on a wedding dress in order to infuse their virtues into the new union.
Types Of Embroidered Bridal Dresses On AW Bridal
1.   Fully embroidered wedding dress
A fully embroidered wedding dress is crafted with intricate and unique embroidery designs from neckline to hem. This style is often desired by a lady who appreciates the aesthetic of an excellent masterpiece, seeks to be a walking canvas of her values, and wants her wedding to capture the charm of a dress that is uniquely hers. Is that you?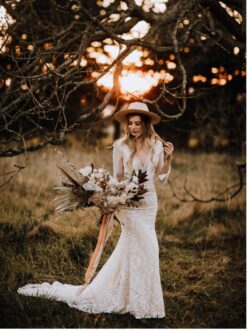 2.   Part-embroidered wedding dress
A part-embroidered wedding dress features embroidery work on different parts of the wedding dress: sleeves, train, bodice, or skirt. The distinctive allure of this bridal outfit is unparalleled. Choosing this mixture of plain and embroidered patterns presents you as a modern goddess with a timeless elegance.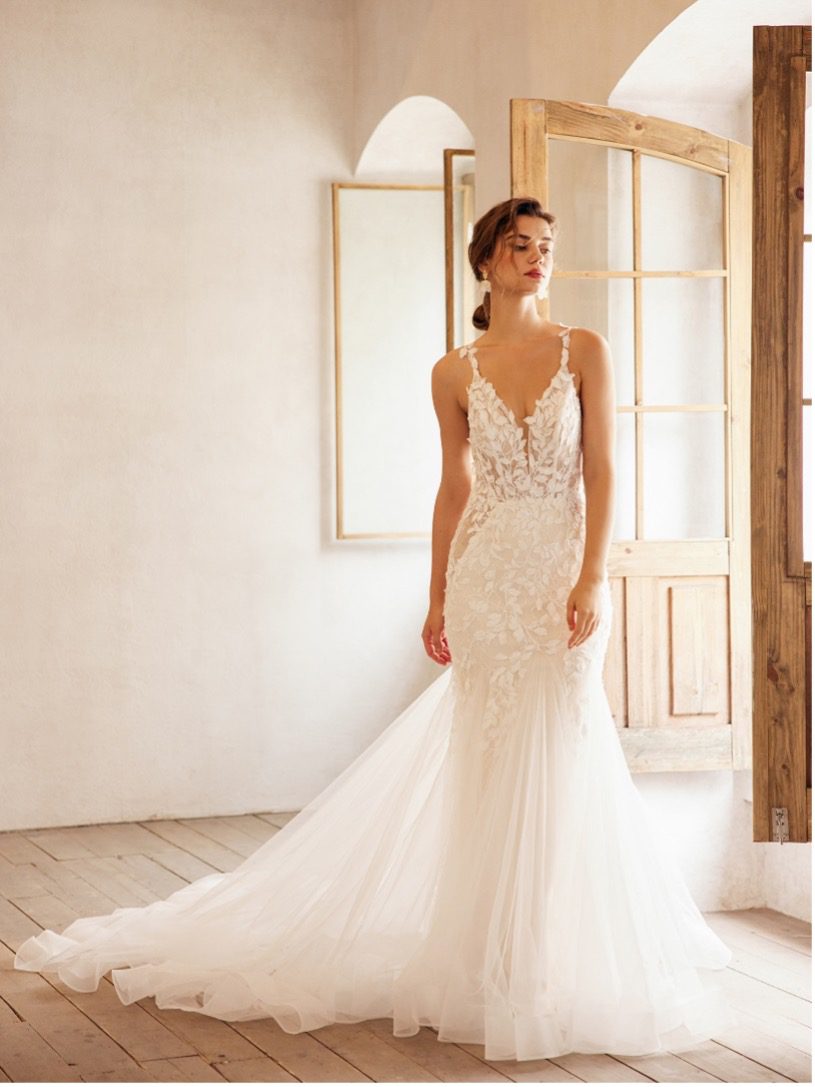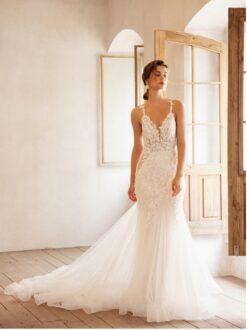 3. Colored embroidered wedding dress
Express your individuality on your wedding day in the most enchanting and elegant style by choosing a colored embroidered wedding dress. This dress breaks away from the conventional style and upholds you in a rich, vibrant, and jaw-dropping sophistication. Adorning yourself in this wedding dress lets you create a breathtaking art that you would forever love and would always be memorable by all.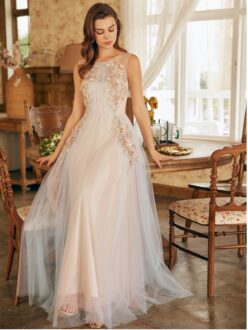 Conclusion
 Your wedding dress is a sacred garment and must be treated with reverence, so whatever you are adorning it with must be utmostly significant. Embroidery designs are a great way to beautify your wedding dress because it gives room for creativity, individuality, and an out-of-the-norm dazzle. Your best bet for quality and beautiful embroidery wedding dresses can be found on AW Bridal. Shop today and truly have the wedding of your dream.
By Precious Martins