Not to pat myself on the back or anything, but I've been on a roll finding the most unique engagement rings lately… and this week's collection is from Oore Jewelry! I am obsessed with the intricate detailing and the eye-catching center stones! Each one is more romantic than the next! LOVE!! Check out my favorites…
"Oore is founded and run by me, Uma Gordin. I started making and selling my creations at the age of 18, after slowly finding my own style. It's taken time and hard work, but I like to think I've come a long way from just putting charms onto chains and stringing beads. In 2013 after taking metalsmithing classes at Metal Heart Jewelry in Minneapolis, I decided to start selling handmade fine jewelry I made from sterling silver, gold, and various gemstones. I love working on handmade alternative engagement rings for people who don't want the traditional look. I've always loved when handmade looks handmade, so you always have something completely one of kind and forever just yours. My jewelry inspiration comes first from nature, which is where I find myself most when I'm not in the studio. I love hiking and spending time in the forest, which I hope translates over into my work."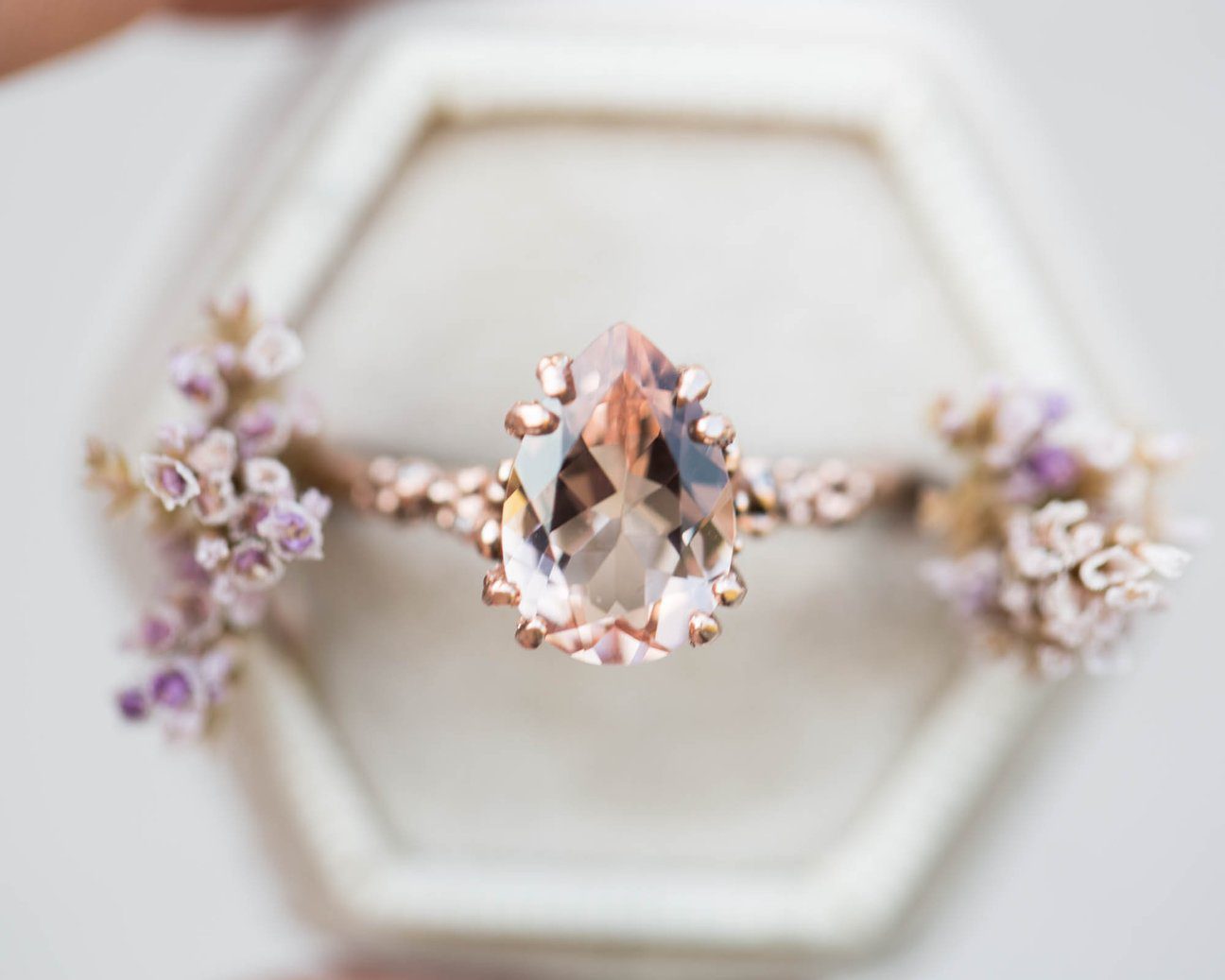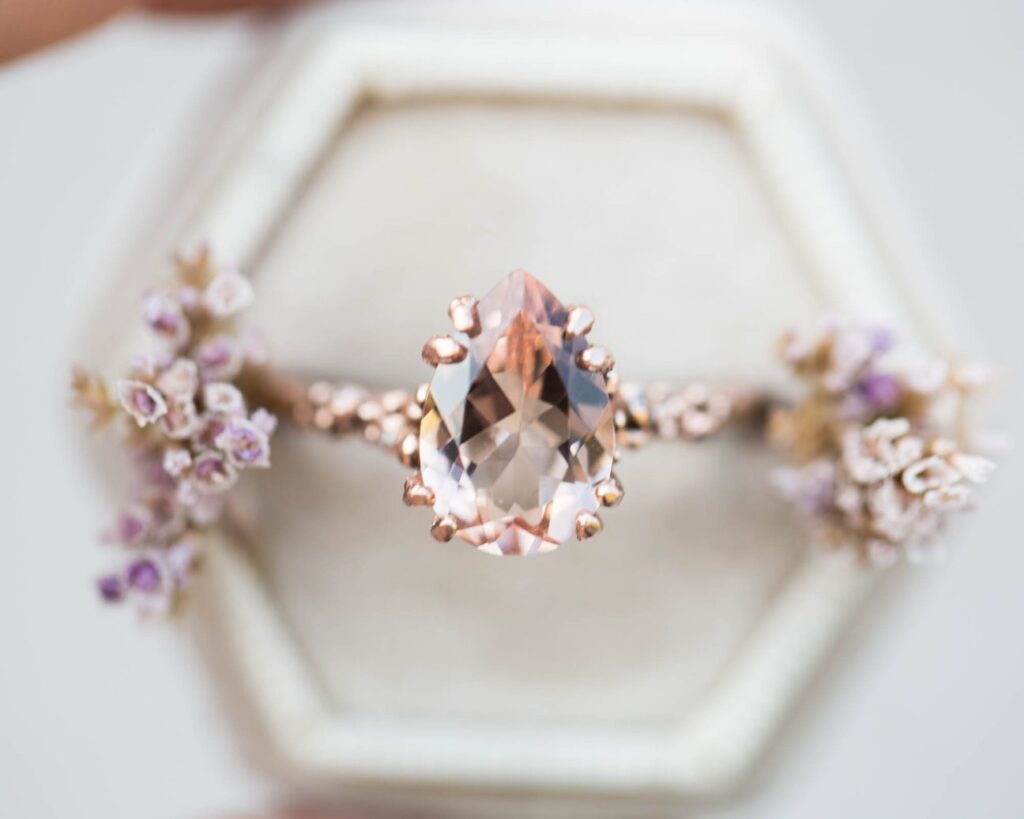 Pear Morganite Barnacle Engagement Ring 
This stunning ring features a hand carved mermaid setting and a large peachy morganite. Ring details- Main stone is a 12x8mm peach/pink morganite, beautifully cut. -Six, 1mm white diamonds are scattered on the setting and band. -Hand carved barnacles, double prongs holding the stone in place. -Each ring is hand carved, so please allow some differences. -Cast in solid 14k rose, yellow or white gold.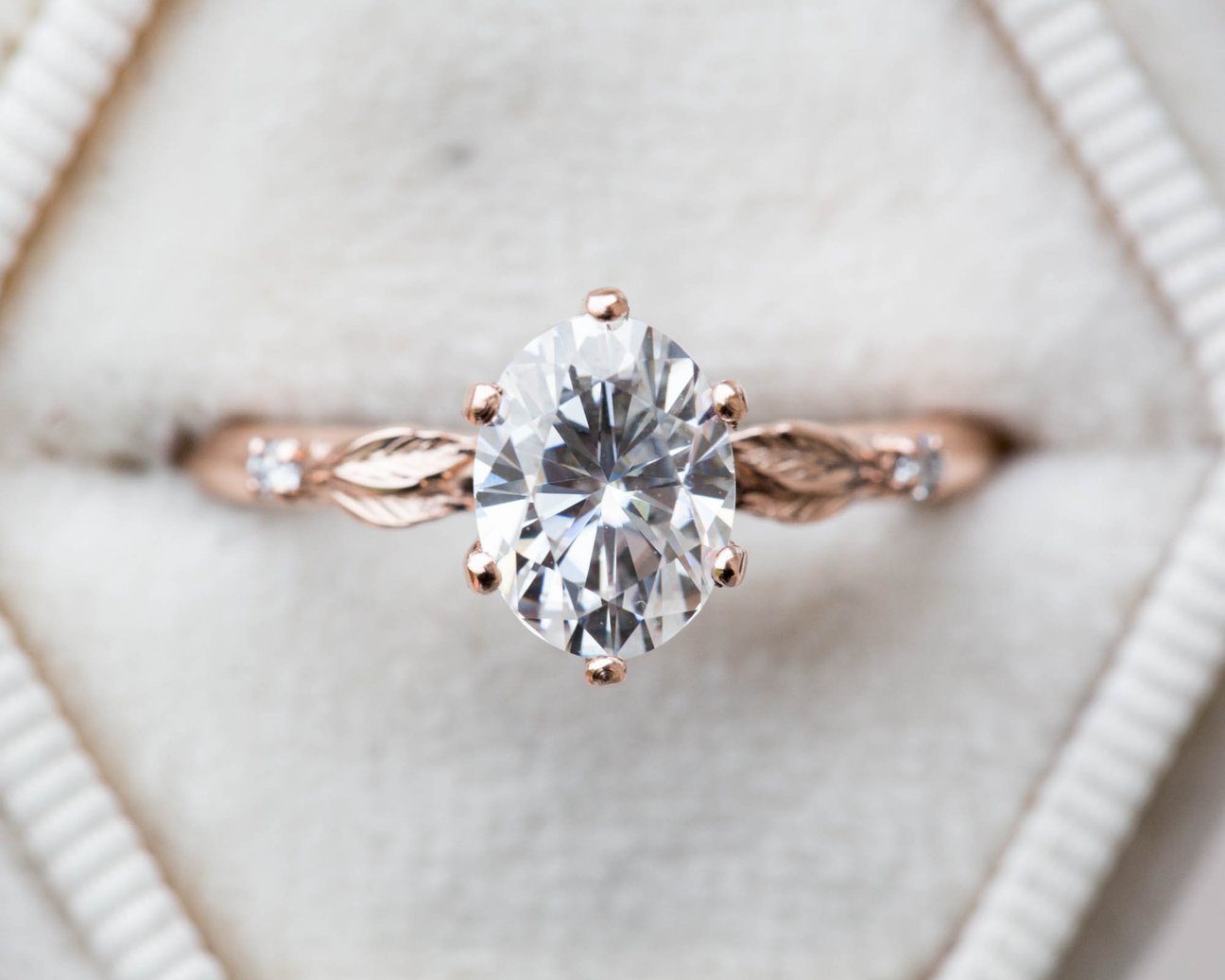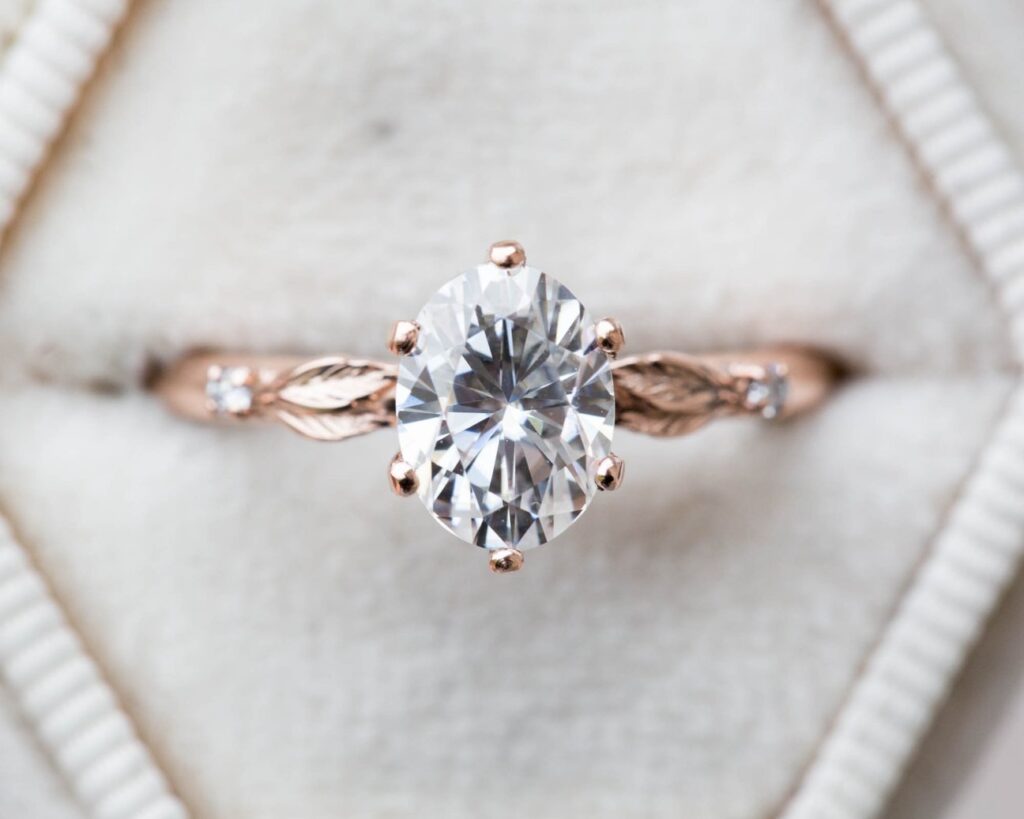 Oval Moissanite Leaf Engagement Ring
The Rowan collection, a finely curated collection of leafy rings and sparkly gemstones. Ring details- -8x6mm forever one moissanite from Charles and Colvard. Certification included. You can choose from near colorless or colorless, near colorless is shown in the pictures and can put of a slight yellow tint in certain light. Looks great with yellow or rose gold, while colorless looks good with all three metal choices! -Two intwined leaves sit on each side of the stone, giving this ring a fairytale look. -One, 1.3mm diamond sits at the end of the leaves on each side. Prong set. -Smooth sturdy band, can be engraved with twig texture or left smooth. -Open rail prong for the main stone, with 6 prongs holding the stones. -Cast in solid 14k rose, yellow or white gold.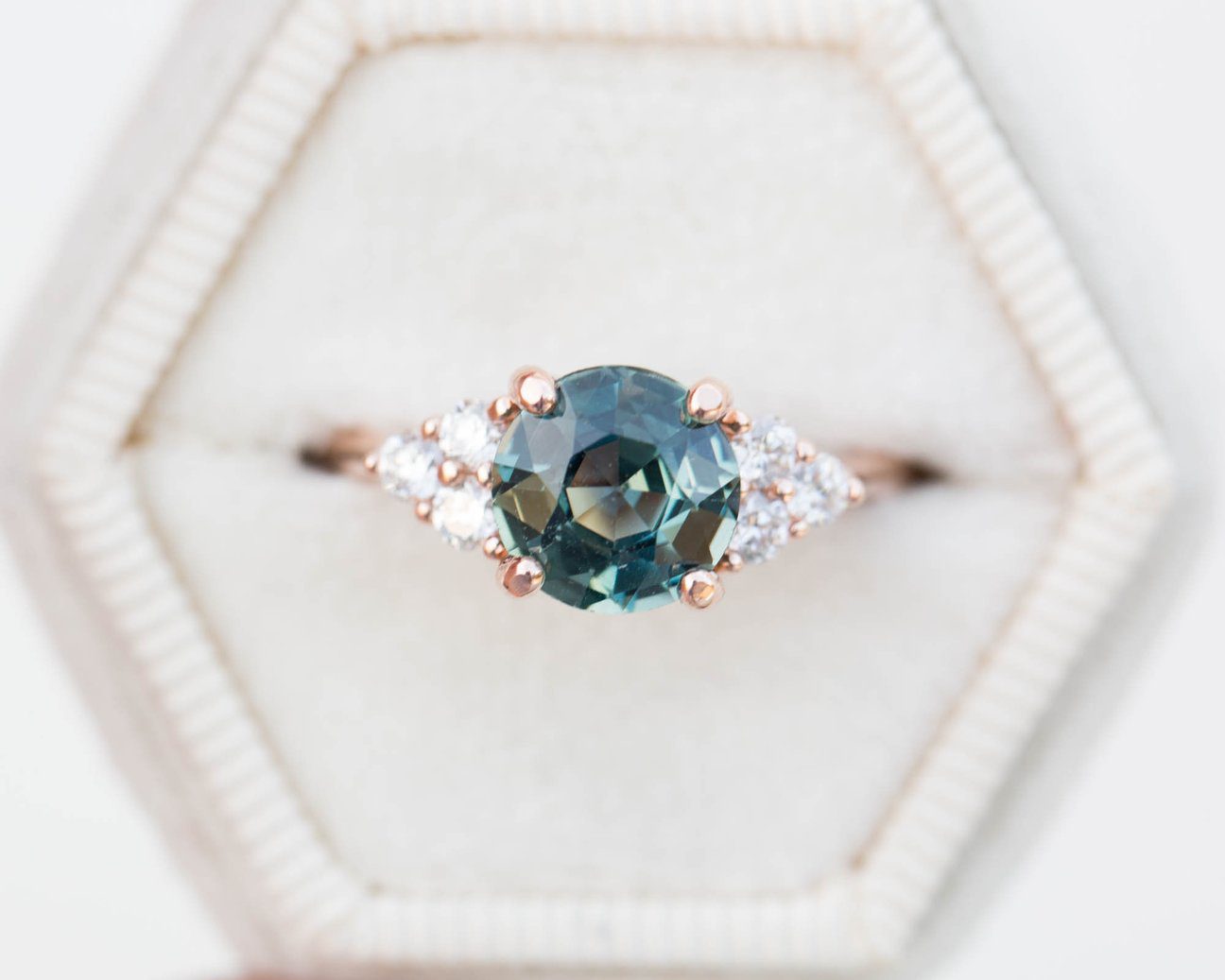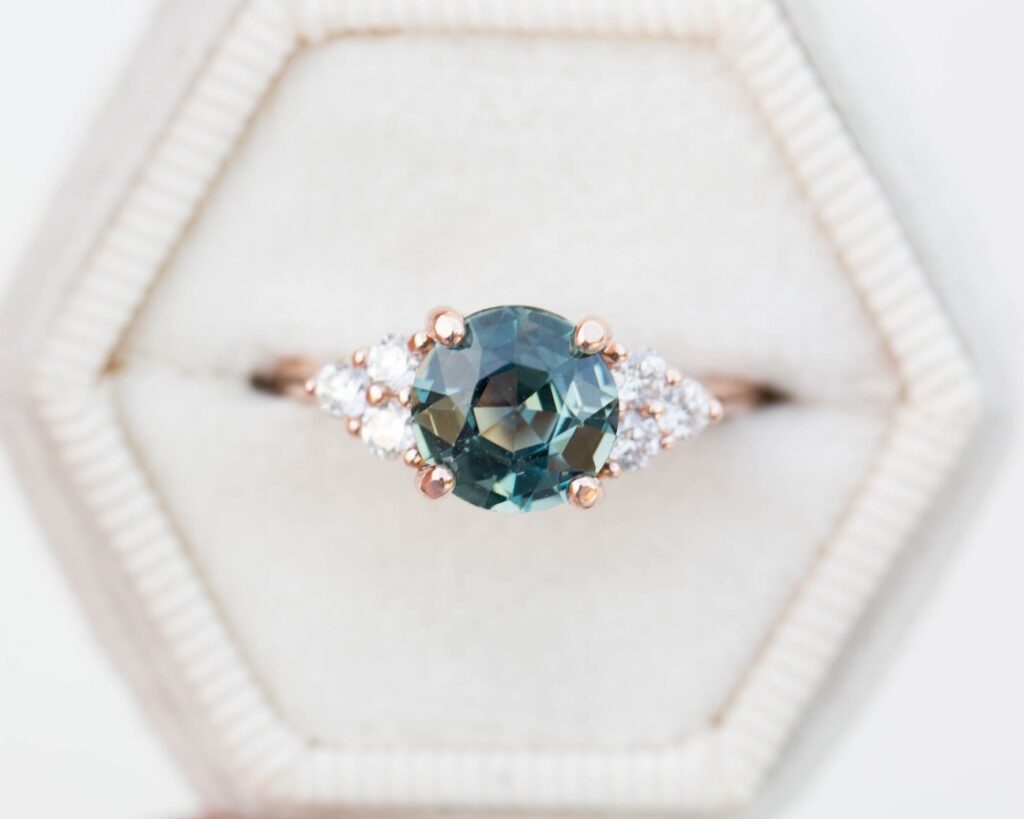 Teal Sapphire Cluster Engagement Ring
This new of a kind ring features a stunning 2.17ct natural teal sapphire and white diamond side stones. Ring details- -Main stone is a 7.77mm unheated teal sapphire, with amazing color shifting from a bright teal to a deeper teal. Eye clean, ethically sourced from Caleb Quashen, Madagascan origin. -Six diamonds in total, three on each side. Each diamond is around 2.4mm, so around .3cts total. GHI color, VS quality, ethically sourced. -Open work setting, smooth slightly tapered band. -Solid 14k rose, yellow or white gold. This ring is shown on a size 6 finger, it has lots of finger coverage! One of a kind.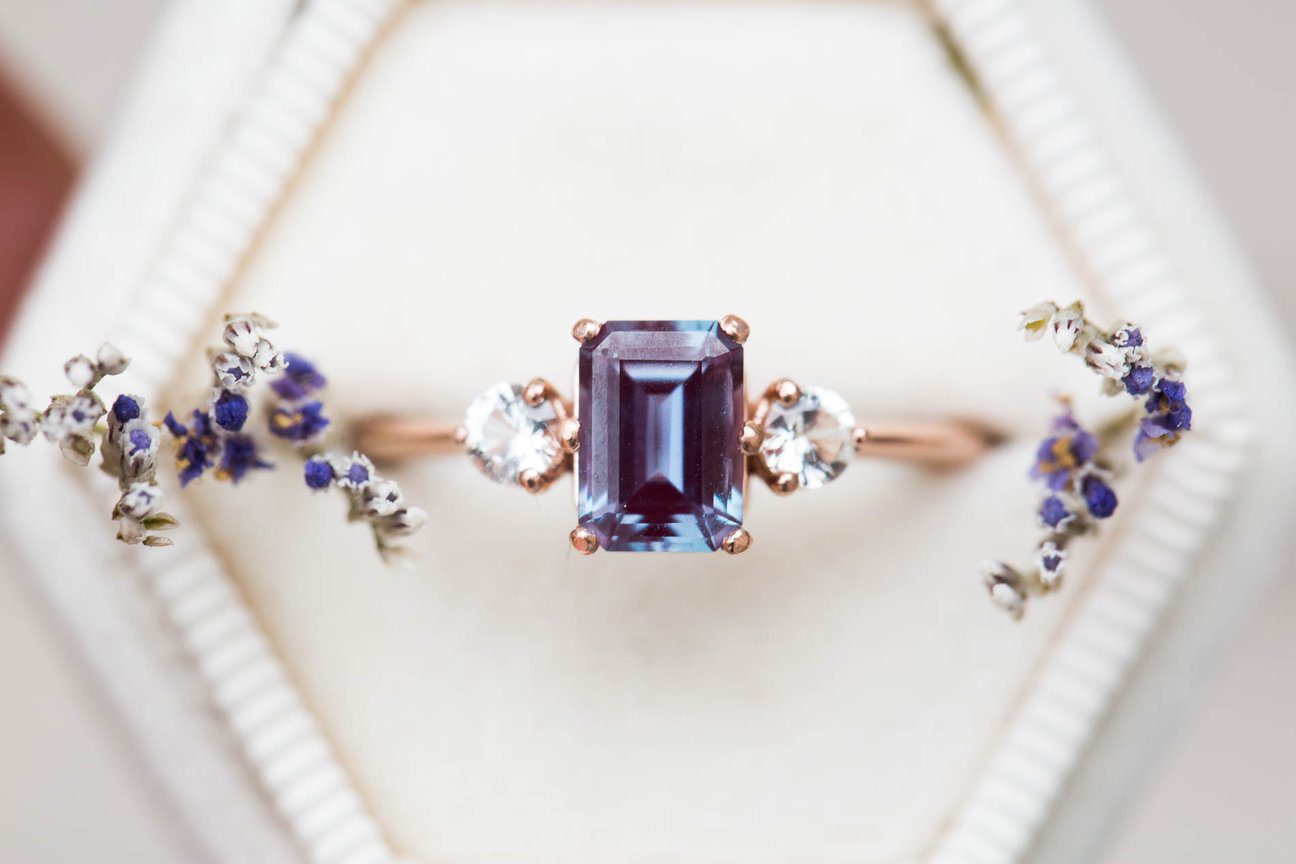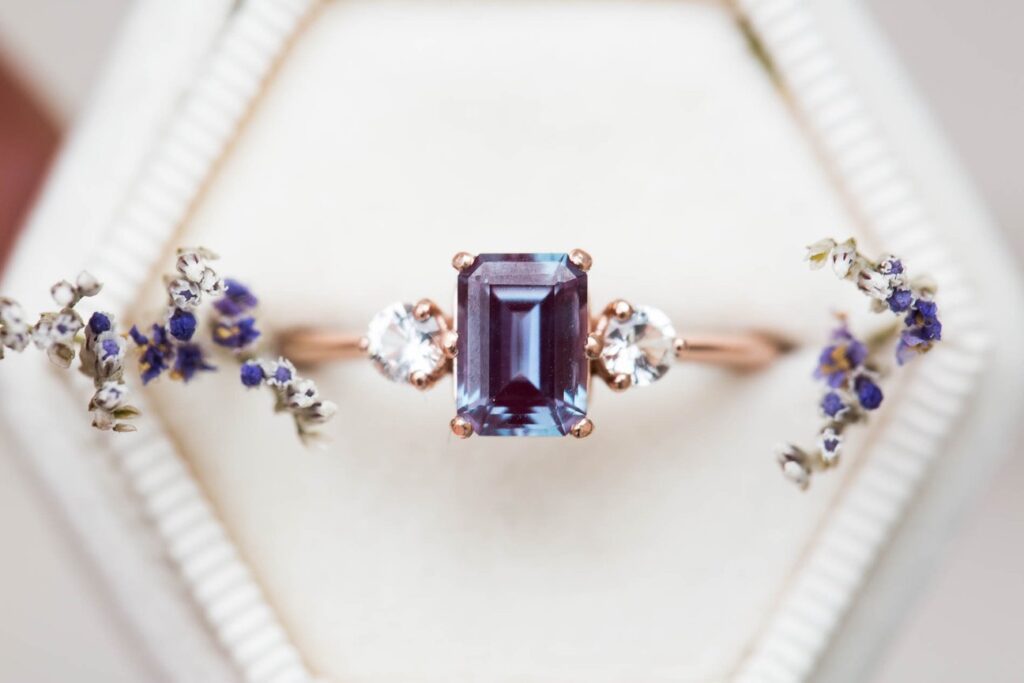 Alexandrite Sapphire Three Stone Engagement Ring 
This beautiful, earthy ring is made with a stunning Chatham alexandrite and small diamond cut white sapphires. Ring details: -Main stone is a 7x5mm emerald cut Chatham made alexandrite, certification included. -Side stones are 3mm AA round white sapphires. -Ring is cast in solid 14k yellow, white or rose gold. Please select your correct size at checkout and your correct metal choice. -Each ring is handmade and slightly one of a kind. The stone featured is unique and is color changing. Chatham lab created alexandrite will change colors from purple to teal, with hints of blue and red in certain lightings. The stone is always changing colors, and it really extraordinary and unique!