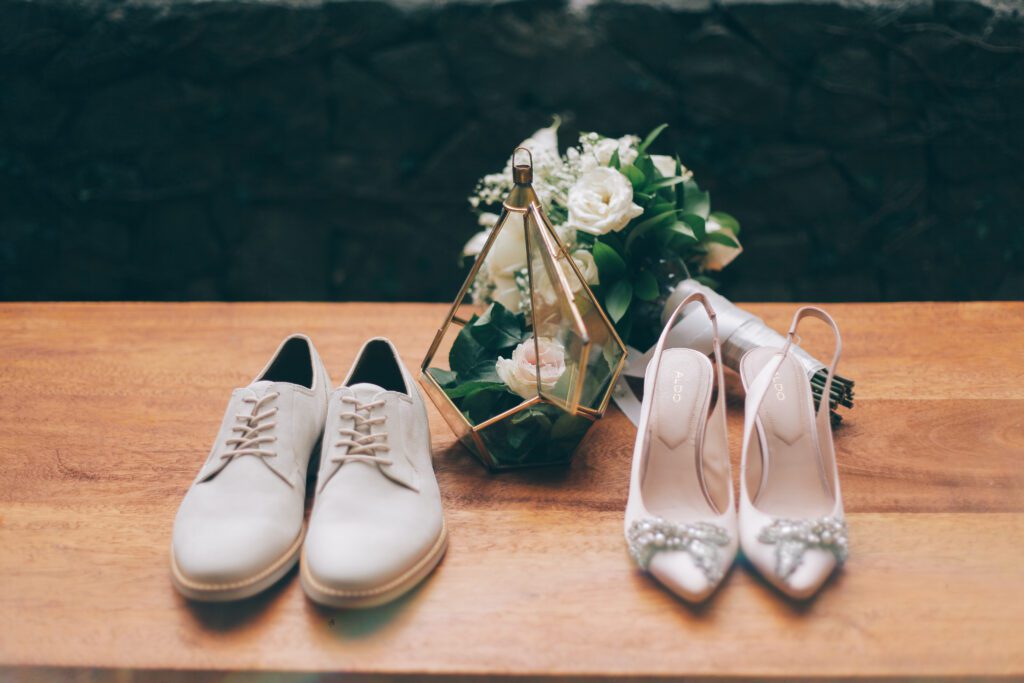 Destination weddings provide a stunning backdrop for couples to take their vows and begin their lives together. They don't have to be too expensive, either. In our previous article on the Financial Benefits of Destination Weddings, we discussed how destination weddings allow couples to trim their guest lists to a few select people, and even have their honeymoon at the same location. This financial flexibility leaves room to indulge in other aspects of the wedding, such as attire and accessories.
As you plan your dream destination wedding, why not elevate the experience even further by coordinating your outfits? Here are four fashion tips to help you and your partner look stunningly cohesive throughout all your wedding events — no matter where these events may be.
The magic of matching details
Attire with specialized embroidery or patterns related to a destination's culture can create a deeper connection between your wedding and the location. For instance, Italian-inspired lacework or intricate floral patterns are a great option if you're having a garden wedding in the romantic landscapes of Italy.
Some clothing brands are known for incorporating such craftsmanship into their designs. Just look at the white corset mini dress of Kourtney Kardashian when she had her third wedding ceremony in Portofino, Italy, in May 2022. The Dolce & Gabbana creation was made with silk lace detailing inspired by 1960s Italian lingerie. You can opt for small but meaningful touches like this in your own wedding ensemble and even match embroidery or lace details in your bride and groom outfits.
The sentimentality in personalized embellishments
Besides details about the destination, embellishments that reflect your unique journey and relationship can also elevate your wedding attire. These subtle additions can add depth and sentiment to your ensemble, whether it's a heartfelt phrase, your wedding date, or a symbol of significance.
For inspiration, consider the story of Mr. Tilley and Mr. Marano, who found their sartorial haven at Barneys. The two collaborated with the suiting brand Enzo to embroider "I Do" into the cuffs of their shirts and "Just Married" into the felt undercollars of their jackets. Such thoughtful additions help capture the essence of commitment and serve as timeless keepsakes that forever remind couples of their special day.
The glamor of coordinated accessories
Accessories have the remarkable ability to tie together an outfit and elevate your look to new heights. If you want to align with your destination wedding theme, consider matching sunglasses during a beachside ceremony or a garden wedding. Many luxury sunglasses brands offer an array of designs to complement your destination wedding look perfectly.
The right pair of sunglasses can add sophistication to your appearance while protecting your eyes from the elements. Versace sunglasses are made in Italy and have premium anti-reflective lenses that repel water and oil, preventing smudges and glares from masking your eyes. Consider the Versace VE3327U for your groom as a sleek and classic choice. For brides, you can't go wrong with the Versace VE3341U for a touch of elegance that can enhance your style quotient during pre-wedding events, the wedding itself, or the celebratory parties at your wedding destination.
The comfort and elegance of terrain-conscious attire
One of the most critical factors of a destination wedding is the climate and lay of the land at your chosen location. If you're tying the knot in a tropical paradise, opt for breathable fabrics that keep you comfortable without sacrificing style. Alternatively, if you're embracing the enchantment of a winter wonderland, prioritize warmth without compromising elegance with luxurious wool blends.
If you plan to engage in active festivities after the ceremony, you'll also have to consider the hem of your outfit or your footwear. With the right shoes, you can effectively dance the night away with your partner without worrying about calluses or sore feet. This tip was well followed by actress Marielle Scott and host Ryan Bergara, who donned their custom Blake Barash shoes during their wedding reception at The Ritz-Carlton Bacara. According to Mari, the matching shoes were perfect for taking on the rest of the evening.
A destination wedding offers a picturesque setting and allows you to explore innovative ways to enhance your big day. By allowing your fashion choices to reflect your unique love story, you can create a wedding ensemble that's as unforgettable as the destination itself.
Written By: Travis Salinas