You've found the one! You are both ready for marriage and you know this because you've discussed it. Now it's time to ask her parents for their blessing. What's the best way to ask or even start the conversation? It depends on your relationship with her folks (and hers for that matter) but here is some pointers that have worked quite well for some of our past clients.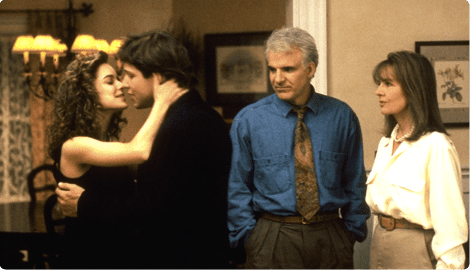 Photo from The Puny Pundit
1. Ask in person if it's an option! Skype is now a perfect alternative to a phone call or letter if you can't meet them in person. They can see the sincerity on your face.
2.  Simply start the conversation by telling them how much you love their daughter. You don't have to dive into the question right away but keep in mind they probably have a hunch it's coming.
3. Tell them why you believe it's time to take your relationship to the "engagement" stage.
4. If they can keep a secret, you can let them in on your plans to propose– when and where – which can be another "in" with her parents. They will not only feel respected that you asked for their blessing but that you trust them enough and consulted their opinions for your proposal plans!
5. Remember to thank them for all they have done in raising such an incredible daughter. Even if you don't agree with all their opinions or parental guidance, this will show how you don't take who she is or what they did for-granted.
Best of luck gentlemen! Ultimately if you express your sincerity and love for their daughter, all should go well.


Want to create her dream marriage proposal? We have the perfect way. Contact The Yes Girls to get started on your personalized marriage proposal, wedding plan, vow renewal, anniversary or date night today! We're so excited to work with you!