Two week we shared The Yes Girls do-it-yourself ideas for the crafty girl in Engagement 101 magazine, and last week we shared the Outdoor Library ideas. So today we are sharing the final proposal from our amazing Engagement 101 shoot, the Drive-In Lyrical Picnic. I have to say, this scene was my favorite. From the lyrical banner to the "redneck wine glasses" to the DIY picture frame everything was just breath-taking. Plus it didn't hurt that we had a beautiful couple who graciously volunteered to model for us :)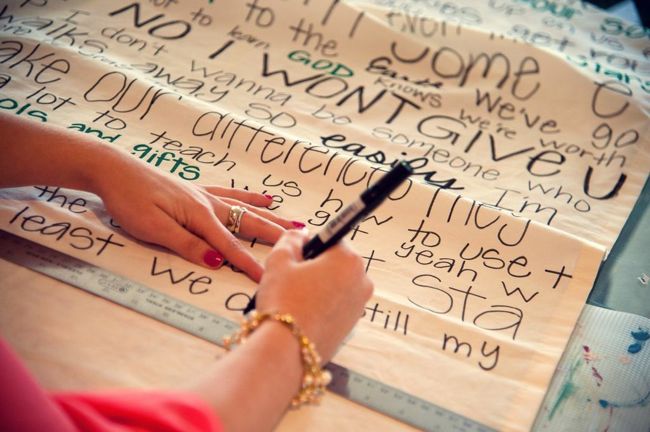 DIY Lyrical Banner:
– Buy a queen size ivory bed sheet
– Cut the hem off of the sides and with measuring tape and a level cut the sheet into three long strips
– Continuing with the level write lyrics to your favorite song line for line
– We chose to highlight certain phrases or words by making them bigger, bold, or in a different color
Lyrical Picture Frame:
– Type up the lyrics to your favorite song on the computer
– Print them off on different pieces of paper in different fonts (make sure you change the sizing too)
– Hand rip the lyrics into smaller pieces
– Use Modge Podge to glue the lyric pieces to the picture frame
– Add a picture of the two of you and voila!
Vendors involved:
Photography by Sil Azevedo
Engagement Rings from Fuller's Jewelry
Rentals from Rent My Dust Vintage Rentals
Florals by Golden Gate Florist
Personalized DIY projects and styling by The Yes Girls


Want to create her dream marriage proposal? We have the perfect way. Contact The Yes Girls to get started on your personalized marriage proposal, wedding plan, vow renewal, anniversary or date night today! We're so excited to work with you!