This may be a surprise to some, but it is not uncommon for couples to have little tiffs on the day their sweetheart plans to propose.  In most cases, gentlemen want everything to go perfectly and according to plan; his girlfriend somehow begins to deviate from his plan resulting in… you guessed it, an argument.
Tips to Avoid Pre-Pr0posal Arguments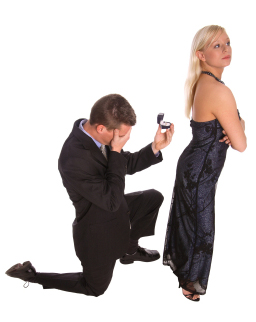 1. Be Flexible: Men, you rightfully want the proposal to be perfect, but be aware your girlfriend may not do everything exactly the way you pictured it. It's vital you give yourself (and her) some leeway time.  For example, if you made reservations at your proposal destination but she is running late or isn't in the mood (which is understandably frustrating to you), DO NOT get annoyed and mad at here. It's like mom always said, "Kill them with kindness." She is not going to change her mind or be in a joyful mood if she feels you're mad at her.
Instead, sweetly ask her if she would do this for you and trust you on this. You do not need to give her details but explain you made plans and you know she will enjoy them.  You are not blowing the proposal by striking her curiosity about your mystery plans. It's better she is excited you made plans than having her upset when you pop the question!
2. Get Creative: Along with being flexible, get creative.  If she strays away from your plan find a way to get her back on track in a non-confrontational way. For example, you need her to "go for a walk" on the beach but she says she doesn't feel like walking, make up an excuse. Examples: You just got a text from a friend and you would really love it if you could say "hi", you found a beautiful spot on the beach and want to show it to her, you dropped your sunglasses earlier (just hide them in your pocket) and want her help looking for them, etc.  You get the point. Create a reason for her to go with you.
3. Be Prepared:  Think about where you are going and have her wearing the proper attire.  If you're going to be outside, make sure she has a jacket, scarf, etc. so she is willing to go outside.  Preparing her from head to toe for the evening is a must.
4. Calm Her Nerves: It's completely normal to be nervous. However, she won't understand why you are acting different. Because we are females she may start to question if you're upset, mad, frustrated or (even go this extreme) not into her.  Compliments are golden on proposal day! Even if you're nervous take time to tell her how much you love her and reassure her, so she doesn't start doubting. If you usually have a sense of humor, throw around a few funny comments. You may not be able to calm your nerves but you can certainly calm hers.Now you've avoided a potential argument. Voila!
You can't always predict your gal's mood but you can certainly have an amazing, non-argumentative proposal day! Good Luck!!!
Love,