Just because we're in the middle of a pandemic doesn't mean we can't enjoy a wedding. In fact, many couples are choosing to move forward with their special day. Instead of hosting a huge fete with constant close contact, most couples are opting for more intimate and "socially distant" weddings! Here's how you can celebrate a socially distanced wedding—both as a guest and as the couple!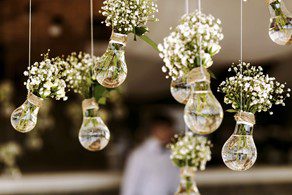 For Guests
1. Still Bring a Gift. Even though this new season of weddings brings new traditions and rules, the one thing that will stay is the custom of bringing a gift. You should always bring a gift to a wedding to celebrate the happy couple as they move into their new life together.
A complementing set of his and hers rings are perfect! Some durable silicone wedding bands for men come with engraved options. They don't have to match entirely—if the bride lives to shine, then she'd love a sparkling silicone wedding band for women! If they love to travel, explore the outdoors, or spend an extended period of time in the gym, silicone rings are great because they are made for individuals who lead an active lifestyle.
2. Bring Your Mask. While the bride and groom might provide you with one as a favor, it still shows responsibility on your part to bring one yourself. Since most venues have to put restrictions in place, being proactive will really go a long way and show the bride and groom you care about their health and safety, as well as the health and safety of their guests and staff!
3. Follow Their Rules. If the bride and groom place out "social distance" markers on the floor for the buffet line, the bar, or the dessert table, follow them! They are graciously allowing you to be part of their small, intimate day—you should adhere to the rules and
protocols they put in place to show them you're grateful for being included in their special day.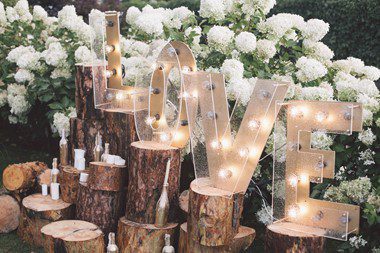 4. Respect Other Guests' Wishes. Some guests will not want you to touch them or would like you to keep your distance. That's okay! In today's times, you want to show others that you respect them and their wishes. You'd want other people to respect your boundaries, too, so be cognizant of what other guests would like you to do when it comes to their personal space during a socially distant wedding.
5. Take the Sanitizer Favors. Many couples have been giving mini hand sanitizers as favors to their guests. Some place them at the place settings, and others create elaborate displays near the guestbook table. Make sure you take one! They've put them there for your comfort and to encourage you to practice good public hygiene—so use them!
For Couples
Planning a wedding during a pandemic is tough. You'll probably have to cut your guest list, find a way to incorporate a virtual ceremony, and figure out new seating arrangements to accommodate social distancing guidelines. That's okay! There are plenty of ways you can encourage social distancing at your wedding without making the place feel like a hospital or an aisle at the grocery store.
1. Provide Face Masks & Hand Sanitizer. Encourage your guests to practice good public hygiene by providing them with face masks and hand sanitizer. While most guests will bring their own, having them available will serve as a reminder to everyone that you care about their health and safety, as well as the health and safety of anyone they come into contact with.
2. Organize Your Seating. Forgo the traditional rows of chairs at your ceremony, and instead talk with your designer about creating "soft seating spaces"—use couches, settees, and large chairs to encourage only groups that live together sitting together. For the reception, space out seats at an eight-person table and instead seat a maximum of six at the table. Your guests will quickly understand how important the distancing is to you, but everything will look seamless!
3. Avoid Self-Serving and Busing: If you hired a drop-and-go catering service—we're looking at you, BBQ restaurants!—ask them whether they offer an upgrade to stay through the event to serve the food to guests and bus tables throughout the night. That prevents guests from crowding up the trash area—realistically, most guests don't throw their trash away at all!—or getting too close in the buffet line. If they won't provide that service, then consider choosing a different company who will, or ask a couple of the neighborhood kids if they'd like to do it for you—don't forget to pay them!
4. Avoid the Receiving Line: While not so frequently anymore, the receiving line has traditionally been a way for couples to thank all their guests for attending the wedding. However, this tradition isn't really "socially distant." Instead of having a receiving line, make a brief "thank you" speech after toasts are given. Thank everyone for coming, remind them to be safe, and encourage them to enjoy the party!
5. Make the Rules Known: Who doesn't love a cute chalkboard sign? Chat with your designer about creating a sign that lists out the rules for the event, such as wearing masks, standing six feet apart, and using hand sanitizer when going through the buffet or before/after eating. Make it large enough that guests can read it quickly, and place it next to your seating chart list so guests can easily access it!
6. Get Creative with Desserts: Instead of having a traditional cake, use individual desserts! Cupcakes are a great alternative, as are individually packaged cookies, donuts, and cake pops! If having a cake-cutting is important to you, ask your baker to provide a small tier for the two of you to cut and eat yourselves, but provide other desserts for your guests. Instead of offering them at the table, package them in individual to-go boxes for guests to take with them after the event!
By following best practices for social distancing, masking, and hand-washing and -sanitizing protocols, you and your new spouse can feel more secure that you are sending your guests home with just favors, not viruses, which is a much better way to begin your new life together.