Last week I was chatting with a lady who works with my husband. You know us girls we can talk just about anything, and the conversation led us to Christy telling me about her amazing proposal. I thoroughly enjoyed listening to her tell the story as if it happened yesterday not ten years ago. I wish I could have recorded it and replayed it for you.
Christy is a professional acappella singer and so was her husband until he joined the Air Force.  On the night of their engagement, Christy had a big performance (hundreds attending) and Jim organized a "surprise" without her knowing.   He got a group of fellow singers together, and turned Christy and his song "God Blessed The Broken Road" (awesome song by the way) into an acappella performance.
It was tradition for someone special to hand the performer a rose at the end of their acappella. After Jim handed Christy her rose, the group of gentlemen came from behind her and joined Jim in serenading her. By the last verse, Jim was on one knee, with a cheering crowd, proposing to Christy!  They have now been married for 10 years and she still gets gitty telling the story. Love love love!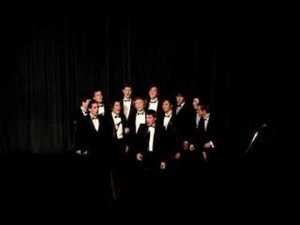 One of the best parts is the proposal didn't cost Jim a dime, just time writing the acappella and contacting his wonderful friends for help!  Stay tuned…I'm hoping to get the video from Jim and Christy's proposal so we can all enjoy the romantic acappella.
Love,