Hello men! We do realize you have the best of intentions when it comes to planning a romantic date (or at least we hope so). This is why I'm hoping to help a few fellas out with ways to spruce up your date nights. Ideas that are manageable and guy-proof. I even took some inventory from females on favorite date ideas and gestures their guys have pulled off successfully.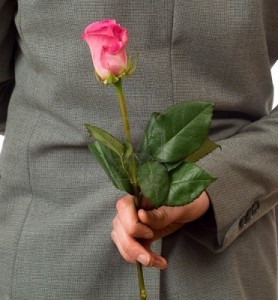 1. A Single Flower. Instead of showing up to the date with bouquet of red roses, bring her a single flower. Are you thinking, "What?! Hold up! That makes no sense! A single flower verses spending money on an entire bouquet?" Yep! Here is the thing… if you pick up a one flower that reminds you of her such as a pink peony, a white daisy, a purple tulip, you are showing the thought and intention that went into your selection JUST FOR HER rather than just getting a bouquet of red roses that is typical for any girl. If it still doesn't make sense, just try it and see how it goes!
2. WHOLE day date. One Saturday or Sunday surprise her with an entire day of fun plans! Start the day at her favorite breakfast spot and have the waitress write a clue on her coffee cup to the next place you're going (i.e. her favorite spots/activities- museum, hike to a waterfall, bike ride, favorite meal in a backyard picnic under twinkle lights, etc. Try new places out too!). At every stop give her a clue to the next surprise so it keeps her guessing and giddy all day!
3. A One-Of-A-Kind Slideshow. If you've been dating a least a couple months you put together a slideshow of photos together and things you love about her. Have fun with it! After dinner, head to a pretty location where you can you can whip out dessert (you packed in a cooler) and your iPad/laptop with a slideshow to "your" song. It doesn't cost a dime and it will melt her heart.
Cheers to spicing up dates! Try out these 3 simple romantic gestures and I'm sure she will be falling more in love every day!
Love,
The Yes Girls


Want to create her dream marriage proposal? We have the perfect way. Contact The Yes Girls to get started on your personalized marriage proposal, wedding plan, vow renewal, anniversary or date night today! We're so excited to work with you!