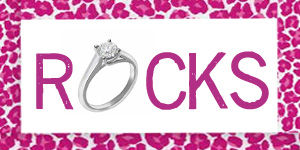 Good morning! For today's ring picks, I have concentrated on pink colored stone engagement rings.  After talking with my friend, Chloe and her absolute desire for a pink center-stone engagement ring, I started my research immediately and found some gorgeous rings.  My picks are a mix of pink sapphire and pink diamond engagement rings.  The difference between the sapphire and the diamond stone other than price, is their chemical composition but both are just as breath-taking.  Just like the canary stone, the pink or any other color stone for that matter, adds personality and a special flare! Here they are…
Pink Sapphire and Micropave Diamond Ring

.  This beautiful oval pink sapphire is surrounded by sparkling micropave diamonds, accented with just enough gold touches.  It's a

vailable in white and yellow gold.  The pink colored stone adds a modern feel, to a vintage setting.  You can find this ring at the jewelry line,

Blue Nile

.
Brilliant Cushion Cut Pink Sapphire Ring.

The pink center stone is set between two bright half-moon diamonds and is set

in white gold.  This is more a traditional ring, but once again, the stone makes it more contemporary and fun.

You can get more information and more sapphire jewelry at

The Natural Sapphire Company

.
Fancy Deep Pink Diamond Ring (right side) and Fancy Vivid Pink Diamond Ring (left side).

These

Tiffany's

pink engagement rings are both a little pricey but still, nonetheless, very

stunning.  The one on the left is cushion-cut fancy deep pink diamond and round brilliant white diamonds in platinum.  The other ring is an oval fancy vivid pink diamond and pave white diamonds in platinum.  Both very similar other than their cut.  I love both of these, the pink is so soft and classic that the ring is still able to keeps it's elegance.
Bezel Set Round Pink Sapphire Engagement Ring.

The center stone is surrounded with the finest set of micropave diamonds and a single row of micropave shank.  Available in white and yellow gold, platinum and palladium.  This ring is very similar to the Tiffany's ring above , although it's a different colored stone and somewhat more affordable.  This is a one of kind

Ritani

engagement ring.
Double Delicate Leaf Unique Engagement Ring with Halo.

This very original

Krikawa

ring is designed with two rows of a delicate leaf pattern and a grand halo of pave set diamonds surrounding the large center stone.  Everything about it is very different than most other engagement rings… This ring is definitely one of a kind!
Round Cut Pink Diamond Engagement Ring.

Both of these are round brilliant cut in solid white gold.  They have two different bands, obviously the one on the right is thicker and has a bit more detail.  I absolutely LOVE these rings, and if I had wanted a pink stone, I would have definitely picked one of these!  If you feel the same way, check out

Gem Stone King

.


Christmas time seems to be one of the most common times for wedding proposals… if you have any certain rings or jeweler designers you would like to see up on Monday "Rocks"! so you have a better idea what you would like to see under your tree, let me know!  Everyone have a great week and I will see you next Monday!
Love,



Want to create her dream marriage proposal? We have the perfect way. Contact The Yes Girls to get started on your personalized marriage proposal, wedding plan, vow renewal, anniversary or date night today! We're so excited to work with you!