I'll start this off by saying this proposal story was one for the books! Did you all catch the Mystery Proposal that was revealed  throughout the day on How He Asked?? If not, start by reading Joey's love letters to Mariah here for the backstory that were paired with custom illustrations that highlighted favorite moments from their relationship.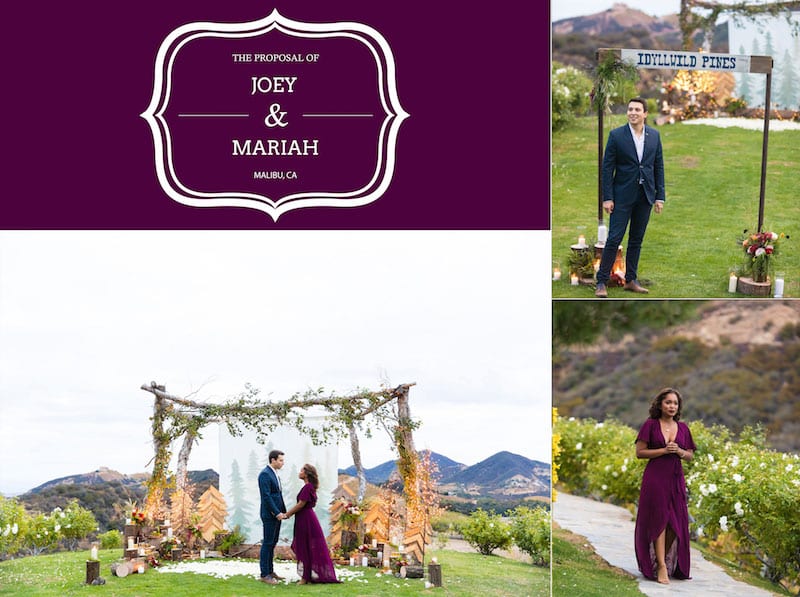 Pretty darn cute right?! Now here is what was happening as Mariah read those love letters on her desktop. The Yes Girls and our team of incredible vendors were all behind the scenes getting Joey's gorgeous proposal set up for his future fiancees arrival at Saddlerock Ranch in Malibu, California. This dreamy venue was the most picturesque setting for his romantic mountain and camp inspired marriage proposal. Why a camp inspired proposal? Joey first "proposed" to Mariah at a church summer camp they volunteered at so Joey wanted to recreate that scene to propose – this time, for real.
We used candlelights, tree stumps and branches, overflowing greenery and pops of warm florals to get that forest vibe thanks to Studio C Florals. A custom "Idyllwild Pines" camp sign for Mariah's entrance and a life-size watercolor backdrop was created to bring back all the feels which immediately brought Mariah to HAPPY tears!
Joey was waiting for Mariah's arrive under the Idyllwild Pines sign surrounded by glowing trees, looking so dapper as a private musician played and sang an original song created just for them.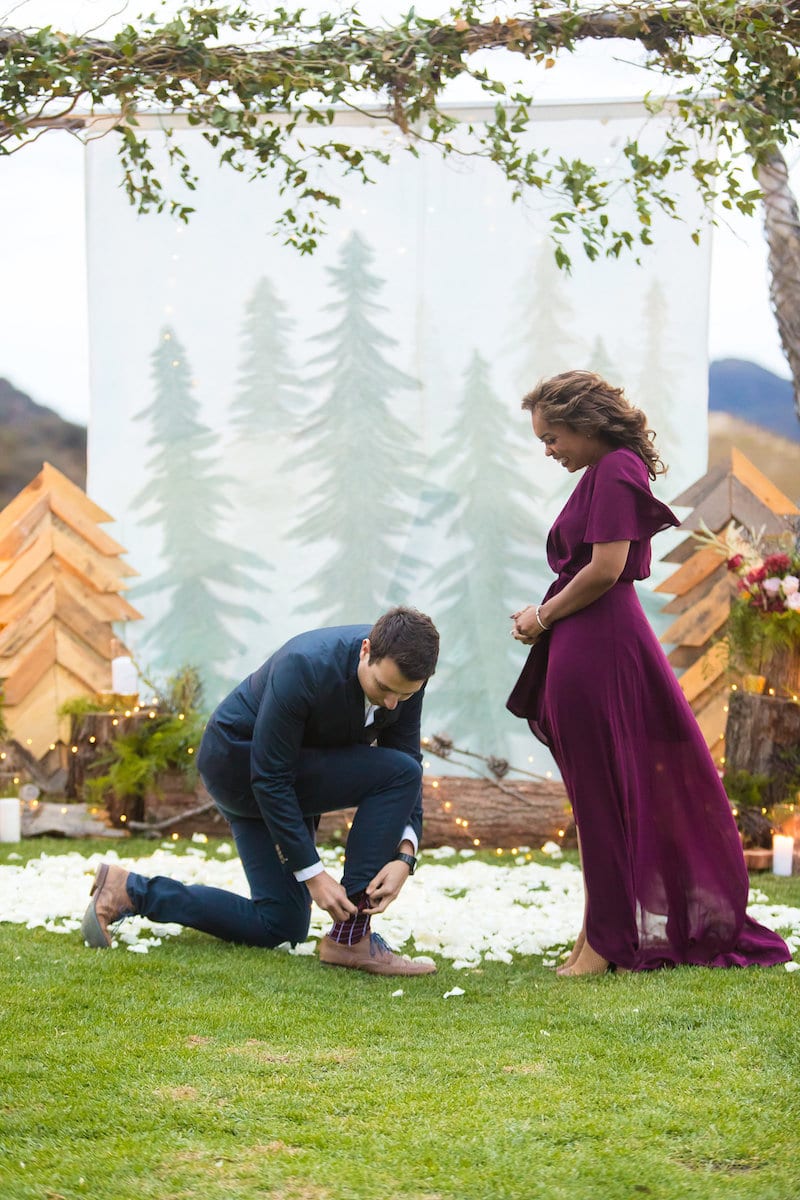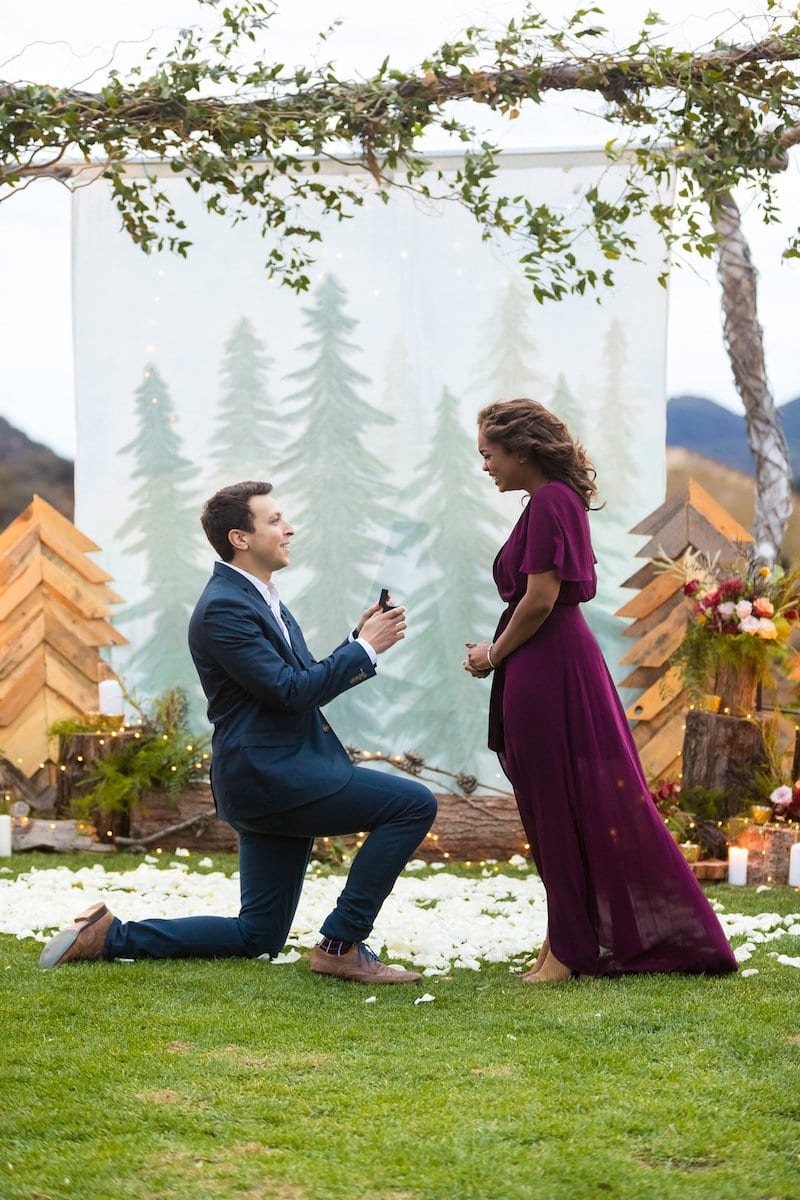 Joey wore Mariah's favorite suit along with a pair The Next Step Box Sock, which cleverly hid the engagement ring box until the moment he needed it! Every detail had a story to tell and it was perfection!
SHE SAID YES!!!! Of course!
Wait for it… here comes the family through a cloud of white smoke (felt the smokey feel went too perfectly with the camp vibe)!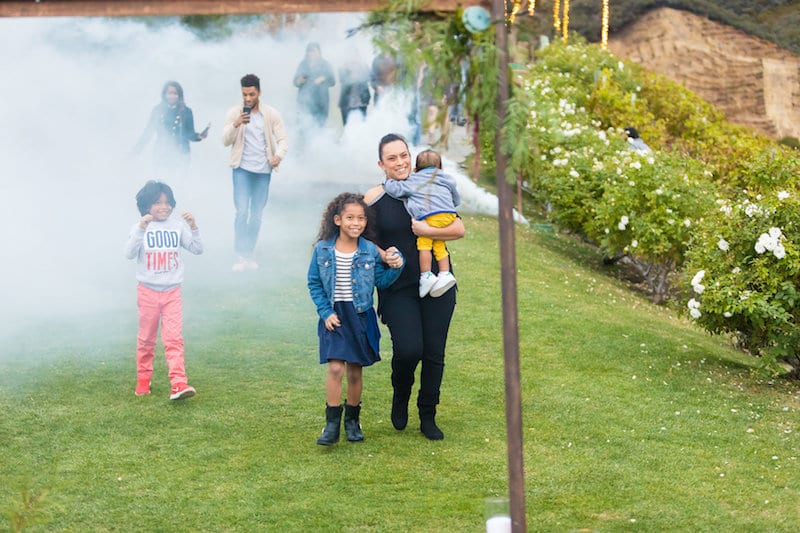 GET YOUR TISSUES READY AS YOU WARCH THEIR DREAM PROPOSAL COME TO LIFE:
Vendor Love:
Proposal Planners: The Yes Girls
Venue: Saddlerock Ranch 
Photos: Brian Leahy
Video: Elysium Productions!
Florals:  Studio C Florals
Custom watercolor backdrop and camp sign: The Beautiful Mood
Original Love Song and Music:  Zach Churchill
Groom's Pocket Sock and Thin Ring Box: Box Sock
Bride-to-be dress: Show Me Your Mumu
Thanks again team for making this a one-of-a-kind proposal! You guys rock!