Ciao! Back in New York, Chris asked Jaime to pick an envelope out of the five in his hand. Each had a destination to a place she always wanted to visit. She chose Rome, Italy! I couldn't have been more excited to plan a proposal in Rome since the Yes Girls and I studied abroad in Rome during college. After talking to Chris about Jaime's loves and finding out she always wanted to have a picnic in a beautiful place, we knew just the spot! He proposed at Villa d'Este in Tivoli surrounded by fountains and gardens; if you browse through the photos taken by the fabulous Rochelle Cheever with Rome Weddings Photography (who made the proposal possible) you'll understand why everyone falls in love with Tivoli!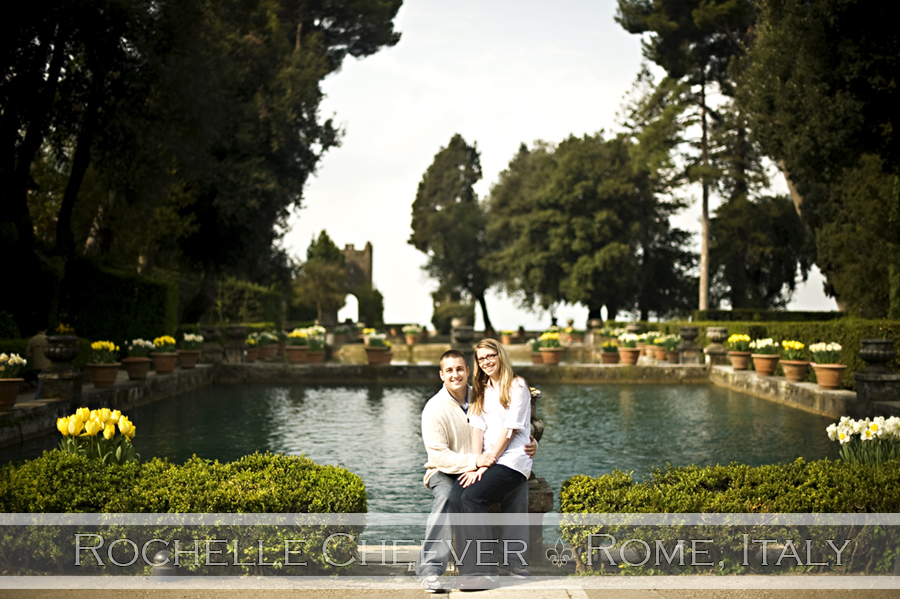 Chris planned a pretend giveaway that he said they won through the hotel. A private car drove them to the gardens where they were handed a picnic basket for lunch during their site seeing. Little did she know, inside the picnic basket was not only a yummy Italian lunch, but envelopes filled with special memories and surprises inside. For example, a letter from Match.com where the two met. Lastly, he pulled out his ipod to share a video with Jaime. It was of her family members sharing why they loved Jaime and them as a couple. Chris was the last to speak on the video which brought them to that moment on the picnic bench in Tivoli; he got down on one knee, pulled out the hand painted, forget me not flowered ring box and asked Jaime to be his wife! He brought a little home to Rome and created an extravagant yet impeccably thoughtful proposal for Jaime!

The photographer even spent time shooting a few gorgeous photos in front of the Roman Forums and Coliseum!
To top off the perfect day, the happy couple celebrated overlooking the Vatican City skyline during dinner at Restaurant Mirabelle. A beautiful proposal and a beautiful couple. Congrats you two!
Love,