All brides have to do it… it's one of the most dreaded part of planning a wedding… it's the guest list. It's one of the first things you need to do when planning your special day because it makes all the decisions narrowed down (like venue – which in turn decides your date, budget, style of food – and therefore the atmosphere of your wedding). Seriously, the guest list is so important.
Most brides know that when you make your list you need to make sure both of the moms involved have their say. Most brides know that when you make your list you need to have an "A List" and a "B List". Most brides know that you need to have a cap number when you make your guest list.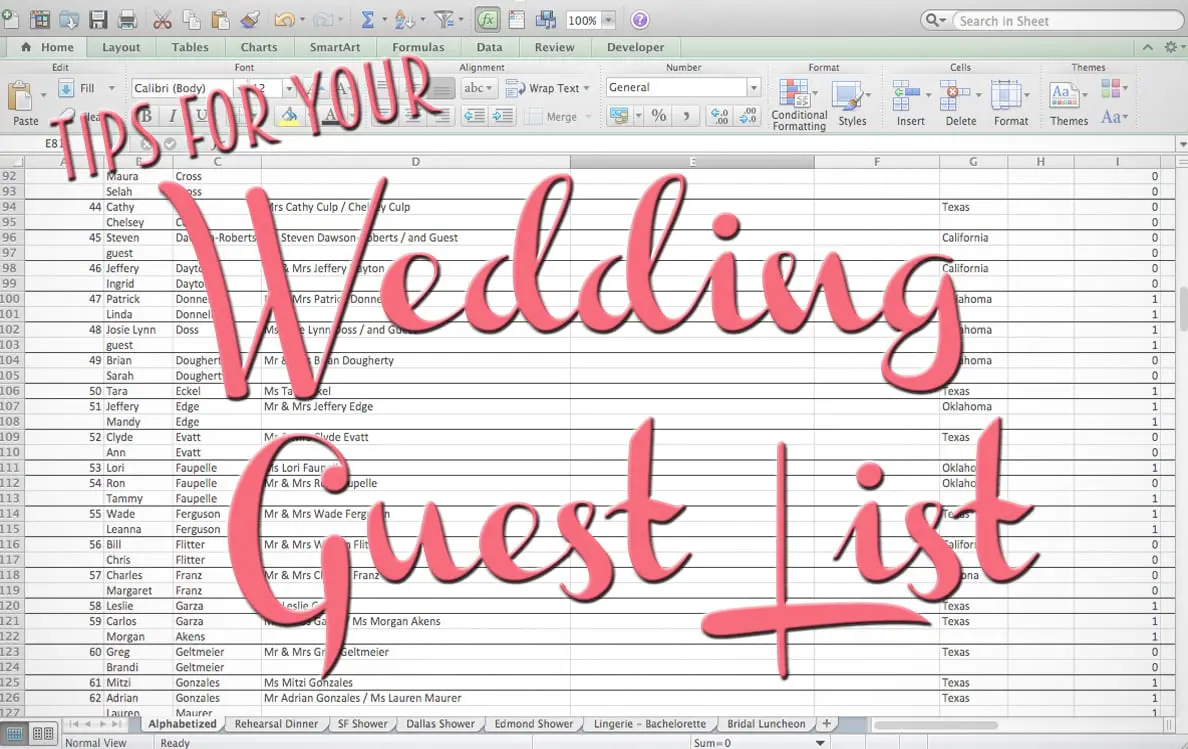 As a bride who just went through this process, here are my tips:
"A List" & "B List". We had our two lists and we were feeling pretty confident on the decisions for each list. Then when we got our mom's two guest lists we added up all the "estimated rsvps" (more on this below) and we had about 5 UNDER what we had wanted with our cap number! So we decided to send invites to both the A and B Lists. Then, as the months have gone on, Aaron has thought of someone that we didn't originally think about or one of our moms has called with an "oops how did we forget so-and-so"… and our numbers have drastically risen. So, my advice would be to wait to send Save the Dates to your B List until 30 to 60 days after you send them to the A List. That way, if someone comes up that you accidentally forgot, you are still comfortable in your numbers.
Estimated RSVPs. As we gathered addresses we would gage if we felt that our guests would make the trip down to Dallas for our wedding and we would mark a Yes or a No on the guest list spreadsheet. If someone was on the fence (i.e. we couldn't tell if they would make it or not), we put them down as a yes because we would rather over estimate and be under budget in the end, than under estimate and be over budget!
Plus Ones. Originally when we made our guest list we decided that anyone over the age of eighteen would automatically get an "and guest" on their invitation. But, as our guest list grew and our estimated RSVP became closer and closer to our cap number we had to nix this generous idea. So you'll need to find a way to make the "plus one" decision fair. For us we decided that if you didn't have a significant other that we had already met before sending out Save the Dates, you didn't get an "and guest". Some of my friends have decided that it would be more of "if we think you might have a guest you'd like to bring by the time our wedding gets here, then you will be allowed one". Another option is "does this person currently have a significant other?" So just decide what is best for you and your fiancé and then stick with it. Even if you get a little push-back from family and friends STICK TO YOUR GUT. This is your big day and if you don't want strange "guests" roaming around the reception then don't invite them.
Spreadsheet. This one I am admittedly a little bias on… I absolutely nerd-out on Excel Spreadsheet! But I really did find our wedding guest list spreadsheet to be helpful so that's why I decided to show you it below. We have a column for the number invite that this person gets (because we needed to know how many invitations to order. Plus when we send out invites we will put a small number on the RSVP card so that we know who it belongs to when we get it returned… just incase we can't read the handwriting). We have a column of the guest's first and last names. We have a column of how their invitation will be addressed (our wedding is formal so it will be "Mr & Mrs So-and-so" on the outer envelope… so our calligrapher needed to know what to write). We have their address. Then we have their estimated RSVP (at the very bottom of the spreadsheet we did a "SUM" equation and it summed up all the "1"s and "0"s for us to give us our estimated headcount). Then when we get actual response cards in we will tally the real RSVPs in the last column.

Other helpful resources when creating a wedding guest list:
Bridal Guide Wedding Tricks ; Pinterest Who to Invite Infographic


Want to create her dream marriage proposal? We have the perfect way. Contact The Yes Girls to get started on your personalized marriage proposal, wedding plan, vow renewal, anniversary or date night today! We're so excited to work with you!