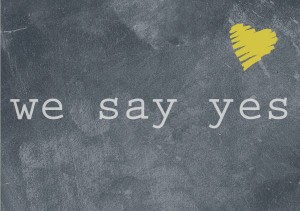 This week the Yes Girls are saying "yes" to staying organized for your wedding! This week is my first week full-time with the Yes Girls. Heather and I are so excited and ready to take on many new projects. Since I will be working from home I have been learning tricks and tips for staying organized and on top of all of our files and paperwork.
One thing I remember from my wedding was feeling like contracts, lists, and addresses were all in 5 different places. My work computer, my Mom's or my wedding binder. I have a simple online free website that is going to solve that problem for you! Introducing Drop Box. Once you download drop box and make an account a folder will appear on your desktop. So now instead of emailing yourself the updated files, simply drop the files (photos, documents, etc) into your drop box file and the updated files will appear in your drop box file on your at home computer!
This might be the best invention since Facebook. So brides no more searching your computer for the most updated documents, Drop Box is your answer! Another great tip is to save your documents by date as you makes updates.
Come back next week for some more tips on organizing your wedding!
Love,



Want to create her dream marriage proposal? We have the perfect way. Contact The Yes Girls to get started on your personalized marriage proposal, wedding plan, vow renewal, anniversary or date night today! We're so excited to work with you!