Continuing with our love week (Day 3), I thought I would pick one tangible gift and one acts of service gift that you can give to your man! It will be a nice mix so you can pick one that you think your man will think is his kind of romance!
1. I don't think romance needs to be spelled out with candles so why not get him his own personalized pair of Jack Purcells! You can create the whole shoe. Everything from color to what it says on the shoe. Have it personalized with his last name or nickname. Why not buy him a brand new pair of shoes and have them waiting by the bed when he wakes up in the morning!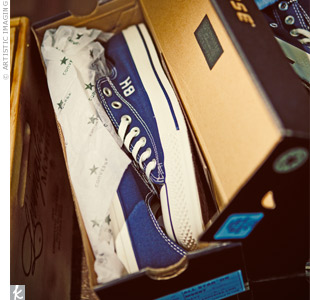 2. Sometimes with guys, the simplest thing is the most romantic to them! So why not do a day full of acts of service. Start by making him breakfast. Then send him to get a massage. While he is getting a massage go get his car cleaned! Maybe even throw in an added bonus; plan it for a day his favorite sports team is playing and invite his friends over to watch the games. Added bonus have food waiting for them!!
Love,





Want to create her dream marriage proposal? We have the perfect way. Contact The Yes Girls to get started on your personalized marriage proposal, wedding plan, vow renewal, anniversary or date night today! We're so excited to work with you!