Are you getting married soon, or are you a bridesmaid in an upcoming wedding? A Wedding Day Emergency Kit is an absolute must no matter how prepared and planned you feel that everything is. Little things like hairspray or scissors or even Pepto Bismol will be necessary that day. So, to help you put together the most prepared Wedding Day Bridal Kit that is possible, we've compiled a list of "must haves" for you :)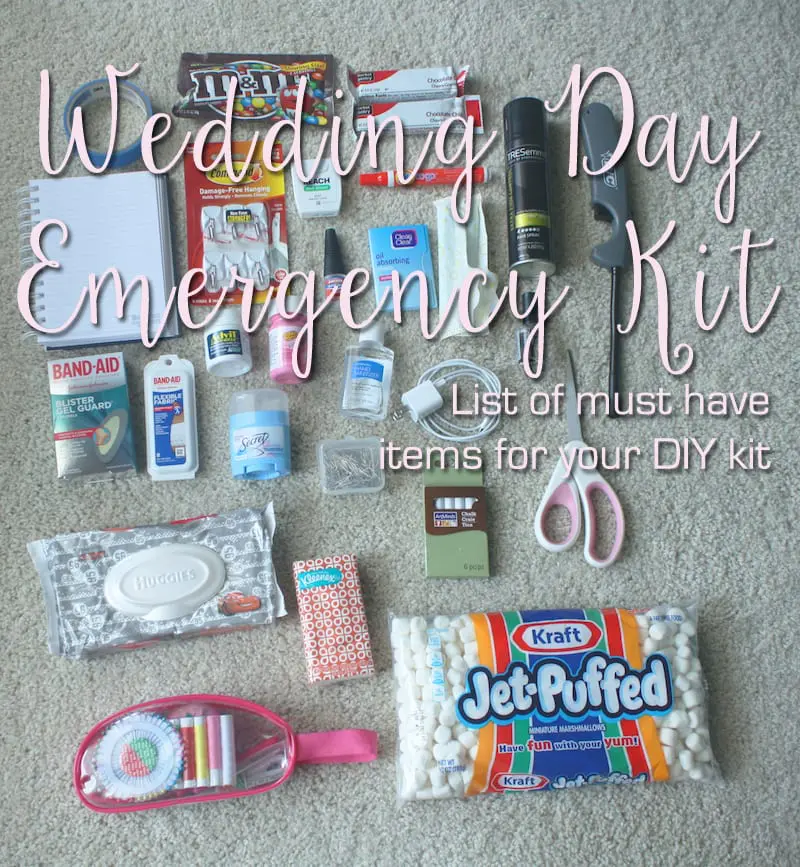 First you need a cute little box or bag to place all your items in. I found this clear box at Target and then added a custom sticker with my Silhouette Cameo, Vinyl Maker.
Tape. I have packing tape, duct tape, and painters tape all in my box. Painters tape is always nice to have because you don't want to ruin a venue's beautiful walls, but sometimes you just need things to stick in weird places ;)
Scissors. This one is pretty obvious.
Lighter. Most weddings have candles somehow as decor around the reception, or even a unity candle during the ceremony. The last thing you want is to not be able to quickly light all of those candles!
Toiletries. Hairspray, hand sanitizer, bandaids (both normal AND blister!), deodorant, bobby pins, tampons, floss, etc. Every bride and bridesmaid will thank you!
Medicine. Advil I feel is fairly obvious, but Pepto Bismol (or some sort of stomach relief) is definitely a must have as well. This will be TMI, so you've been warned, but most brides get a little bit of a nervous tummy, so their bowel movements reflect those nerves ;) Pepto is just nice to have on hand.
Sewing Kit. Again, obvious.
Wedding Dress Emergencies. Two items I would never go to a wedding without, chalk and clear nail polish. I'm sure you've all heard that clear nail polish helps with runs in panty hose and other tulle rips. Chalk on the other hand is a little wedding planner secret! It helps to cover up little "oh nos" on any white dress!
Snacks. Another one of my wedding planner secrets would be marshmallows for the flower girls and ring bearers! These handy snacks are quiet, colorless (so the cute kids can hug the bride without ruining her dress), and cheap! That's a win-win-win in my book! M&Ms and granola bars are also good back-ups just in case a kid doesn't like marshmallows, or in case you are starving that day of too!


Want to create her dream marriage proposal? We have the perfect way. Contact The Yes Girls to get started on your personalized marriage proposal, wedding plan, vow renewal, anniversary or date night today! We're so excited to work with you!