Hello ladies! Today we have a special guest blogger joining us to share some tips and tricks for all your wedding gown alteration needs! So here ya go–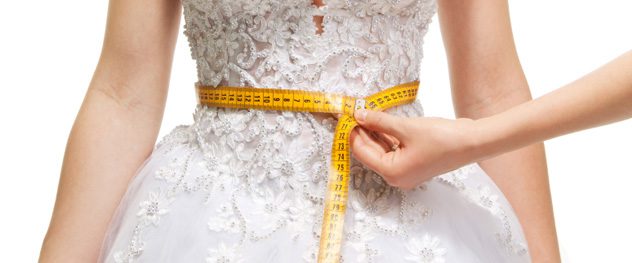 Your Wedding Gown: All About Fittings and Alterations
Unless you are one of those rare people who are a perfect fit for an off-the-rack size, you can count on having to get a few alterations done on your wedding gown before it's ready to look its best. Usually, most women need to go in for three fittings before they get a mass-produced wedding dress to fit them well. Even custom-made dresses usually need two separate appointments for fittings. Here's what you need to keep in mind.
For the best final effect, start with a dress that's as close as possible to your size 
Women often buy dresses that are too big or too small if they find a bargain or a design that they love. They hope to get the sizing right by having the dress altered.
Bridal boutiques, including those that feature designer offerings like a Jim Hjelm wedding dress, make fittings and alterations a main part of the bridal experience. Alterations, though, aren't meant to get dresses to change three or four sizes. Rather, they are meant to accommodate variations of one dress size or so. Most dresses don't have adequate seam allowances to allow being let out by more than a size. Dresses made of fabrics like satin and felt have other limitations – if taken out, the original seam lines are impossible to remove.
Some Bridal Boutiques alter gowns purchased elsewhere. For example, David's Bridal can add straps or sleeves to any gown, as well as corset backs, bustles, bows and sashes. If you buy a dress that's too big, the tailor will need to take the entire dress apart, cut it correctly and put it together again. Such wholesale alteration can cost hundreds of dollars.
If you aren't uniformly the same size all over
Some women have a generously proportioned bust line, but are slim elsewhere. Others are the opposite. If you aren't the same general size throughout, the basic rule should be to buy a dress that fits you well wherever you are the biggest.  The rest of the dress can be taken in later. Make sure to shop for undergarments designed for wearing under a long gown. Victoria's Secret offers a variety of undergarments created especially for the bride-to-be.
Choose a tailor with the best reputation – not one that charges the least
Part of the reason why people consider designer dresses beautiful is that they are skillfully and artistically cut and tailored. It makes no sense to hand such a dress to a tailor without much skill. Depending on the kind of alterations you need, a tailor may need to bring as much skill to bear on the job as the master tailor who created it. You need to go with a skilled professional.
Wedding dress alteration shops often don't give out price quotes over the phone. Since the charges quoted on a dress depend on the amount of work it needs, tailors need a full appraisal before they can make quote. A dress that needs considerable alteration can be a $500 job.
Make sure you go in for your alteration on a day when the tailor isn't too busy
Brides often plead with alteration shops for an appointment on a Saturday. While you could be persuasive and get a tailor to jam you in, it isn't much use. Tailors need time to do their best work. If you go in on a very busy day, you could find her fumbling over your dress and rushing through the process.
Finally, make sure that you buy your foundation garments and shoes before you go in for your alteration appointment
The tailor needs to know the exact size to change your dress to; however, she won't know what your exact size is unless you're wearing the same shoes and undergarments that you plan to wear on your wedding day. Not only do you need to make all these choices before you go in to your alteration appointment, you need to bring them to the appointment, too. Look for a bridal shoe store where you can find the best pair to match your gown, including My Glass Slipper, where you can buy special shoe cushions for comfort, so you can walk, run and dance your way through your special day.
Kaylee Cowling recently married off her oldest daughter. An avid blogger, she enjoys writing blog posts on a variety of websites.
Image from Village East Cleaners


Want to create her dream marriage proposal? We have the perfect way. Contact The Yes Girls to get started on your personalized marriage proposal, wedding plan, vow renewal, anniversary or date night today! We're so excited to work with you!