Men, we know you love to wine and dine your ladies, but when was the last time you planned a date that you thought was particularly fun?  Here's a little secret about us women: we wouldn't mind skipping the fancy restaurant every now and then to do something you want to do.  In fact, breaking the "dinner and a movie" habit can actually add excitement to a relationship and bring a couple closer together.  So, what kind of dates will keep both you and your girl happy?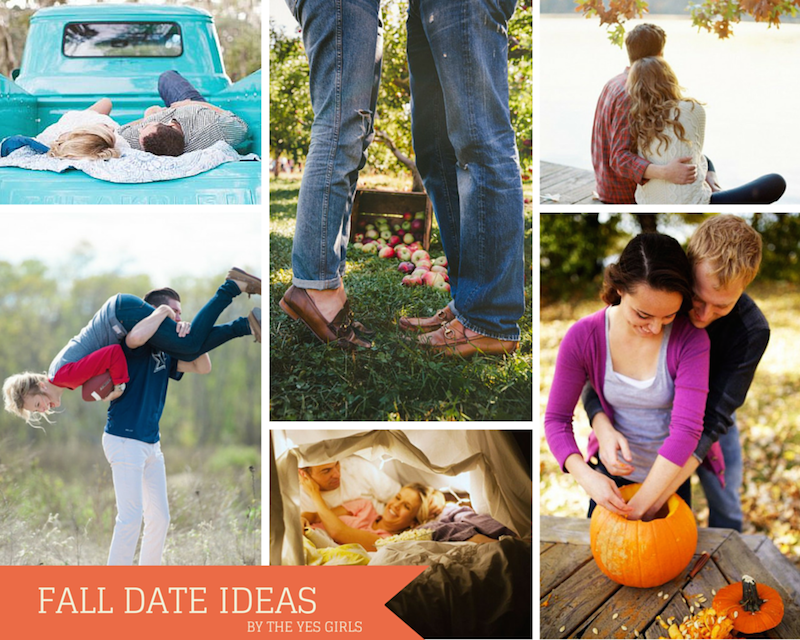 Play one-on-one football.  You get to show off your amazing athletic abilities, she gets to wear a cute outfit and show her tough side, as well.  It's a win-win! (image from Junebug Weddings)
Host a bonfire.  Bonfires are the epitome of Fall.  Whether it's just you two, or you invite other couples, there's sure to be a lot of bonding… and snuggling!
Pick apples at the orchard, then go home and make caramel apples or pie. [see number 5] (Image from Classy Girls Wear Pearls)
Take a trip to the Pumpkin Patch.  This is a must-do every year! Finish the date by carving the pumpkins, roasting the pumpkin seeds, and making a pie! (Image from OneOne.co)
Have a cook-off.  Make your best chili or pumpkin pie recipes and taste test afterwords.  Plus, you'll have lots of (hopefully) yummy leftovers!
Be tourists in your town. Now that the weather is getting cooler, it's a great time to visit the hidden treasures your town has to offer.  Explore a new hiking spot or go sightseeing as if you were just visiting! (Image from OnceWed)
Spike your favorite Fall drinks. Visit your local coffee shop and pick up some hot chocolate or Pumpkin Spice Lattes.  If you're of age, add some flavored liquor to your drink.  You'll feel a little wild, and bond over your little secret of what's actually in your drink.
Stargaze.  Fill a truck bed with your comfiest blankets and cuddle up under the stars. (Image from Elizabeth Anne Design)
Build a blanket fort and binge watch Netflix.  You'll both love feeling like kids again, and nothing screams fall like a Friday Night Lights marathon. (Image from Pink Pistachio)
Visit a shooting range.  Have a friendly competition of who can hit their target the most.  Winner can claim their prize at the end!
If you're still looking for fun date night ideas, sign up for our FREE monthly Date Idea Emails! On the first of every month our romance experts send one or two date ideas straight to your email inbox and it's all for free!


Want to create her dream marriage proposal? We have the perfect way. Contact The Yes Girls to get started on your personalized marriage proposal, wedding plan, vow renewal, anniversary or date night today! We're so excited to work with you!