Talk about using a daily habit to your advantage; this proposal is not only original but adorably romantic. As a Starbucks lover myself, I was totally into turning her morning routine into something romantic. You can never go wrong starting off your day with a cup of joe!
Lindsay, John's now fiancée, went by Starbucks every morning before work. She loved her coffee and never went to work without her cup in hand. Lucky for John, he was able to convince Lindsay's boss to give her the day off. Lindsay however had no idea; she went to Starbucks as usual in the morning.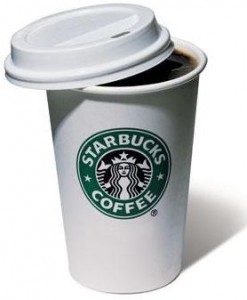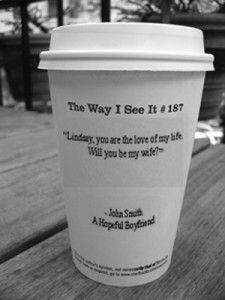 When she picked up her coffee at the bar she saw something different written on her cup. John had given the barista a label to put on her cup (where the "inspirational quote" is located). It simply said, "Lindsay, you are the love of my life. Will you be my wife? Love, John." John came around the corner with a dozen yellow tulips (her fav) and proposed in front of the Starbucks crowd! She had the best coffee of her life, a day off work and spent the rest of the day with her new fiancé.
Hopefully this encourages you to look at your future fiancées little habits and turn that thing she loves into unforgettable!
Love,



Want to create her dream marriage proposal? We have the perfect way. Contact The Yes Girls to get started on your personalized marriage proposal, wedding plan, vow renewal, anniversary or date night today! We're so excited to work with you!