Maybe one of the most challenging little tasks for your wedding day is deciding what music to play throughout the day. It seems simple at first glance (you'll simply play the songs you love) but as you settle the list how do you decide what songs make the cut? I've make a simple plan for you to follow, three easy steps to make your wedding soundtrack as unique and special as the two of you.
Wedding Prep: As you and your girls get hair, makeup, and pictures done you're going to want more than just nervous silence to fill the space. With nothing but thoughts of what the rest of your day will bring, some music to remind you where you've come from is exactly what will calm your excited nerves. Throw in a song that you and your maid of honor danced to at your sixth grade dance. Maybe include the boy band ballad you and two of your bridesmaids choreographed at two a.m. in your college apartment. Make the morning about the love you have for your family and friends who are sharing this day with you. (Image Credit)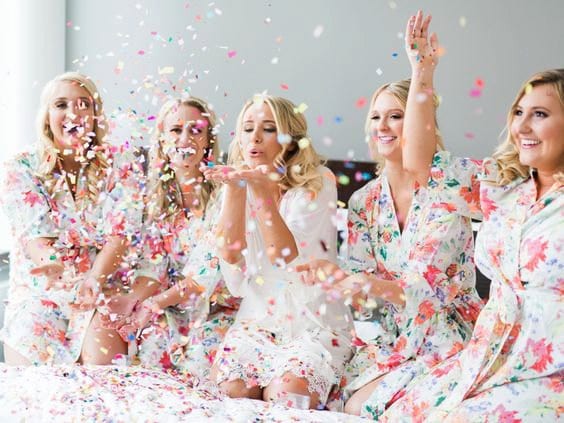 Ceremony: Probably the most challenging of all your music decisions. This is the moment you actually become one with your partner. For the rest of your lives, every time you hear this music you will be reminded of the most beautiful, intimate moment you've shared. For some the choice may be classic, a traditional wedding march or Canon in D. However some women may lean toward favorite love songs, acoustic versions of popular ballads, or maybe even an upbeat tune to inspire a dance down the aisle. Whatever your decision, just remember, pick what's right for YOU. (Image Credit)
Reception: Party time! The hard part is over and now it's time to boogie down. Often some softer dinner music is played as guests trickle into the reception space and the party music gets lined up for the big introduction. A fun song to bring you and your wedding party into the mix is always an exciting way to start the celebration. The biggest question you need to ask yourself about the reception: do I want group dance? By this I mean Chicken Dance, Electric Slide, Macarena…group dance. After that it's as easy as opening up your Spotify account and picking your favorite songs! (Image Credit)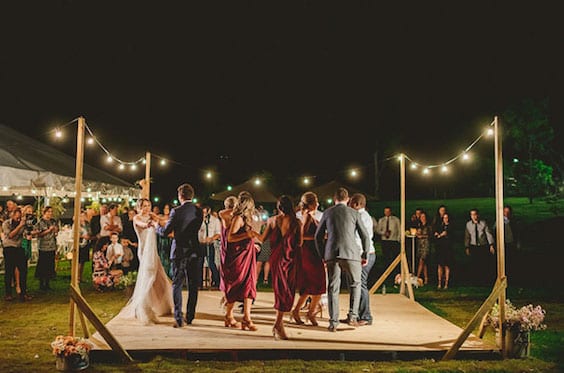 And there you go! Three easy steps. I know, it seems like a lot of words means a lot of work but trust me, follow these three bits of advice and choosing your big day tunes will be done in a snap.


Want to create her dream marriage proposal? We have the perfect way. Contact The Yes Girls to get started on your personalized marriage proposal, wedding plan, vow renewal, anniversary or date night today! We're so excited to work with you!