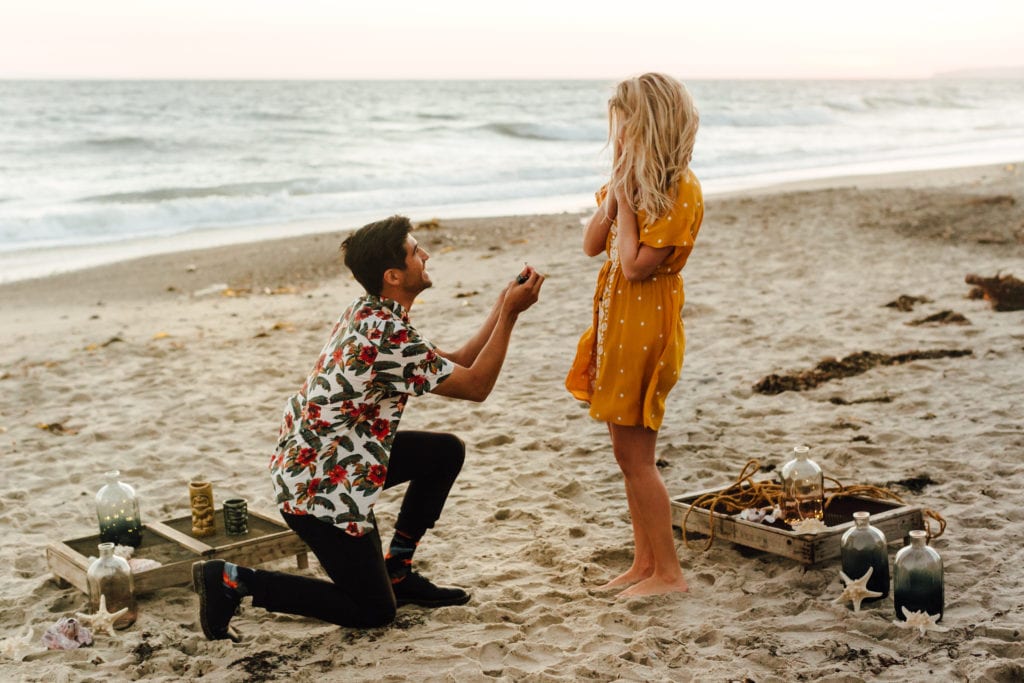 Photo: TMInspired
Diamond engagement rings are clearly the favorite choice for the majority of couples, but they're not for everyone. As a precious gem, diamonds are known to be on the expensive side. Aside from this, some brides just prefer a little more color for their center stone. In fact, before diamonds became the most popular gem, colored stones were far more common for engagement rings. Here are 5 reasons you might want consider other options besides the diamond!
1. You'll Probably Save Some Serious Money
It's no secret that diamonds are expensive, and the more beautiful the sparkle or larger the stone, the higher that price rises. And no, it's not necessary to spend two or three month's salary on your ring; there's no hard or fast rule about this, and you should only be spending what you feel comfortable with. It's true that the cost for a diamond engagement ring is lower when you buy wholesale or work with a jewelry studio, but sometimes it makes more sense for your budget to choose a colored stone, or a less expensive gem that looks similar to a diamond.
White sapphire can be a good choice, and moissanite even more so if you're looking for a gem that looks similar to a diamond. On the other hand, if you want to go for a totally different look and choose a colored gem, amethyst and aquamarine can be a wonderful choice.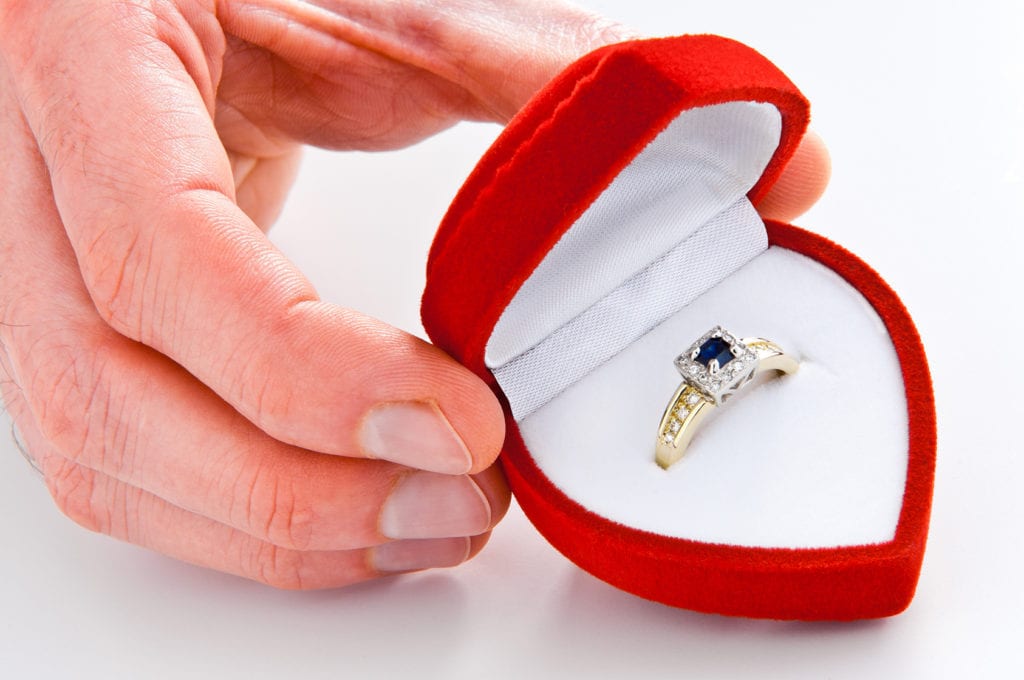 2. Colored Gemstones Are a Lot More Unique
Although a solitaire diamond ring might be beautiful, most men are buying this same ring for their girlfriend. If you want to get something special, and a ring that holds a little more meaning, you'll want to choose a colored gemstone engagement ring. You can choose her birthstone as the centerstone, or just a gemstone you've seen her wearing on her jewelry or on her Pinterest.
When it comes to warmer gems, ruby is a great choice and is one of the four "precious" gemstones. However, as they tend to be rarer than diamonds, they can end up more expensive. Another precious gem, sapphire, isn't as rare and comes in a wide variety of colors, so you're sure to find something that suits her tastes. Looking at cooler gemstones, blue sapphires are highly sought after and are becoming increasingly popular choices for engagement rings.
One thing to keep in mind when choosing colored gemstones is to make sure your metal color matches. While clear diamonds tend to look great paired with yellow, rose, white, or even green gold, colored gemstones are a little more tricky! As a general rule of thumb, only pair cooler gems with white gold.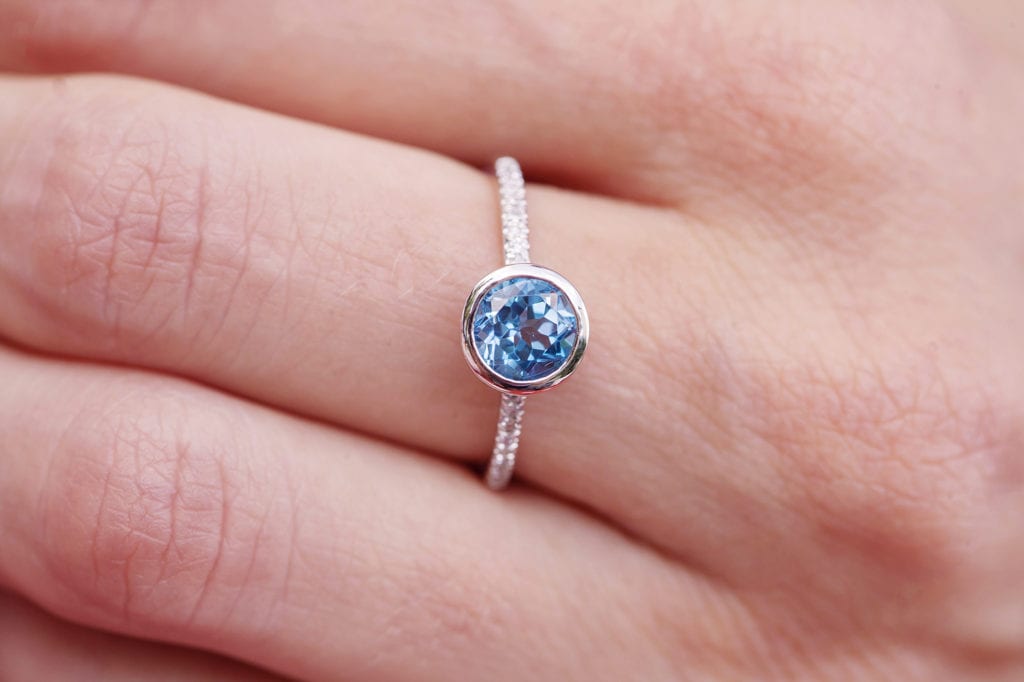 3. Colored Gems Are "In" These Days
If your girlfriend has been on top of celebrity trends over the years, she might know that quite a few stars have been presented with colored gem engagement rings. For instance, Gwyneth Paltrow and Penelope Cruz both sport blue sapphire rings, and Halle Berry has a 4-carat emerald beauty.
And colored gemstones are growing in popularity every year. According to one study, about 20% of engagement rings are now with colored stones, compared to around 60% with diamonds, and that gap is likely to lessen as the trend increases.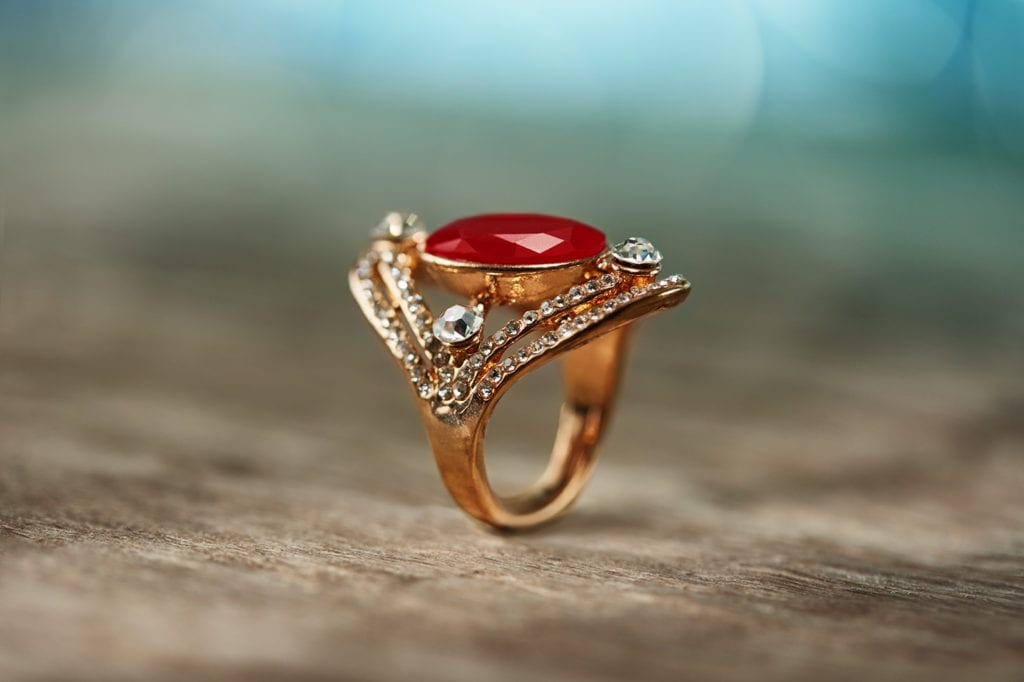 4. She Can Have Her Diamond and Wear it Too
Love the idea of a colored gem, but don't want to totally leave diamonds out of the equation? We hear you. If you want to incorporate some diamonds into your ring design and save money in the process, you have a few different options. Since diamond price rises exponentially this higher the carat, there's a big price difference even between a 0.9 carat diamond and a 1 carat diamond. So if you want to add diamonds to her ring at an affordable price, all you need to do is incorporate smaller diamonds into the ring's overall design.
One option is to go for a diamond halo, which is a circle of diamonds that surrounds the center stone. Alternatively, you can choose a 3-stone ring with your colored gem in the middle, and 2 small diamonds on the side. Finally, you can add pave or channel setting along the sides of your ring to add a little more sparkle.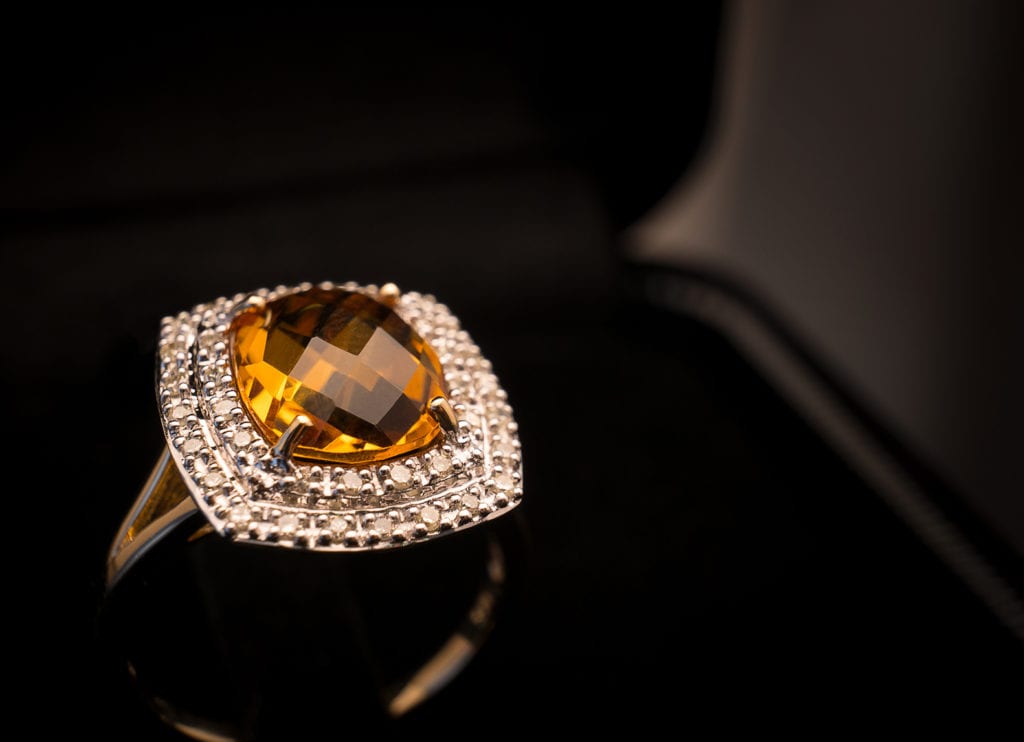 5. History is On Your Side
Believe it or not, our nationwide (and worldwide) love of diamond engagement rings is actually a relatively recent phenomenon. De Beers is known for popularizing diamond rings with their "A Diamond is Forever" campaign, and so the diamond rose to popularity as the number one gem of choice.
In truth, diamond rings have only been the go-to choice for brides for around a century. Before that, colored gems were far more popular, and sought after for their originality and beauty. If you look through history, we see many examples of amazing engagement rings with colored gemstones. For instance, Queen Victoria's ring featured an emerald, while Napoleon's featured a blue sapphire. During the 14th and 15th century, blue sapphires were popular among royalty, who believed they were the ideal symbol of commitment. Interestingly, colored gems are now both vintage and trendy, so blue sapphires and other interesting gems just might be a good pick for your future fiancée.
***
Although it might be a good idea to choose a colored gemstone for her engagement ring, you also want to be fairly certain of her jewelry preferences. If you know she'll absolutely love a blue sapphire or ruby centerstone, go for it! But if you think she might be dismayed if she doesn't see a crystal clear diamond, you may want to do a little research ahead of time. Try asking her friends for help, or even casually browsing a jewelry store and learning about her preferences. If given the opportunity, most women will drop a few hints about their "dream" ring!
________________
By Peter Vey, CadCamNYC
CadCamNYC is a jewelry design studio based in New York that works with high-end designers and private clients. For more blogs on shopping for an engagement ring, visit CadCamNYC.com


Want to create her dream marriage proposal? We have the perfect way. Contact The Yes Girls to get started on your personalized marriage proposal, wedding plan, vow renewal, anniversary or date night today! We're so excited to work with you!