When it comes to completing a classic bridal look, pearls are a timeless and elegant choice. Their lustrous beauty and delicate charm seamlessly enhance any wedding ensemble. These lustrous gems have a unique ability to enhance and elevate classic bridal looks, adding a touch of sophistication and grace that simply can't be replicated by any other gemstone. From delicate necklaces to intricate earrings and even embellishments on gowns, pearls symbolize refined taste and refined beauty. 
This article shall further explore how pearls can elevate classic bridal looks, from the dress to the accessories. So, if you're searching for that extra touch of sophistication, read on to discover the transformative power of pearls. 
Veil of Elegance: Pearls Adorning Wedding Veils 
A wedding veil is a symbolic and ethereal accessory that has been integral to bridal ensembles for centuries. It adds an air of mystery and holds significant sentimental value. When pearls are delicately incorporated into wedding veils, they can transform this timeless accessory into a masterpiece of elegance and refinement. 
The gentle cascade of pearls along the veil's edge or scattered throughout creates a soft, iridescent shimmer. This subtle embellishment adds a touch of opulence to the bridal ensemble while also symbolizing purity and innocence, qualities often associated with pearls. For more inspiration on incorporating pearls into your bridal attire, check out this recommended reading on timeless pearl jewelry for weddings. 
The Classic Pearl Necklace 
A classic pearl necklace is the epitome of elegance. It's simple yet captivating design effortlessly complements a traditional bridal gown. The creamy, iridescent quality of pearls brings a soft glow to the bride's neckline, enhancing her natural beauty. Whether worn as a single strand, a choker, or a longer length, a pearl necklace adds a touch of sophistication that is both refined and memorable.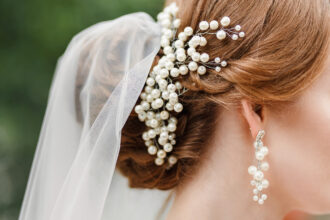 Pearl-Encrusted Hair Accessories 
Pearl-encrusted hair accessories are a wonderful way to infuse a bridal look with a touch of vintage glamour. Delicate hairpins, combs, and tiaras adorned with pearls can beautifully complement a classic updo or flowing locks.  
The luminosity of pearls catches the light, creating a subtle, ethereal shimmer that adds an enchanting dimension to the bride's overall appearance. These accessories effortlessly blend tradition with modernity, making them a perfect choice for brides seeking a timeless yet contemporary style. 
Graceful Pearl Earrings 
Pearl earrings and bracelets are versatile accents that can enhance a bride's elegance without overpowering her ensemble. The gentle sway of pearl earrings frames the face, highlighting the bride's features and adding a delicate, romantic touch. Whether opting for simple studs or dangling designs, pearls lend an air of sophistication that complements a classic bridal aesthetic.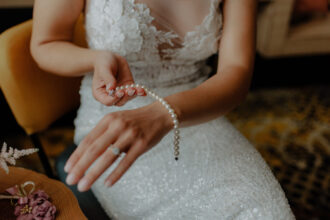 The Classic Pearl Bracelet 
Similarly, pearl bracelets add a refined touch to the wrist. A pearl bracelet encircling your wrist adds a touch of grace and femininity to your bridal ensemble. Opt for a delicate, single-strand bracelet or a bolder statement with multiple strands. The smooth, round pearls create a beautiful contrast against the bride's skin, enhancing her overall beauty and allure. 
Bridal Bouquet: Pearlescent Perfection 
Why limit the beauty of pearls to your attire when you can incorporate them into your bridal bouquet? Enhance your bouquet with pearl pins or mini pearl strands intertwined with flowers. These subtle details not only add a unique twist to your bouquet but also tie in the overall theme, accentuating your classic, pearl-inspired bridal look. 
Pearls on Bridal Gowns 
Incorporating pearls directly into the design of a bridal gown can be a stunning way to elevate its allure. Pearl embellishments, whether sewn onto the bodice, sleeves, or skirt, can transform a gown into a work of art. These exquisite details catch the light as the bride moves, creating a captivating visual effect that adds depth and dimension to the gown. Pearls seamlessly blend with various fabrics and designs, making them a versatile choice for brides seeking a touch of opulence. 
Pearls and Tradition 
Pearls hold a special place in bridal traditions across cultures. Their association with purity and innocence makes them a meaningful choice for brides embarking on their journey into marriage. Furthermore, pearls are known to symbolize love, loyalty, and wisdom, all of which are virtues central to a successful marriage. By incorporating pearls into their wedding ensemble, brides pay homage to time-honored customs while embracing a sense of timeless elegance. 
Pearls Across Generations 
One of the most remarkable aspects of pearls is their ability to transcend generations. A bridal look adorned with pearls carries a sense of continuity, connecting the bride to her heritage while showcasing her individual style. The enduring charm of pearls ensures that they remain just as relevant and enchanting today as they were in the past. This lasting appeal makes pearls a jewelry choice that can be passed down through the generations, becoming cherished heirlooms with sentimental value. 
Pearls in Wedding Photography 
The radiant allure of pearls can create stunning visual moments in wedding photography. The soft, luminous quality of pearls adds a touch of luxury and timelessness to captured memories. Whether they are draped around the bride's neck, adorning her ears, or gracing her wrists, pearls can catch the light and elevate the overall aesthetic of wedding photographs. These images become treasured keepsakes that capture the essence of the bride's elegance and sophistication. 
Key Takeaway 
Incorporating pearls into your classic bridal look adds an air of timeless elegance and sophistication. From the stunning necklace adorning your neck to the delicate pearl embellishments on your veil, pearls have the power to transform your bridal ensemble into a captivating vision of beauty. So, embrace the captivating allure of pearls and create a classic bridal look that will be forever cherished and admired.
Written by: Rosary