Wedding preparations are so hectic because you have a lot to think of. And even though you might have a wedding planner to ease your stress, there are some little responsibilities they may not handle.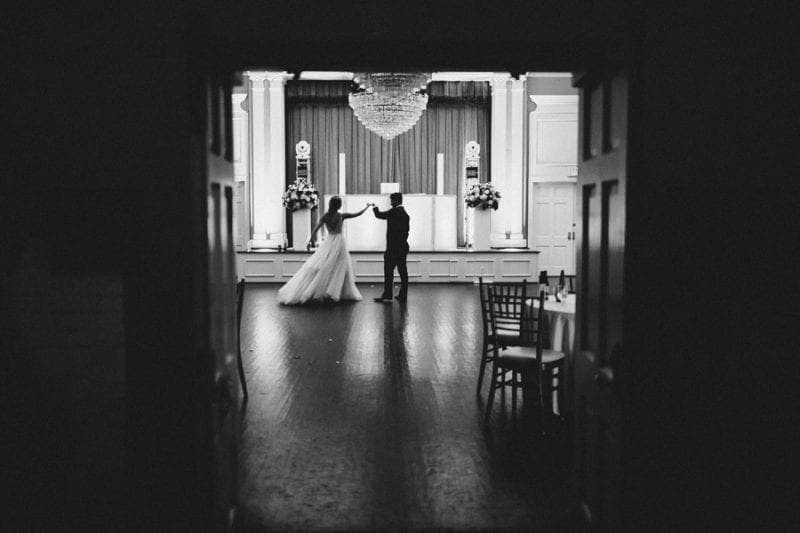 Your wedding planner may be occupied with communicating with all vendors, helping with the bridal train's attire, finding a men's wedding ring online for the groom, and so on. And thus, keeping the dance floor occupied might not be on the to-do list of your wedding planner. 
So, you may likely need to handle this part yourself. Asides from booking a 'happening' DJ or band and planning your playlist, there are other steps to take to ensure your wedding dance floor is not empty too soon. Here are tips to help you. 
Keep Your First Dance Short
Yes, everyone knows it's your day and you want to have fun to the fullest, but the longer the time you spend on the dancefloor, the lesser their(your guests) interest in dancing. 
So, to have an extended dancefloor session, dance for no longer than five minutes and invite your guests to join you too, to get them in the mood.
Make Dancing the Last Item
Interrupting the dance is the fastest way to get people out of the mood. You have to ensure that once people start dancing, they do not stop until they are tired. 
It is best to make dancing the last item on the list so that you don't have to interrupt the dance to cut the cake, give a speech or even throw the bouquet. 
Set the Mood
Once it is time to go to the last item—dancing—do not waste time setting the mood. If you want your guest to be high-spirited on the dancefloor, it's essential to give them the impression that they are genuinely at a party. 
You can utilize the venue lighting as a fantastic approach to achieve this. Any room may be instantly transformed with the help of some strategically positioned lights.
Make the space look different if guests have spent the majority of the day in the same room for the wedding breakfast and the evening reception. 
Additionally, have popular and energetic music playing during the early stages of the party as attendees arrive. You can also consider low bass music for starters as it is connected to give the pulse of dance.
A Pro Live Band or DJ
Making the ideal dance floor for your event continues with choosing a professional live band or Disc Jockey. In terms of setting the mood, after preparing the ideal environment and getting your guest moving, this aspect makes a world of difference.
The decision you make will be influenced by several variables, including your budget, the type of wedding you're holding, and your personal and guest preferences.
If you do decide to hire a DJ, make sure to pick one that has performed at events similar to yours in the past. Look for a DJ who is capable, dependable, and offers a wide variety of music. 
To enable the DJ to customize their music selection to your unique requirements, make sure to communicate your tastes and expectations with them in advance.
Alternatively, if you're going with a live band, you should think about things like the band's size, genre, and style, as well as their experience performing at events like yours. 
Choose the Right Music 
After you have chosen between hiring a DJ or a live band, it's time to start organizing the music playlist for your wedding event.
While selecting the kind of songs you want for your wedding, you should think about the kind of wedding party you're throwing, the demographics of the attendees, and their musical tastes.
Is the majority of your guest list made up of young individuals, or do you also have older guests? All of these things should be taken into account when selecting your music.
You should select songs that will thrill your guests and keep their bodies moving to the rhythm non-stop. To set the mood, start out with some slower, more romantic songs and gradually go on to livelier, more upbeat music as the night goes on. 
To appeal to everyone's musical preferences, be sure to combine older songs with more contemporary music.
Don't be afraid to be imaginative, take some chances, and enjoy yourself when choosing your music; after all, it is your day and you should enjoy it to the fullest
Ensure the Dancefloor is Big Enough
If you want the dancefloor to be filled with guests, then you should make it big and comfortable enough to contain the guests.
For example, if there will be 120 attendees at your wedding, you will need a dance floor that is 14 feet by 14 feet. As a general rule, plan for 3 square feet of dance floor space for every 2 guests. This calculation is perfect because no one expects all guests to be on the dancefloor at the same time. 
However, in your bid to ensure the dancefloor is big enough, you should also not make it too big. If the dancefloor is too big, people will feel self-conscious while dancing, making them in a hurry to return to their seats. 
Add Extra Effects
Your dancefloor can be elevated by adding interactive features and unique effects. You may create a memorable event that your guests won't soon forget by including surprises and inviting them to participate.
Utilizing special effects like smoke machines and confetti cannons is one method to increase the energy on your dance floor. These components can help to create a lively and enjoyable environment, and they can work especially well during songs or other high-intensity events. Use these effects moderately to avoid overwhelming your guests or making a mess.
Making props and interactive aspects available to your guests is another method to keep them interested. Glow sticks, hats, and masks, as well as picture booths and interactive installations, might all fall under this category.
These features not only inspire your visitors to participate and have a good time, but they can also offer fantastic photo opportunities that will help your event become popular on Instagram and other social media.
Note that, it's essential to use these unique effects and interactive components in a safe and responsible manner. Make sure all installations and equipment are set up and used correctly, and inform your visitors of any potential dangers. You can make sure that everyone has a fantastic time without any injuries by taking the essential precautions.
Dance and Have Fun
The weddings that the newlyweds are having the most time at are the most enjoyable. Get your happy selves out there as soon as you can to set an example for everyone. 
When your guests witness how much fun you're having, they will take notice and be more inclined to join you. 
Since the evening of your reception will be lengthy and hectic, let your crew know in advance how essential it is to you that your guests dance, and urge them to encourage everyone to go on the dance floor. 
Conclusion
Having a full dancefloor is an indication that many of your guests are having a good time. You can make this happen with the right things in place. Work with your planner, DJ/Live Band, and your wedding party crew to have a blast. 
Article Author: Taylor Johnson