Hey guys, ever wonder what you will say when you finally get down on one knee? Heather has made a great list of pointers for that exact moment. For her full post click here, but here is the SparkNotes version for those of you in a rush.
1) Make it meaningful… don't stumble over "uhhhh"s and "uuummm… sooo"s. Brainstorm ideas and memories of the two of you together before the big day!
2) Don't make it too long! Once you finally get down on your knee, she knows it is happening and she is just waiting for that inevitable question, "will you marry me"!
3) The couple of sentences right before the big questions are the most memorable so save the best for last!
4) Write that sucker down and practice practice practice!!! We cannot stress it enough! As foolish as you may feel looking in the mirror and repeating fond memories, it will help when the nerves set in on the day of!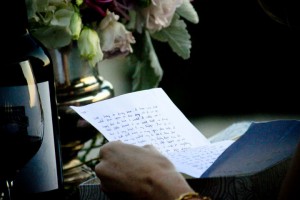 If you still have questions or concerns, hire The Yes Girls to ease your nerves by taking care of that perfect day for you! Contact Us and lets start planning your Simply Perfect Proposal!


Want to create her dream marriage proposal? We have the perfect way. Contact The Yes Girls to get started on your personalized marriage proposal, wedding plan, vow renewal, anniversary or date night today! We're so excited to work with you!