This all pink spectacle set the backdrop of a truly unique proposal for Abraham and Guadalupe. It reflects on the cosmic truth that love is as infinite as the universe. Just as the moon will forever chase the sun across the horizon, their love will continue to journey through their lives, to the moon and back.
The Proposal Details
Guadalupe's favorite color is pink. PINK. And Abraham wanted a dreamy proposal that showcased this and all the romantic details. The Yes Girls got to designing a cosmic dream in honor of their love; all the way to the moon and back.
Tucked away in Denver, CO was a cafe perfect to create the backdrop for this pink proposal.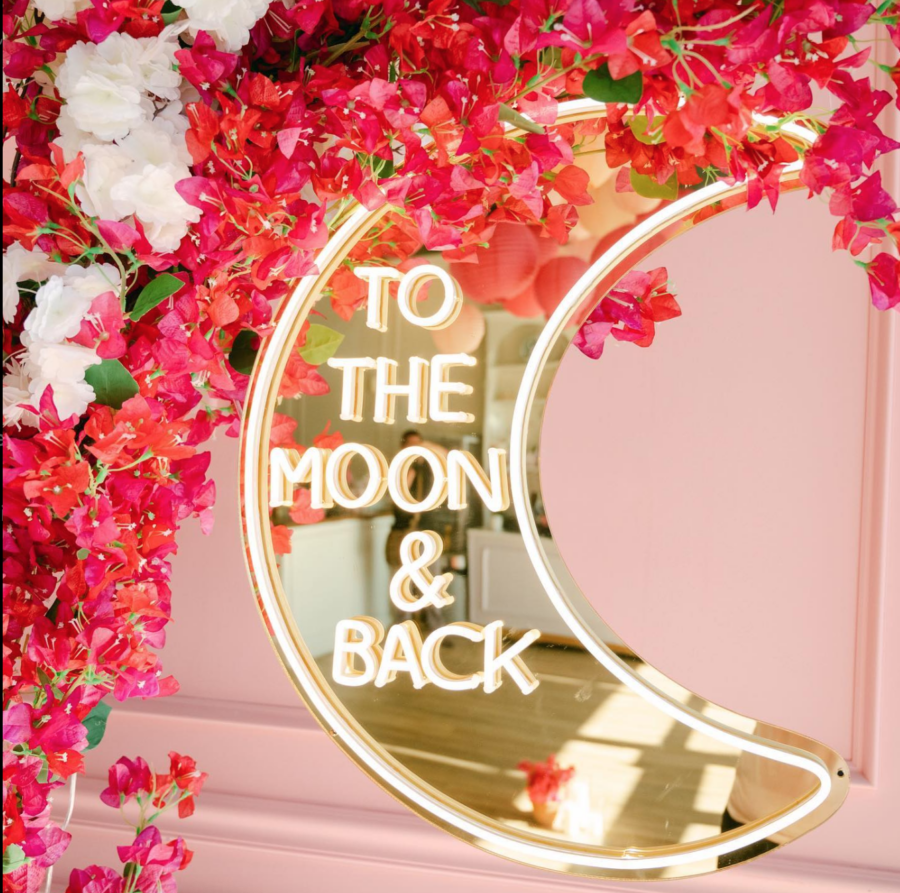 A custom neon sign was displayed as the focal point with the message "To the moon and back." It was held by an asymmetrical floral arch of whimsical pink florals with just a touch of white.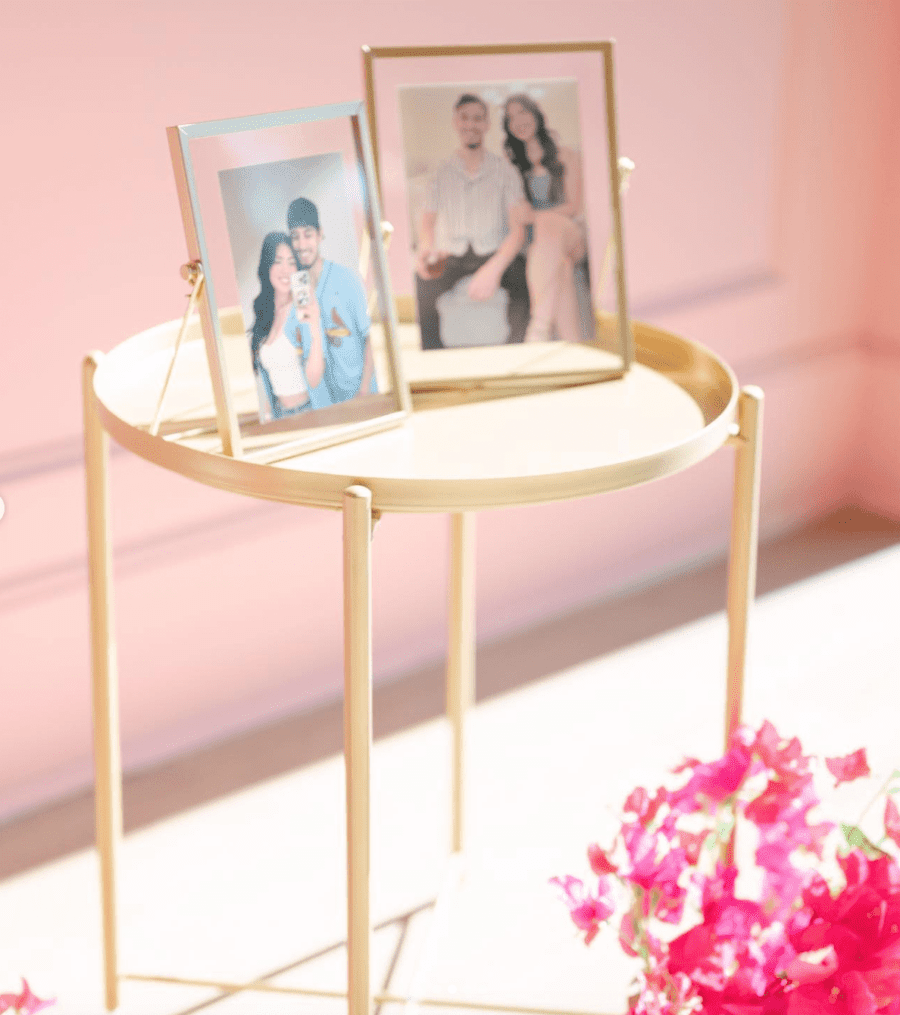 Abraham wanted to include some of his favorite memories of him and his love. Two framed photos were displayed on a gold side table at the end of a pink floral aisle way.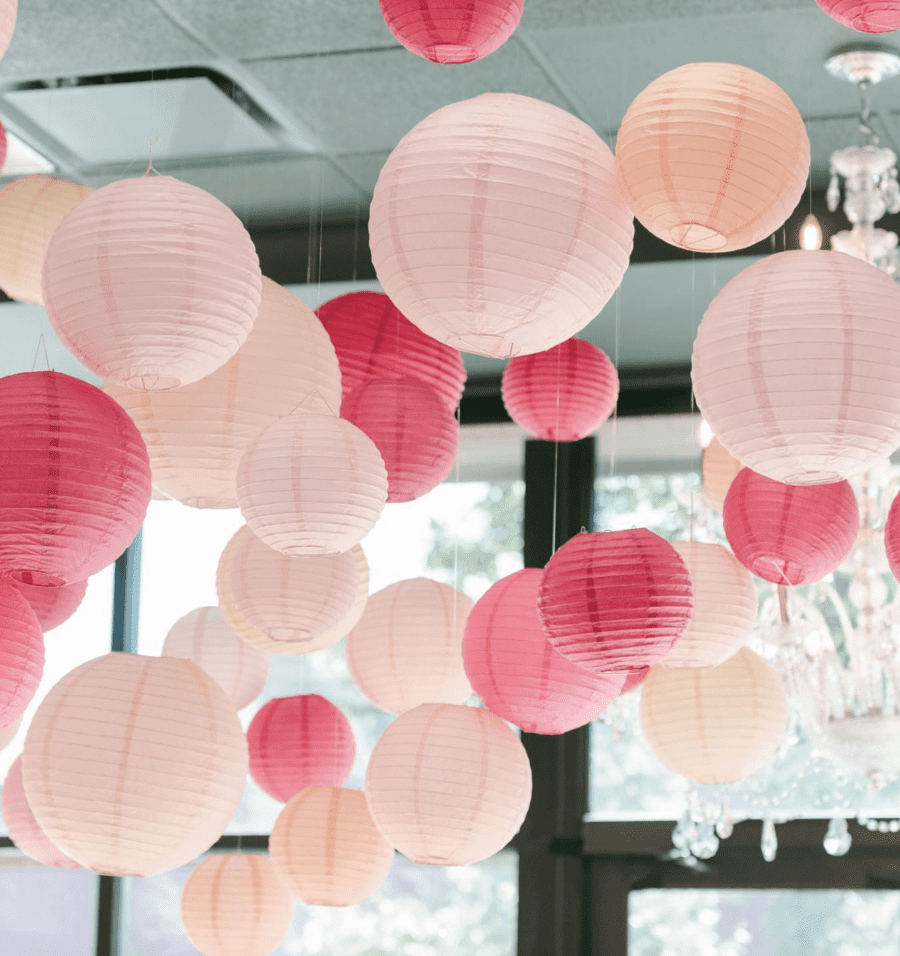 This French cafe covered in pink walls was also prepared for this pink proposal with this ceiling installation. While the proposal itself isn't inspired by Barbie, it has elements of a Barbie pink proposal.
The Proposal
Abraham took Guadalupe on a weekend trip to Denver. He had a full itinerary planned to keep her guessing. On the final day of their trip, he told her he found a cool cafe for breakfast. When they arrived, Guadalupe was shocked to see the proposal of her dreams.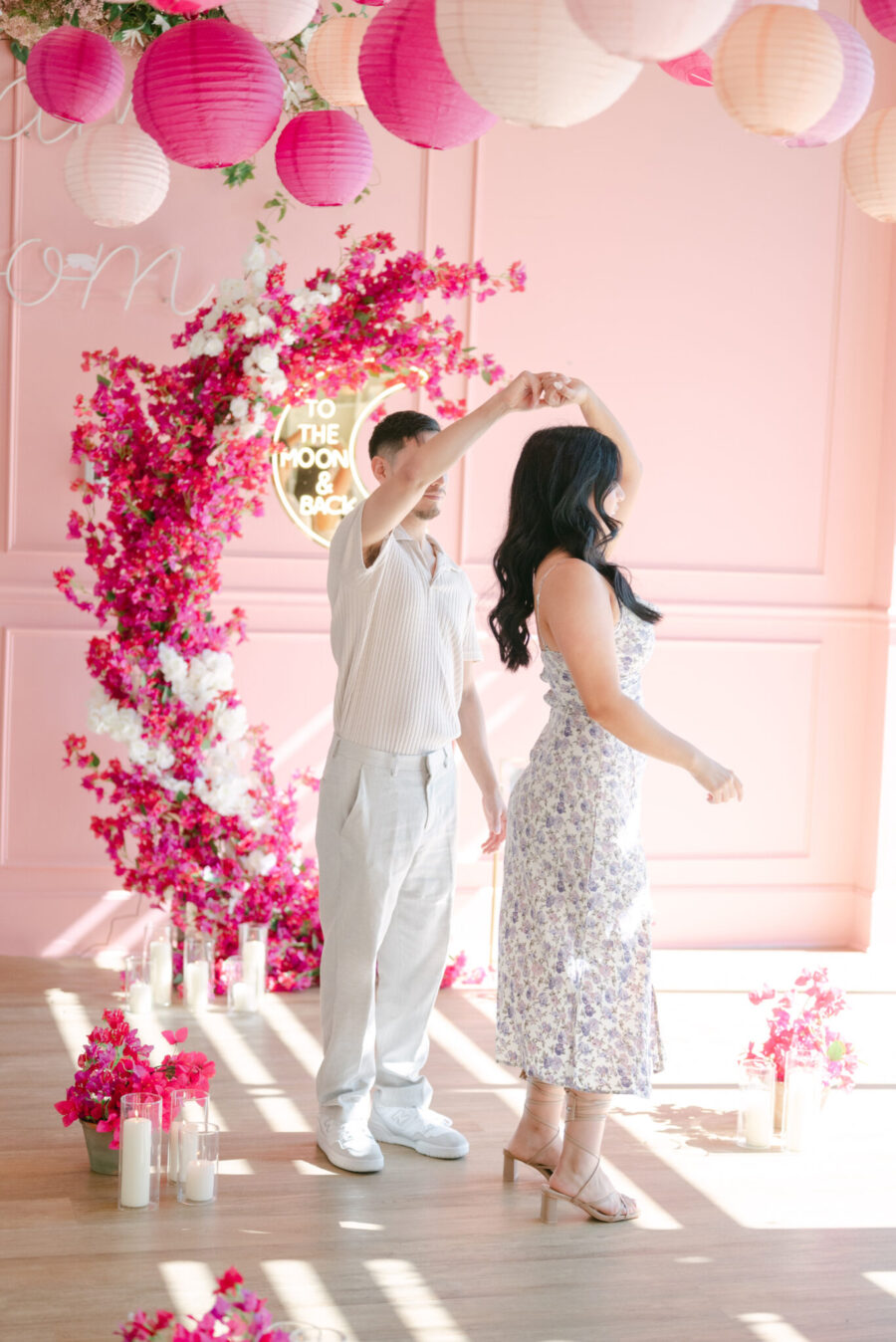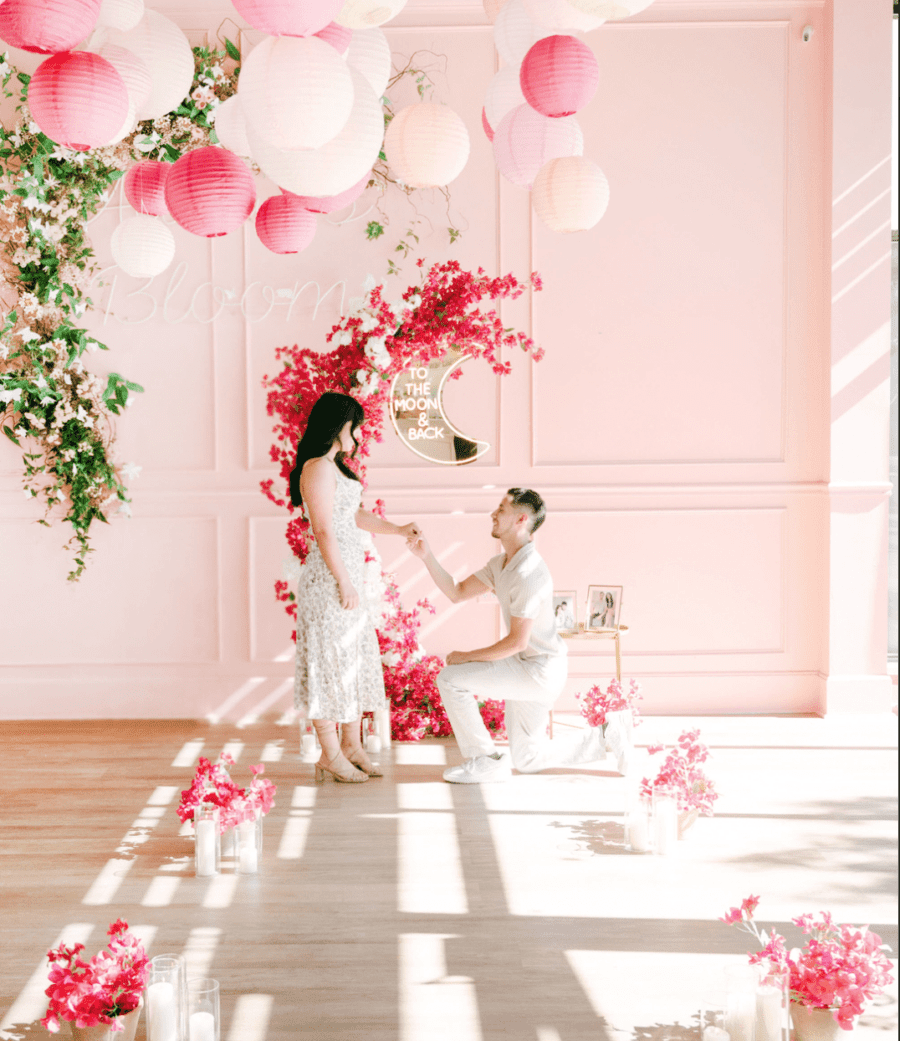 Abraham got down on one knee, pulled out the ring, and asked the big question. She said "Yes!"
The two enjoying their time as fiances, frolicking around this pink proposal set up. We are so happy we got to be such a big part of this special day. Congratulations Abraham and Guadalupe!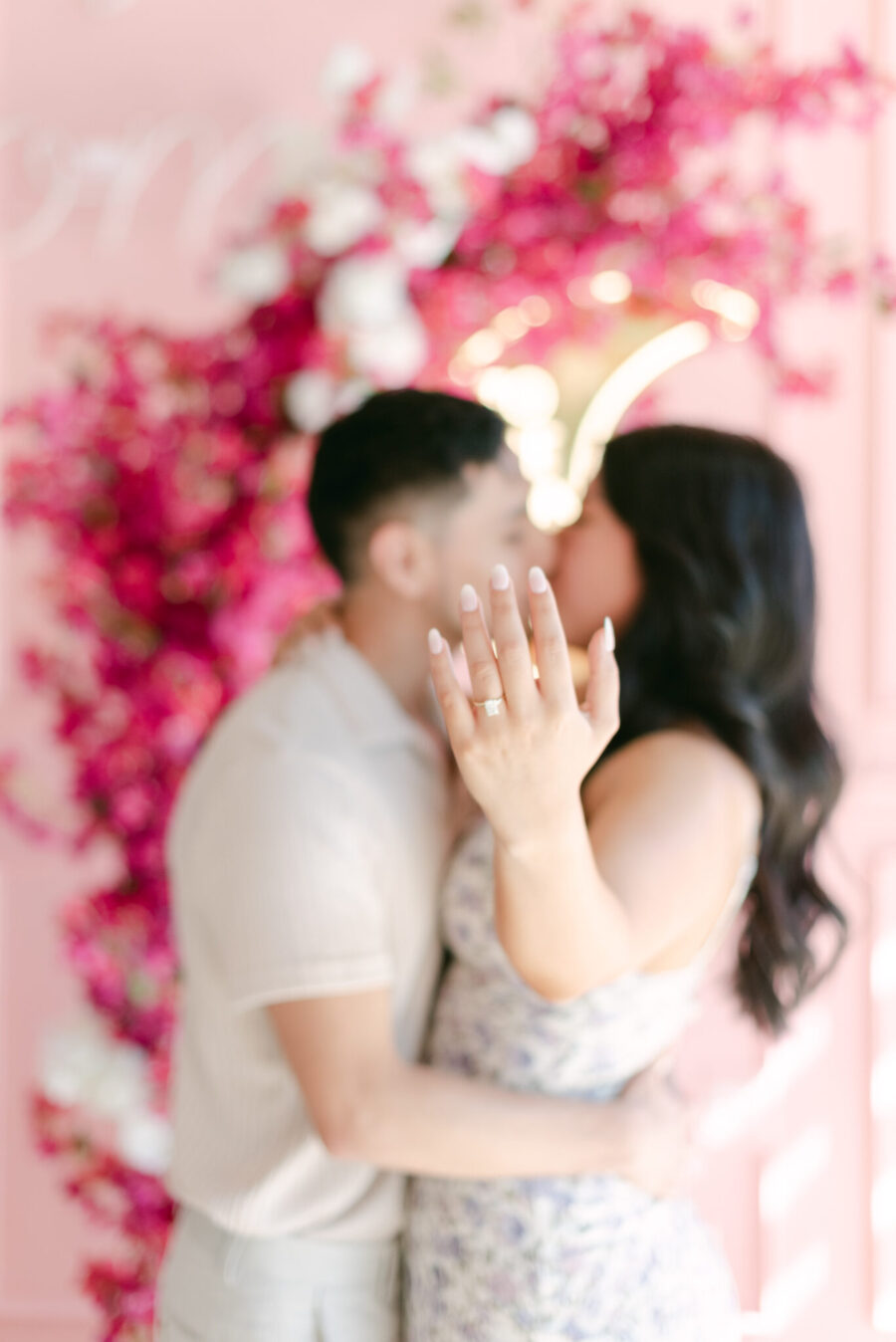 Cheers to love, to uniqueness, and to the beautiful journey that lies ahead.
Looking for a truly special proposal? Start here!
Vendor Love: Proposal Design and Planning: The Yes Girls | Photography: Gabriela Mata Photography| Box Sock