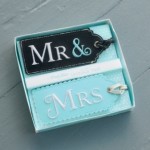 Proposal day jitters usually always kick in. Therefore, we asked past clients what they were most nervous about when it came to popping the question and came up with a few helpful tips to ease your nerves.  Here's what they had to say.
"I was most nervous about forgetting what I planned on saying. It's still a blur."
Tip: This is a big concern for most gentlemen. You rehearse your proposal speech multiple times, but when you are in the moment it's totally understandable to forget some words. Therefore, you can write her a letter to read before or after your propose so you get out everything you want to say. Therefore, if you forget something, no worries she will have the letter to read.
"I was nervous she would notice I was acting different that day and get suspicious."
Tip: No kidding, you are about to propose but hopefully you can focus on how excited you are rather than nervous.  If you planned it all out, trust that the others are taking care of the details. For example, if your girlfriend is a planner and you're a "go with the flow" guy, then stay true to that.  She will be suspicious if you plan the entire day and don't allow her any say in the plans. Simply suggest or ask if she would like to do certain things that day so she'll follow your plan but not get suspicious. You want to avoid a proposal day argument. Try to focus on having fun together so you act more like yourself.
"I was thinking, what if things/she doesn't go according to plan?"
Of course, the best cure is planning out the details before so you aren't worrying about any loose ends (that's what we are here for). For example, how you're going to get there, whose setting up the proposal, how much time do you need in between places, and time for error if she isn't ready right away.  You can even consider different scenarios so you are prepared to improvise. If you are going somewhere outside, have a jacket for her on hand. If you want to go for a walk, have an extra pair of sandals to replace her high heals. Mainly…stay flexible!  It's better to improvise or

even change some of the plan than to give away the entire surprise.
"I was worried someone would blow the surprise before I even proposed, since I asked for help."
Asking for help setting up is smart but limit yourself to less than a handful of people if you can. Some proposal ideas require more, like the surprise party proposal we did, but for the most part three close friends of yours should be plenty.  Also, that is where people like the "Yes Girls" come in. If you are nervous about someone ruining the surprise, you can hire a proposal consultant to discuss your perfect proposal idea and confirm your plans without it ever leaking to your girlfriend.
If your nerves kick in, just remember you will have a beautiful fiancé at the end that was worth it all! Good luck!
Love,