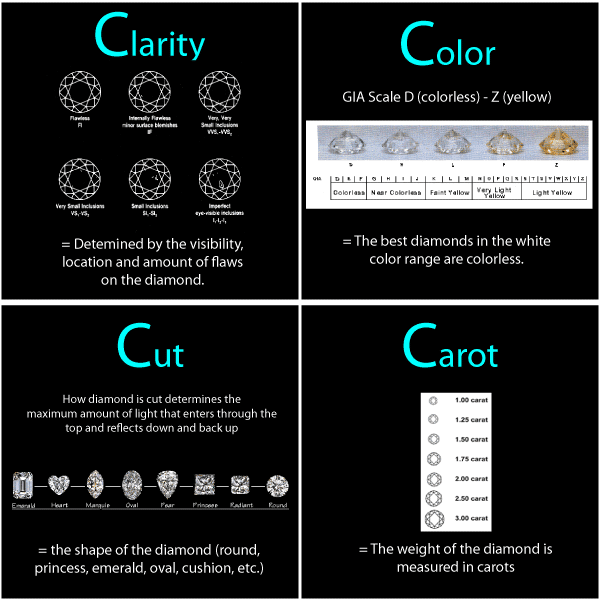 Photos from 4 diamonds. Stop by there more details on the four C's.
Engagement ring shopping? Here are a few questions to ask the jewelers.
1. What is the jewelers exchange/return policy? It is good to have a back-up plan just in case your fiancee (or you) wants to exchange her ring. This is especially important if you aren't going engagement ring shopping together and plan on totally surprising her with your ring pick.
2. Ask to view your diamond under their microscope, so you can see any and all blemishes. This will help you compare and understand the clarity (one of the 4 C's) of the diamond so you make the best decision.
3. Does the jeweler offer custom ring designs if you already have your diamond? Some jewelers, such as Tiffany & Co., have brilliant, quality diamonds but do not offer any customization of rings. Therefore, if you already have the diamond look for family-owned jewelry stores who specialize in custom settings.
4. What are you options for payment? Every store has a different payment policy so do not assume, ask.
5. Who does the appraisal? Many jewelers require you go through them for the appraisal. Therefore, if you want to go elsewhere, double check their policy. After you get your appraisal, make sure you get the ring insured as soon as possible.
6. Get the ring insured! You don't need to ask the jewelers because you can do this through your own bank but it's SOOO important to get her engagement ring insured.
I hope this makes ring shopping a little less stressful and a little more enjoyable. These are just a few items to address. A Feel free to email us or comment below if you have a good question/suggestion for our soon-to-be engaged couples. Have fun finding that perfect fit!