Bridesmaids go above and beyond for their bride, and a wedding weekend is as much of a celebration of friendship as it is of true love. As a bride, odds are you're looking for a fun way to thank your besties for all the time and emotional support they dedicated to helping you get ready for your big day. Thankfully, there are so many creative gift ideas that your bridesmaids will truly appreciate, but that won't completely blow your wedding budget.
From a personalized trinket box to an adorable pair of wedding socks, here are 12 awesome bridesmaid gifts that fit into any budget.
1. A personalized piece of jewelry is a thoughtful gift that will surely make them smile.
Jewelry is an intimate gift to give, and the perfect choice to show your absolute best friends just how grateful you are for their support. Stainless steel styles are still very tasteful, but much more affordable than solid gold or silver. For an added personal touch, consider picking a necklace or bracelet with their initials, or something that features a gemstone in their favorite color.
2. They'll enjoy a practical gift that holds sentimental value — and their belongings.
A trinket box etched with their name, an inspirational quote or a thank you message will add some glamour and sentimental value to their dresser. They can use it to store jewelry, photos, postcards and whatever else they feel is worth saving.
3. Help them find their balance with a few hand-selected healing crystals.
If your bridesmaids are into crystals and meditation, they might enjoy a thoughtful cluster of crystals that you curated just for them. In honor of the romantic day, consider rose quartz for love and healing, moonstone for energy and passion or sunstone for happiness and balance.
4. Reusable water bottles become extra special when customized with their initials.
A reusable water bottle is a thoughtful and environmentally conscious choice to gift your bridesmaids. It's something that people generally need, but don't often like to buy for themselves. Consider getting theirs monogrammed so none of you will ever accidentally drink from the wrong cup again!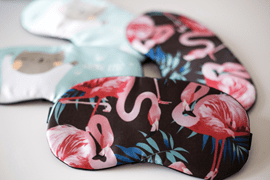 5. Sweet sleep masks will allow them to get their beauty rest before a long day.
The first moments of a wedding are generally a blur of curling irons, blush, hair spray, eyelashes, photographers, shapewear, shoes and veils — and the day often starts promptly at the absolute crack of dawn. A cushiony sleep mask will help your 'maids get all the shuteye they'll need to help support you through such a thrilling marathon morning.
6. A makeup bag in their favorite print or pattern will help them store all their essentials.
You don't have to be a beauty lover to appreciate the value of a makeup bag. Your girlfriends will need it to store their makeup supplies for when they're getting ready with you the morning of the wedding, and it'll be truly useful for them for travel or any time. Consider picking a different print or pattern for each of your gals, or even getting their names printed on them for a thoughtful touch.
7. They'll be photo-ready while getting ready in a silky robe or pajamas.
Silky sleep sets can get pricey, but there are many inexpensive options out there — we're talking $20 or less! — that only look fancy. Pick a sweet color that matches their bridesmaid dresses, or go with a flirty floral print for a feminine touch.
8. Cute wine tumblers or champagne flutes put the "fun" in FUNctional.
A wedding weekend is such a great reason to toast with your friends. Personalized wine tumblers or champagne flutes not only look adorable in pictures together, but they can also be used long after the party's over. Next time your girlfriends say "cheers" at home, they'll be reminded of the happy memories they made with you.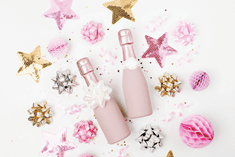 9. A festive bottle of bubbly will help them kick off the celebration.
There really is nothing better than a practical gift, and a mini bottle of champagne or sparkling wine will certainly help your besties get the party started. Pick a special bottle for each of your bridesmaids and consider adding a custom label with their name and a message of gratitude. Whether they enjoy theirs right away or save it for another special occasion, they'll surely appreciate the gesture.
10. Commemorate the day with fun socks they'll wear over and over and over again.
There's something so cute and sweet about a festive pair of bridal party socks that you just can't help but smile while wearing them. Treat your gal pals to flirty wedding socks that match their personality or highlight their role in the wedding. They can wear them to the after party and will love to be able to look back on this special day the next time they're getting dressed in the morning.
11. Relieve their aching feet with a fresh pair of cushioned flip flops.
All that dancing will likely lead to some tired tootsies! At the end of the night, your girls will appreciate a custom pair of flip flops with their name or role in the wedding. The gift of relief is really a perfect treat for the wedding night and all summer long.
12. A hangover kit will soothe them after an eventful wedding night.
Nothing's more practical than a hangover kit! After the big party, they'll think of you — and feel so much better — thanks to this one. Include ibuprofen, an electrolyte mix, lip balm, a hair tie, eye drops and some mouthwash to cover all the bases.
Keep It Simple
While it might be tempting to save costs by throwing together some cute tchotchkes from the dollar bin, you probably don't want your 'maids feeling obligated to keep something impractical just because it was a gift. When shopping for bridesmaid gifts on a budget, stick to items that aren't just affordable, but that they'll actually use after the party's over. They'll be grateful for the thought you put into it and think of your friendship every time they use it.