When you envision an engagement ring in your head, you probably picture a diamond center stone with a simple gold or platinum band. There's no doubt about it, the solitaire style is a timeless classic, but it's not the only choice you have when shopping for engagement rings. In reality, there are dozens of distinct styles in the jewelry case, which makes picking one out a true challenge. Reference our list below to find an engagement ring style that feels tailor-made to you and your relationship.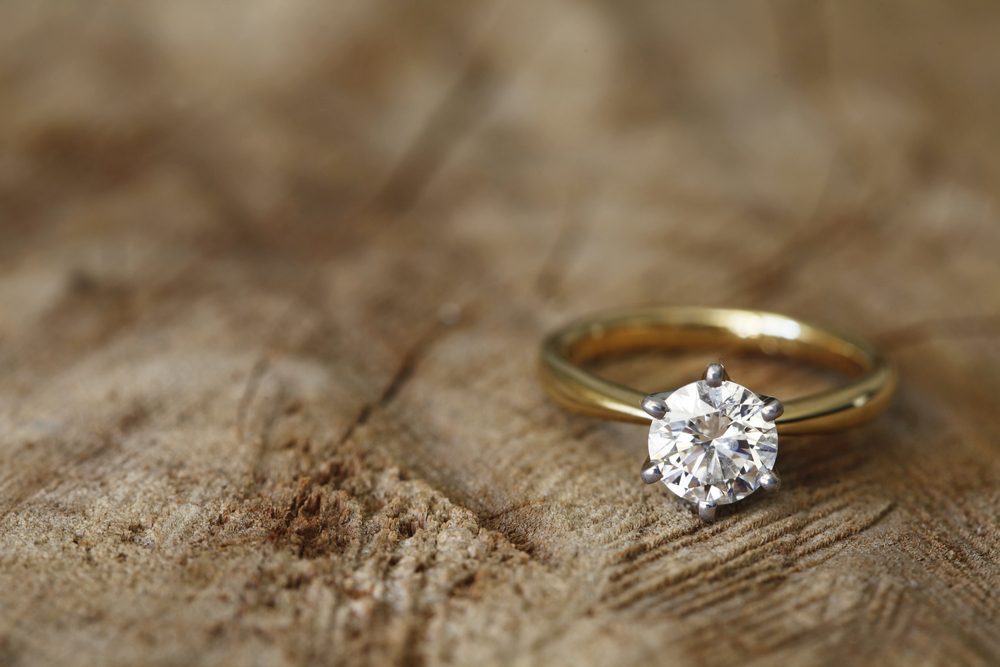 Source: attem/Shutterstock.com
1. The Solitaire — Arguably the most classic engagement ring setting, the solitaire is a traditional yet trendy option that never disappoints. As its name suggests, this option features one solo stone that serves as the crown jewel. The traditional solitaire ring features a brilliant diamond showpiece with no stones along the sides or on the band. It's becoming more and more common to see solitaire rings featuring other precious gemstones or colored diamonds. For example, Heidi Klum's stunning 10-carat canary diamond ring.
Tip

: Love the solitaire? Consider proposing with a ring without the center stone. 

Semi mount engagement rings

 feature gorgeous settings that can be customized after the bride-to-be says "yes."
2. The Halo — An ultra-trendy alternative to the standard solitaire, the halo engagement ring features one central stone haloed by multiple small stones. This gives the ring the same central wow factor as a larger solitaire plus plenty of sparkle. One of the biggest benefits of the halo style is that it appears bigger and grander but it costs a lot less, since small diamonds are cheaper and more readily available than big ones. Halo engagement rings are perfect for a wide range of stone shapes, especially round, square, pear and oval.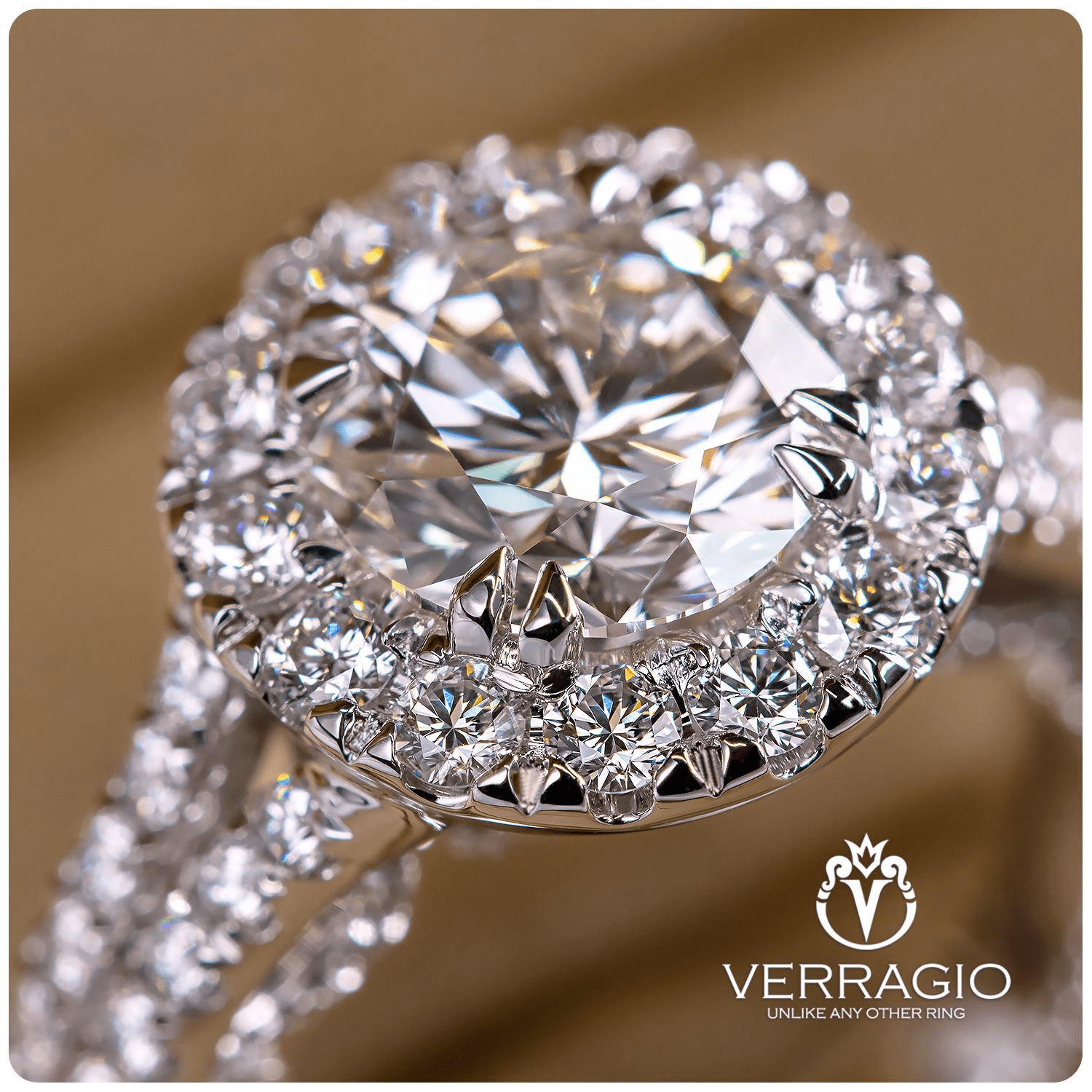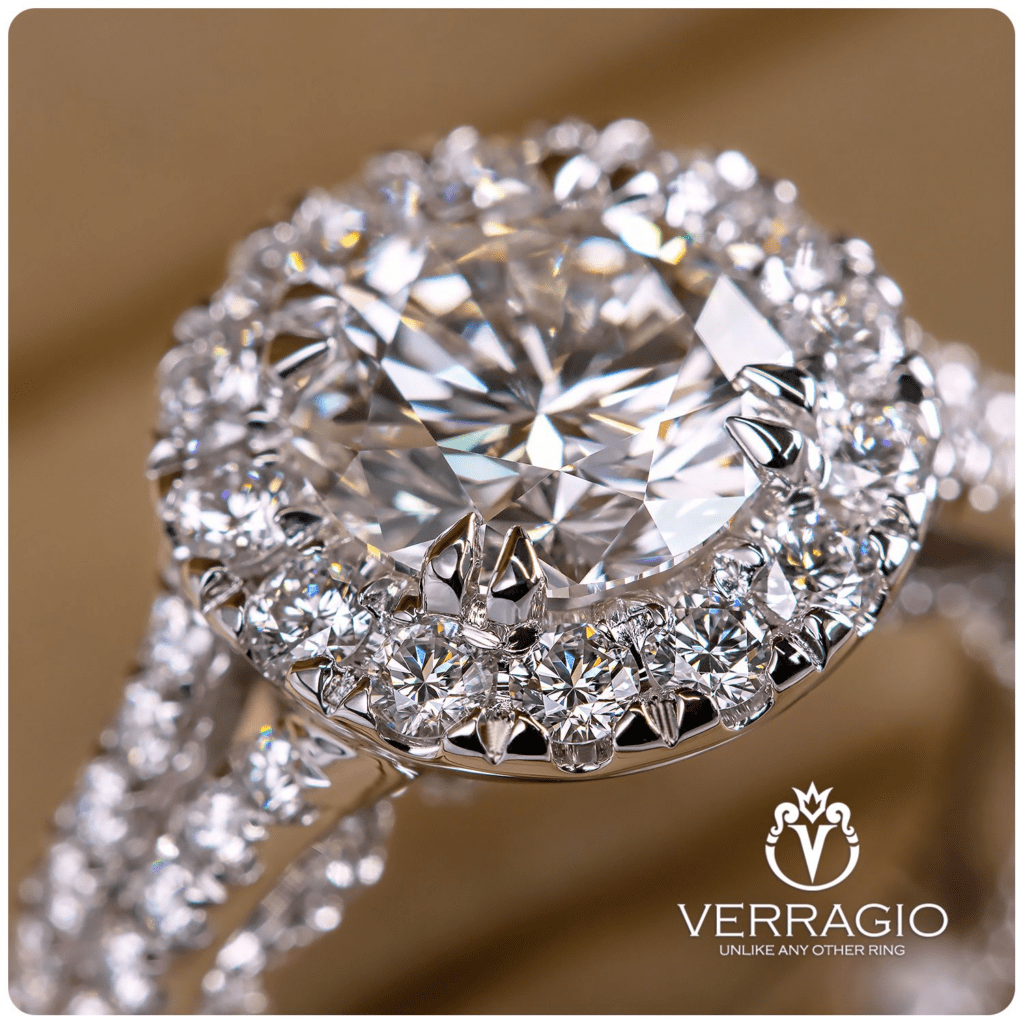 3. The Infinity — Also known as "Eternity". What sets the infinity engagement ring apart from the rest is its gorgeous twisting band. Featuring two intersecting lines that create the illusion of an infinity symbol, this is the perfect choice for the wearer who wants a little something extra around the band. Infinity rings may be a solitaire or halo ring. The band may be studded with gemstones or simply sparkle in your choice of precious metal.
Tip: 

If you or your spouse-to-be loves the infinity style, make sure to consider how it will look when stacked with the wedding band. The mix-and-match style is super trendy, but you may have trouble finding a wedding band that perfectly fits with an infinity engagement ring.
4. The Three-Stone — After the solitaire and halo, the three-stone engagement ring is one of the most popular diamond engagement ring settings. For people who love a little extra glitz and glam, it's not hard to see why! This setting features one large stone at the center flanked by two smaller stones, creating a unique, symmetrical look. Depending on the shape of the stones, the three-stone style can give off some antique or art deco vibes. For an excellent example of this style, check out the three-stone cushion cut stunner Prince Harry had made for Meghan Markle when he proposed.
5. The Pavé — The French word pavé translates to "pavement," which gives us a clue into what this popular setting option is all about. Pavé refers to the way the diamonds are set into the band of the engagement ring. They feature small, closely paved diamonds that look flat (or "paved"), creating an eye-catching sparkle all around the band. Pavé engagement rings look gorgeous in all kinds of configurations, including halo and three-stone settings. It's also quite popular to see pavé solitaire diamond rings featuring one large stone with a pavé band.
6. The Channel-Set — Channel-set engagement rings are similar to pavé engagement rings in that they feature continuous diamonds all around the band. However, the channel setting is held in place by a channel of metal at the top and bottom of the band. This creates a more secure and unique design, but it doesn't appear as sparkly or continuous as the pavé setting. The channel setting is more protective than the pavé setting, which makes it much less likely that a stone might fall out during day-to-day life.
Tip: 

Mix and match pavé and channel-set bands for a unique approach to the stacking wedding band trend.
7. The Tension — If you're looking for a truly unique and eye-catching option, consider the tension-set engagement ring. This option uses pressure to suspend a stone in the middle with no prongs or beads holding it in place, creating the illusion that it is floating. Often, the tension setting features an open band that encircles a single stone at the top or bottom, creating a mesmerizing aesthetic. This is a great choice for the trendsetter who wants something whimsical yet classic. One thing to note is that this setting isn't always quite as secure as others, so it could result in the stones getting loose or falling out.
8. The Cathedral — The cathedral engagement ring is a traditional or antique option that's great for those who want something glitzy yet outside the box. It features a center stone with metal arches that emerge from the shank, not unlike the arches of Gothic cathedrals. It features one of the most distinct and original profiles out of all the rings. Often, cathedral cut engagement rings feature unique adornments or gem accents on the arches for an even more unique look.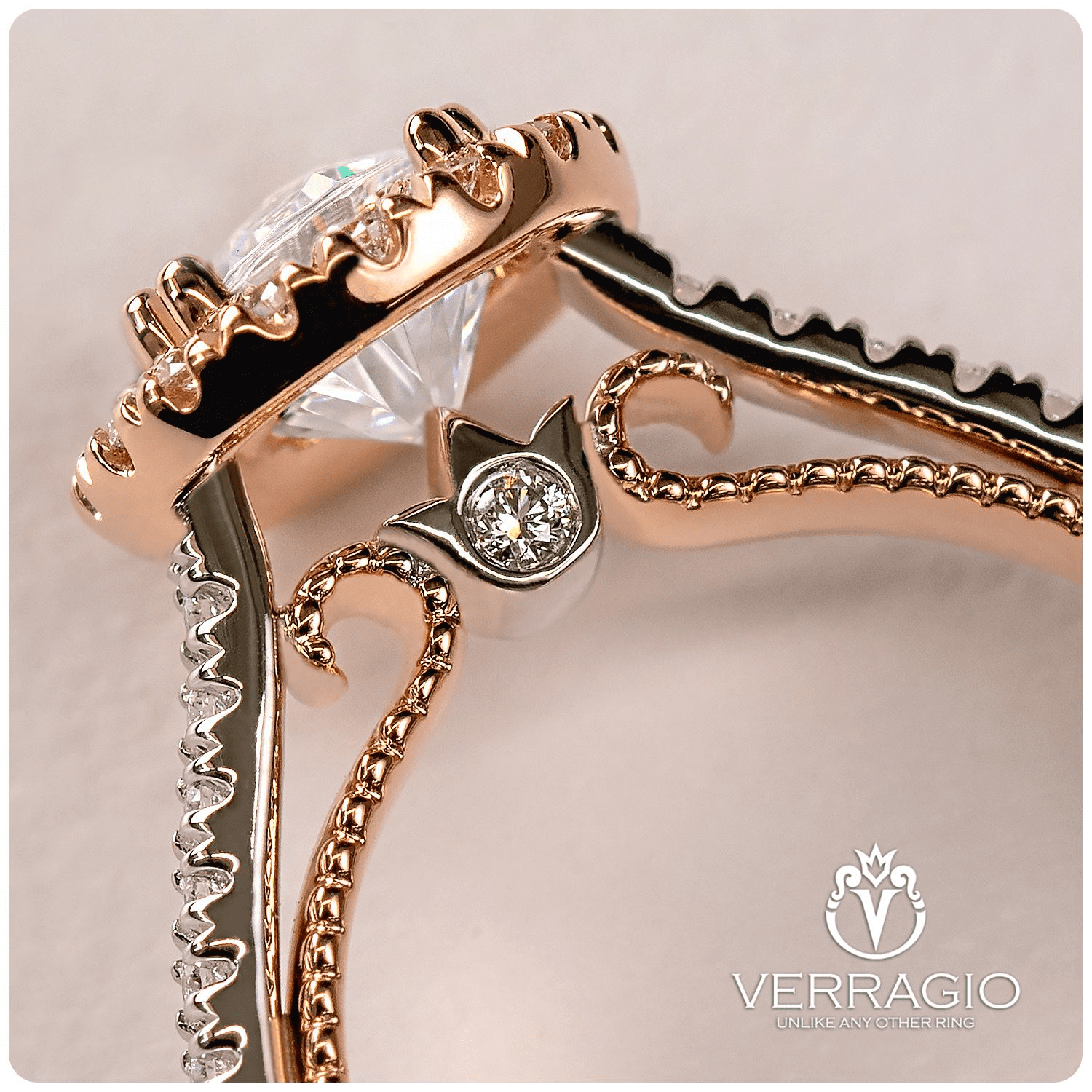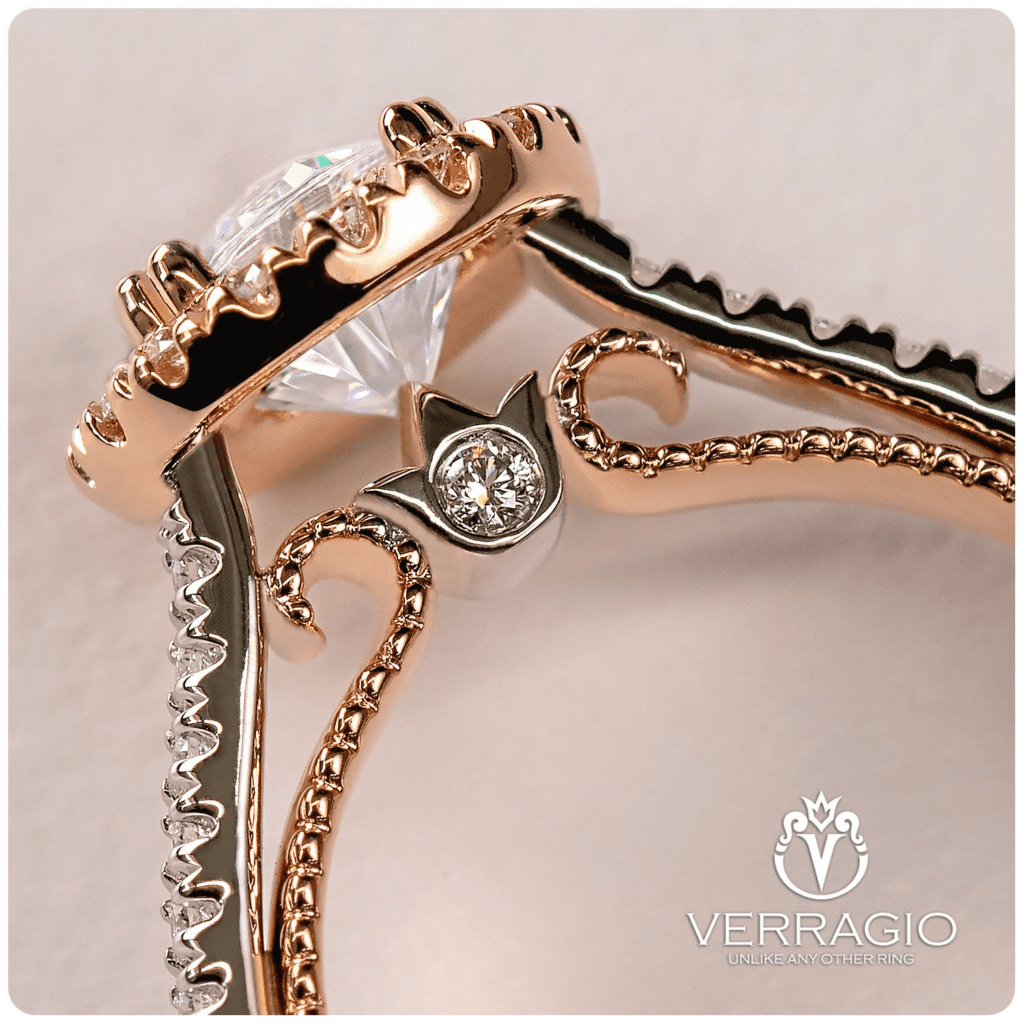 Choosing an engagement ring style can be tough. With that said, most people are able to find one that they believe reflects their personal style and their unique love story. If you aren't sure which style is best for you, be sure to consider all your options and maybe even head to the jeweler to try some on. We're certain you'll be able to find one you'll want to wear for a lifetime.