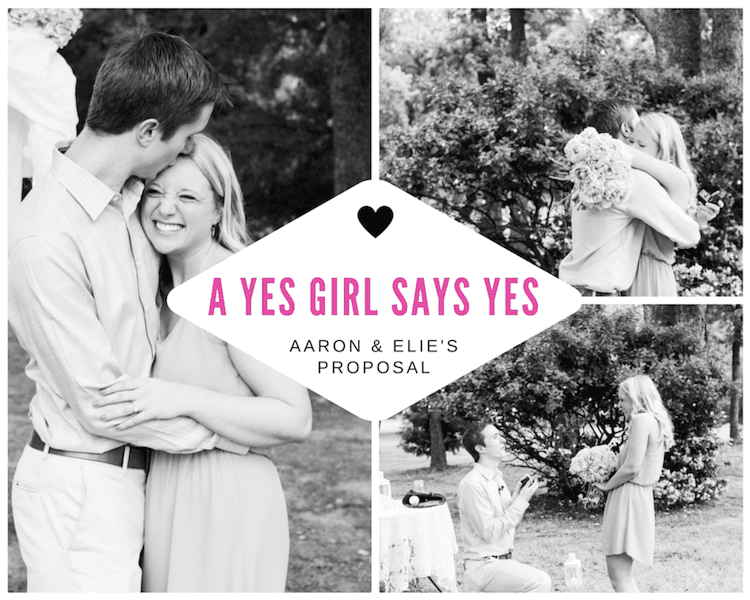 More Photos Below!
I've been dreaming about writing this blog post ever since becoming a Yes Girl almost 4 years ago. Every time I would brainstorm a beautiful proposal for a new client I would think "I hope this element is part of our proposal story one day" or "gosh this personalized detail would be perfect for our proposal"! Then it happened,
finally
! I know that you're probably thinking that there is no way that Aaron surprised me or lived up to the ridiculous expectations that I had set up for him from my job, but you'd be wrong on both accounts. I was COMPLETELY surprised! Aaron wasn't even in the same state with me last weekend – but more on that below! And as for my expectations, I just wanted to be engaged to this wonderful man. Our proposal would be perfect because it would be the one that ended in spending the rest of my life with Aaron.
So, a little background before I get into the events that unraveled on Saturday, May 16th. Aaron just graduated from Physical Therapy school two weeks ago and he has been studying for his board exams like crazy while also trying to find a job in the very specific field of physical therapy that he is interested in. Last Wednesday he went to a job fair at a hospital that he had sent in his resume. He called me after the fair and told me that they had offered him an interview but they couldn't get him in until Saturday at 8am. I was a little frustrated with this news, because we were supposed to go to my home-town in Oklahoma that weekend to spend time with friends and family (and I was going to be celebrating my best friend at her bachelorette party)! This new interview meant that Aaron wouldn't be able to go with me, but how can you be really mad at someone for getting an interview?
I went to Oklahoma alone on Thursday night. On Friday evening I co-hosted a Roaring Twenties Themed Shower for my best friend and it went perfectly (pictures of that to come at a later date). Then on Friday night we were discussing the plans for the next day. One of my girlfriends suggested that we get all dolled up and go shopping and get sushi and just spend a good old fashion girls day together! The plan was to leave at 9:30 so everyone was going to get up and start getting dressed around 8:30am. That morning I woke up before everyone so that I could call Aaron before his big interview to wish him luck. But when I called he didn't answer! I was super frustrated at this point but decided to use the extra time to just curl my hair so that I felt extra-dolled up for our girls day.
We spent the morning wandering around to some of our favorite stores and just enjoying all the girly things that you can only do when your guys aren't with you. But around noon my phone started ringing because a proposal that I had been planning for Napa started to unravel (there was bad weather in Napa and the helicopter wasn't going to be able to fly according to plan… it was a hot mess). So I spent most of our girls day on the phone between vendors and the client trying to figure out a Plan B and going into "event planner mode". I kept apologizing to the girls for being absent minded during our day, but they understood! Note- turns out the other proposal kept me blissfully unaware what was coming and Heather made sure the Napa clients enjoyed their special moment too (she also said yes!)
Around 4:30 my friend suggested that we just go back to her parents house (where we were all staying) and I could wrap up the proposal stuff there and then we could just spend extra time getting ready for the bachelorette festivities that evening. We arrived at the house and as soon as we started walking in the front door my best friend turned around in front of me and blocked my view of the house (and into the backyard). She started grabbing all my things (shopping bags, purse, work phone, etc) out of my hands and then I looked behind her and into the backyard and saw it. There, standing under beautiful market lights, was my boyfriend who was supposed to be in another state entirely. I knew instantly that this was the moment I had been waiting for! I immediately started bawling. I think I mustered out a few "shut up! this is happening!" comments, but honestly I don't remember much at this point.
Hannah and Caroline (my two best friends) led me to the backyard and handed me a bouquet of my favorite flowers. They whispered sweet things in my ear (that I also can't remember) and motioned for me to go to the next person in a line. This was my mom, on an iPad, and there was a pink peony laid out in front of her. She also said adoring things that I can't remember and then told me to go to the next person in line. I walked down one by one and received a flower and hug from each person before walking to Aaron.
Aaron was standing under a beautiful chandelier made of pink hydrangeas, market lights, and other elaborate flower balls that were hanging in the trees. To his left was a table covered in a delicate white lace and there was a baseball, a framed bible verse, and another flower arrangement on this table. Then, to his right was a bench with a HUGE canvas that had calligraphy writing on it (at this point I didn't even take the time to read the canvas, I just wanted to hug my man)! He told me that he wanted to keep things short because I had been waiting long enough for this moment, then he dropped to one knee and asked me to be his wife! (At the time I didn't remember any of this, but we have since watched the video from our RingCam about 1,000 times so I do in-fact know that is what he said.) I laughed and cried and managed to stumble out a couple of "yes"es!
Then Aaron led me over to the canvas and read it out loud to me. He read me the sweetest, most sincere thing I've ever read and I will cherish this piece of art forever – it was a letter from him to my father who passed away about a year before I met Aaron. As if I hadn't cried enough at this point, it was as if someone had turned on a faucet! Tears were streaming down my face faster than I've ever imagined before. After containing my joy and emotions we turned around and celebrated with our closest friends!
Pictures galore and video to come tomorrow!!! I'm honored to share this experience with you, our faithful followers and fellow hopeless-romantics. Enjoy our pictures and make sure to check back every Tuesday as I share our wedding planning journey!
Vendor Love:
Photographer: J Hodges Photography
Florist: Pearls and Poppies Floral Design
Calligraphy Canvas Sign: Magnolia Tree Paperie 
She Said Yes Sign: Karley Hall Creative
Videographer (COMING TOMORROW!): Carpe Diem Video Productions
Ring Box with Video Camera Inside: Ring Cam
Engagement Ring Designer: Jeff Cooper Designs