We are thrilled to announce our new venture…The Yes Girls Newsletter! I must admit we've been meaning to get around to this puppy for quite awhile so it feels good to finally put this into action! Every other month (starting January 2012) you can grab a cup of joe and immerse yourself into our newsletter filled with tear-jerking proposal stories, beautiful things, and a whole lot of thoughtfulness to inspire all relationships. If you're worried about your email being overloaded with spam, then don't be, that won't be the case. This is just an easy way to save all The Yes Girls and our readers favorite things in one nifty letter.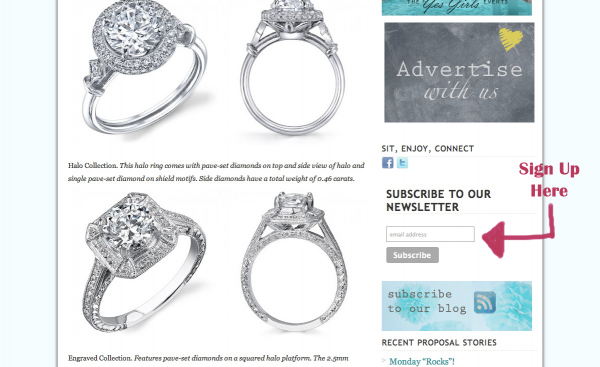 What to expect when subscribing to The Yes Girls Newsletter:
Fun and romantic marriage proposal stories, our favorite engagement ring from the month, anniversary ideas, engagement party DIY craft, wedding inspiration and pre-marriage and engagement tips for both the men and ladies, and more. If you love the daily LTYS posts, then our newsletter is made for you. When you sign-up you'll get a free coupon for a discount on our proposal services for yourself or a loved one.
Signing up is easy! On the right column of our blog, under "Subscribe To Newsletter" enter your email. Verify it's your email in your inbox and you're all set.
Love,



Want to create her dream marriage proposal? We have the perfect way. Contact The Yes Girls to get started on your personalized marriage proposal, wedding plan, vow renewal, anniversary or date night today! We're so excited to work with you!