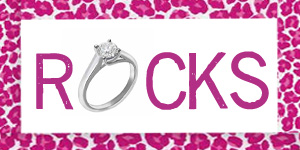 Hello! I hope everyone had a great weekend! This weekend the Yes Girls and I put on a shower for our close friend and photographer, Melissa Disston. It's safe to say that it was a complete success and she had a wonderful time (pictures soon to follow)! During this crazy week, these our the engagement rings I found for this week's Monday "Rocks"!…
Moissanite Co. This beautiful ring features a antique halo style design, oval cut Moissanite center stone with round Moissanite side stones, set in 14k gold or palladium. There is so much intricate detail that it makes one gorgeous ring! Love!
Knox Jewelers. Radiant center stone, set with a halo around it. The band is a split shank with small detailed diamonds. I love the antique feel of this ring… it's just so romantic!
Natalia's Diamonds. A 2-carat princess cut diamond, pave decorated mounted setting all in platinum. I love this ring because it's HUGE… you can't beat that and you can't say no!
I hope everyone enjoyed this week's pick and I look forward to the next Monday "Rocks"! Have a wonderful week!
Love,