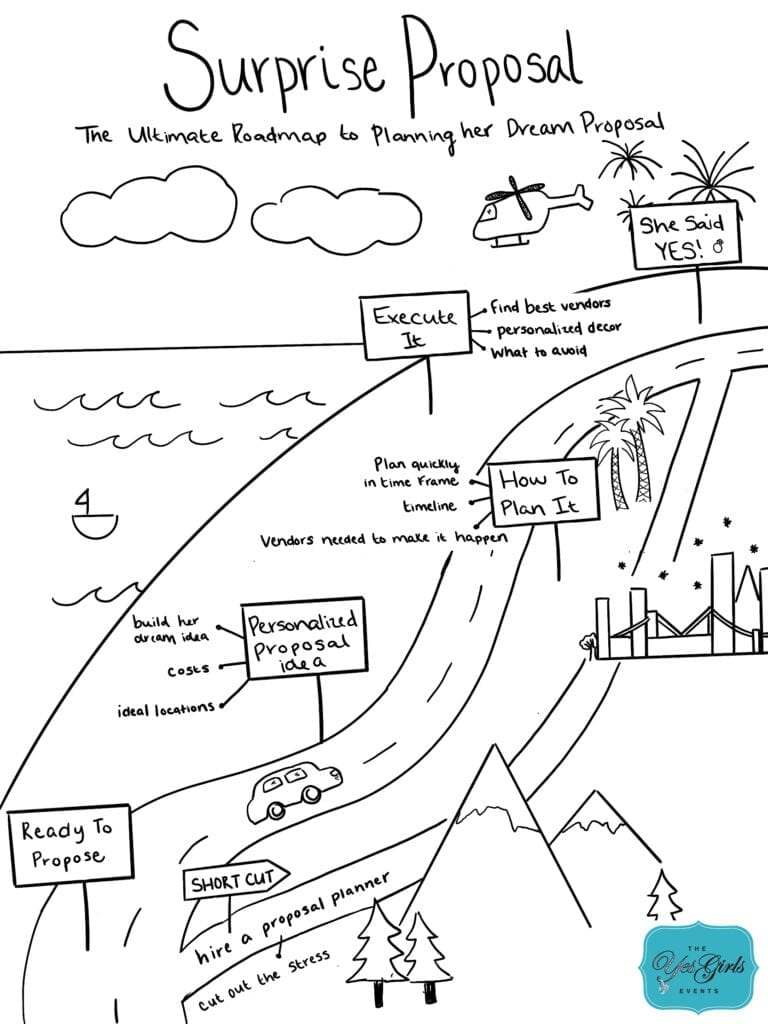 In these proposal planning videos, I coach you through the 3 mile markers to reach that "she said yes!" finish line; you can smoothly create and plan her dream surprise wedding proposal without the stress. Trying to figure out the perfect engagement ring and how to propose, where to find the right vendors, location, and what to budget for all of it can feel daunting. I wanted to break it down into a simple road map so you can see the three things you can do (in this order) to compartmentalize and plan your surprise proposal stress-free. 
START: Jump in the car and let's hit the road! Her dream proposal awaits….
MILE 1: PERSONALIZE PROPOSAL IDEA
Build her dream idea
Ideal locations
Decide on costs
MILE 2: HOW TO PLAN IT
Plan quickly within your timeframe
Make timeline
Decide which vendors are needed to make it happen
MILE 3: SMOOTHLY EXECUTE IT
Find the best vendors for your idea
Get personalized decorations for set up
Know the things to avoid
FINISH: SHE SAYS YES!!
Want your own personal marriage proposal coach? I would love to!
In each 20 minute video, I will coach you through each of the steps to take you from the start to the finish line. I know you have 20 mins (because you are currently here making an effort) so let's ensure you can make her dream proposal come to life within your location, budget, timeframe, etc.
Each video comes with the proposal tools you'll need to make it happen (ie: like a proposal timeline in video 2 or an example cost breakdown in video 1). No more excuses. You've got this! Because now you can plan it from home, work, and when she isn't around.
OR