post updated: 5/2020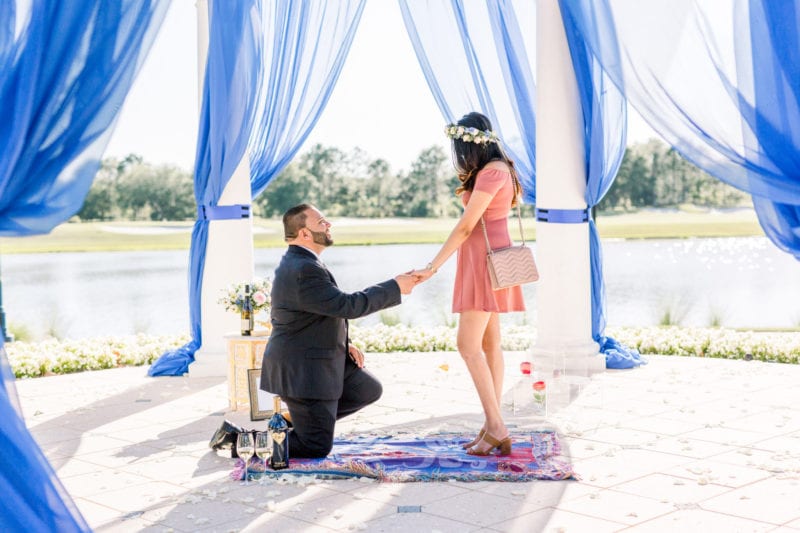 5 Tips for Your Perfect Marriage Proposal Speech:
1. Brainstorm Memories
Do this before you write your marriage proposal speech. Think about how you met, the first time you laid eyes on her, the moment she was no longer a "friend" but someone you wanted to date, what you were doing when you realized you absolutely wanted to marry this girl, why you can't imagine doing life without her, etc. Starting off with a monumental memory from your relationship is a great way to begin your proposal speech, almost like you would a story.
2. Write It Down
Now get organized. Spend time putting all your thoughts about your memory (from step 1) on paper. Now that you have a starting point to your proposal, jot down all the traits and quirks you love about her. List all the reasons you want to marry her. After you have a full sheet of paper you can evaluate and organize the traits/reasons on your paper that mean the most to you (and her). Now you should have a beginning and middle to your proposal speech. You're getting close! Want to make this part easier? We have a "FILL IN THE BLANK" PERFECT PROPOSAL SPEECH TEMPLATE that is done and ready for you.
---
DON'T WANT TO WASTE ANY TIME? CHECK OUT OUR PERFECT PROPOSAL SPEECH TEMPLATE
Have your speech ready in less than 10 minutes with our perfect proposal speech template.  Highlight your favorite memories, things you love about your partner, etc. in a romantic way. Just fill in the important details and you are ready to go!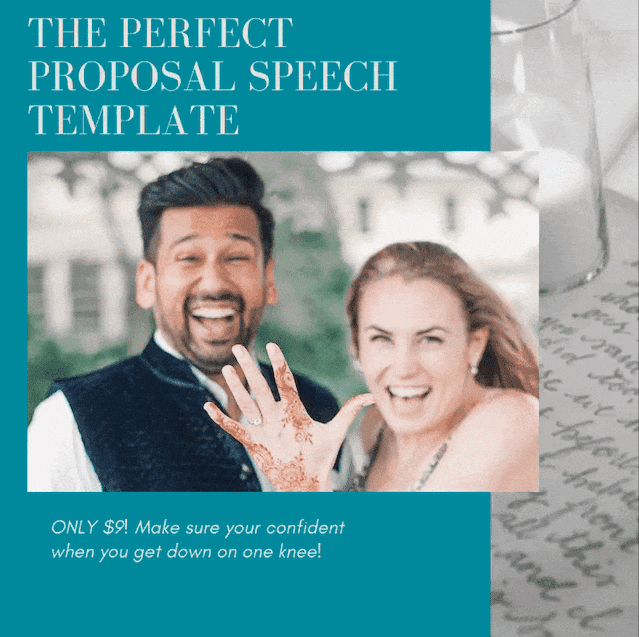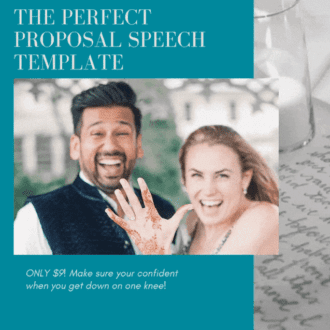 ---
3. Ditch Lengthy
A 1-minute proposal speech is totally fine. Organize a meaningful but manageable proposal speech. That's why it's helpful to consolidate your thoughts (step 2) so you share what matters most and don't have a million things to remember (even though you have a million good things to say, right? wink, wink.) If you feel like there is much to say and you don't want to cut it short, I recommend writing it in a letter that she can read after you propose.
4. Final Words Are Most Important
Undoubtedly the final question, "Will you marry me?" is your grand finale; but the final words leading up to the question are just as memorable. When you first drop down on one knee and she realizes what's about to happen, she'll most likely be so surprised, giddy, flustered, excited, emotional, etc. that you'll want to give her a few seconds to grasp what you're saying so she actually hears you. This is precisely why you should save your most special comments for the end of your "proposal speech." She will be more likely to truly remember and take it in.
5. Say It Aloud
It may seem silly but practice saying your marriage proposal speech aloud. Chances are you may forget a few thoughts you wrote down, but by practicing, it will come out more natural (even though it probably won't feel that way). Plus, you'll be less likely to stumble over your words during your big moment.
It may seem difficult to find the perfect words but hopefully, the steps above provide some helpful guidance for your perfect marriage proposal speech. I know with a little thought and practice your girlfriends will love your proposal speech.
You can make it extra special by writing your speech down on pretty paper (like this for example) which she can then keep and save forever! 
---
Don't want to blow your proposal speech?
We'll send you a 7 STEP PRINT OUT TO CREATE YOUR PROPOSAL SPEECH FOR FREE!
---
The Yes Girls is a full-service marriage proposal planning company. Our founder is the world's first marriage proposal planner so we've got you covered! Our specialty? We produce custom, luxury, and romantic proposal ideas and assist with any marriage proposal help you might be looking for.
I would just like to talk to someone!
Or call us at 949.766.5144
---
Have your speech ready to go in 10 minutes with our easy to use, fill-in-the-blank proposal speech template. Easy to customize yet won't forget the important pieces you should include.