3 Easy Ways To Create Dream Proposal that feels high end.
Trying to figure find the best proposal idea for you and her? Love the look of hanging lights in marriage proposals, rooftop proposals or using her favorite flowers in the setting but hoping to do so in a creative way? Good news! Whether you have $300, $1000 or $50,000 your marriage proposal can still be personalized to your relationship.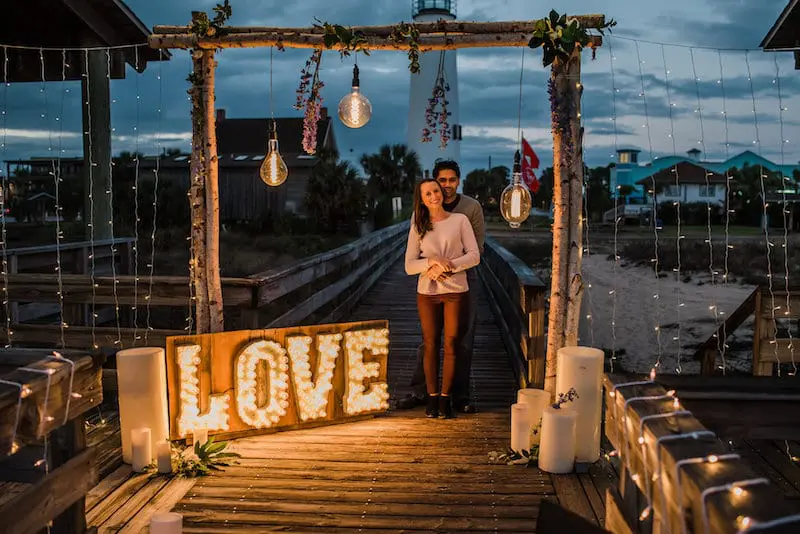 1. Did you find idea on Instagram or did you choose the idea because she likes it?
This is a simple question that will tell you a lot. If you found an pretty idea on Instagram, Facebook, Pinterest, etc because you like the look of it don't stop there. Make sure to ask yourself if the idea and look is something she would personally love. For example, MARRY ME? sign in lights is a nice start but what can you add to the setting to make it more about her. Any couple could walk onto a rooftop with a MARRY ME? sign however a light up LOVE sign, hanging wisteria, custom calligraphy signs, and a lighthouse is specific to Matthew and Allison (the cute couple above) because it incorprated Allisons favorite things!
2. Find a location suitable to budget
Rooftop marriage proposals are stunning but if you are trying to keep your proposal under $1000 then this is not your best venue option. Real talk. It will eat up your entire budget and more. Instead look for beautiful places like an outdoor park/viewpoint with skyline views or an intimate indoor studio with large windows that look out to the city. An outdoor terrace can still give you the look you want without the cost of a rooftop. Look for places that are free or require a small venue rental fee.
3. What's the forecast for those Instagram-able Photos
That down-on-one-knee moment is that iconic proposal shot, and we get it because it's our favorite too! When creating your idea, consider the weather, time of day, and angles for the photographer so you can get that dreamy proposal photo in the best way possible. If you decide to go with rose petals on the beach, think of how you plan to weigh them down (ie: spray them with water bottle) or they can be blown away with that ocean breeze. If you're proposing outside, what is your rain or wind back up plan if applicable?
Consider these three things as you create your proposal idea and select a location.
Want to create her dream proposal idea within your budget?
I will coach you through how to do it in 20 minutes.
Using 10 questions and our video, you can generator her surprise wedding proposal for $97. Let's elivate the stress, make it manageable for you, while giving her that proposal she's always dreamed of.
RING
Who needs this this video and materials?
> Wants to build her dream proposal using our easy system
> Needs best locations and options within budget
> She wants a memorable proposal story
> Needs to know what things costs
> Wants Instagram worthy photos (ie: best shots, timing, lighting)
> Wants a unique proposal example for under $1000