One of the most common questions we get asked is, "Do you have a favorite proposal idea?" Truth is, whichever clients we are currently brainstorming proposal ideas for is my favorite (as cliché as that may sound). Why? Each couple's marriage proposal is a new opportunity to highlight their unique relationship and the elements that makes them 'them'.  That said, I sifted through our library of clients to select 12 creative proposal ideas we created just for our couples. We used their questionnaire responses to curate proposal ideas specific to their [now] fiancée's interests, so when she stepped into that space, she knew it was made JUST FOR HER! Nothing more romantic than that!
The Yes Girls curated a list of twelve creative marriage proposal ideas specific to clients relationships.
Top 12 Creative Proposal Ideas across the U.S. |  by The Yes Girls

The Proposal Idea: A LOVE equation marriage proposal for a chemist herself!
Relationship Inspiration: From gorgeous flowers in beakers and test tubes to her favorite color palette highlighted on a private rooftop in Charlotte, North Carolina, this surprise proposal is what dreams are made of!
Marriage Proposal Location: Charlotte, North Carolina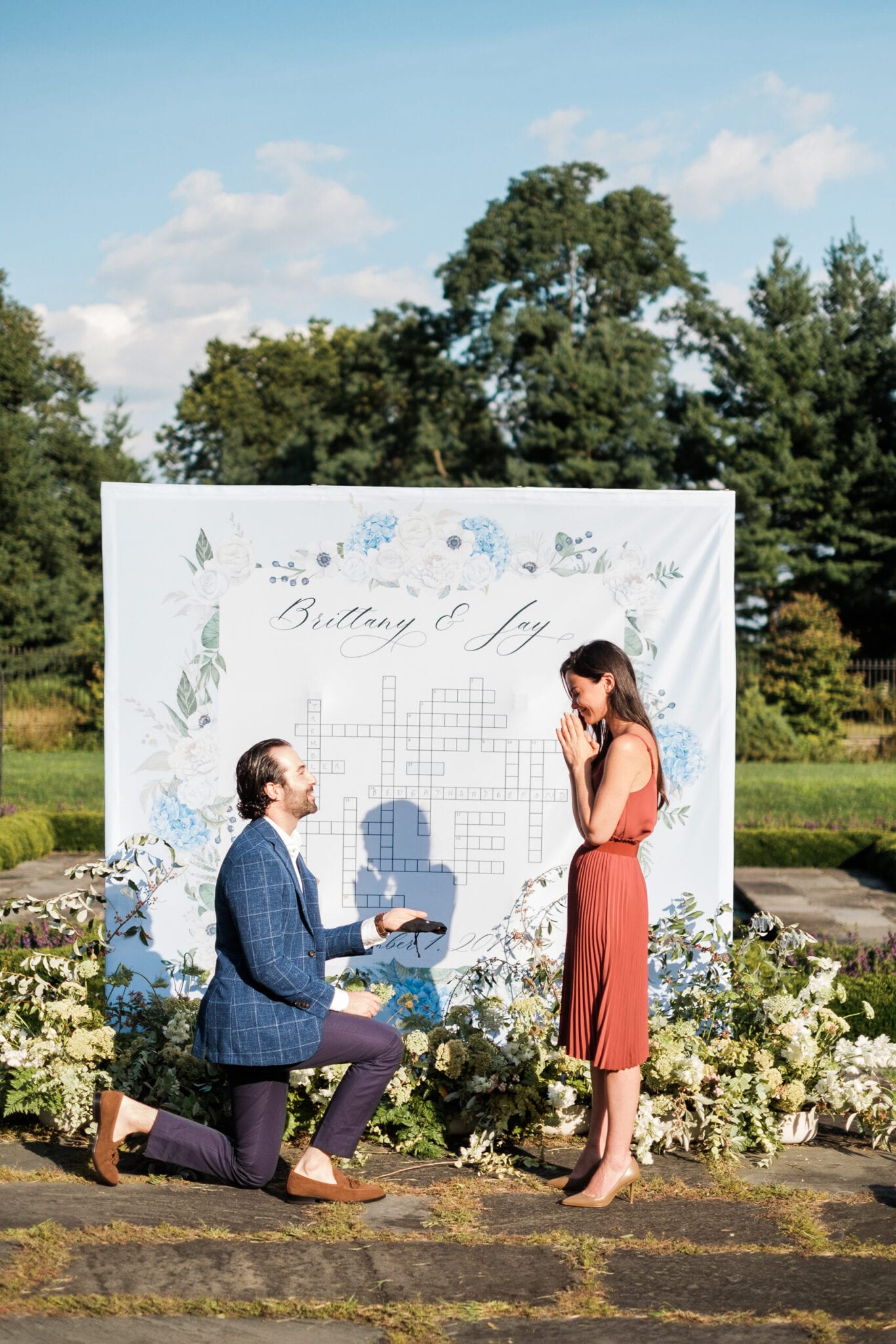 2. Proposal Idea: Crossword lover's wedding proposal!
Relationship Inspiration: Jay and Brittany love doing crosswords together, so we had an artist create a custom life-size crossword puzzle backdrop with clues about memories in their relationship. The last clue was a lead into his very special question "Marry Me?" set up a private estate near NYC.
Marriage Proposal Location: New York City, NY
---
INTERESTED IN A CUSTOM PROPOSAL IDEA FOR YOUR SPECIAL DAY AND/OR HELP PLANNING YOUR PROPOSAL?
---

3. Proposal Idea: A favorite TV show brought to life for this unique proposal idea
Relationship Inspiration:  Shawn's proposal idea highlighted Trisha's favorite show, Meteor Garden, by making a replica with the flowers and backdrop!
Marriage Proposal Location: Los Angeles, CA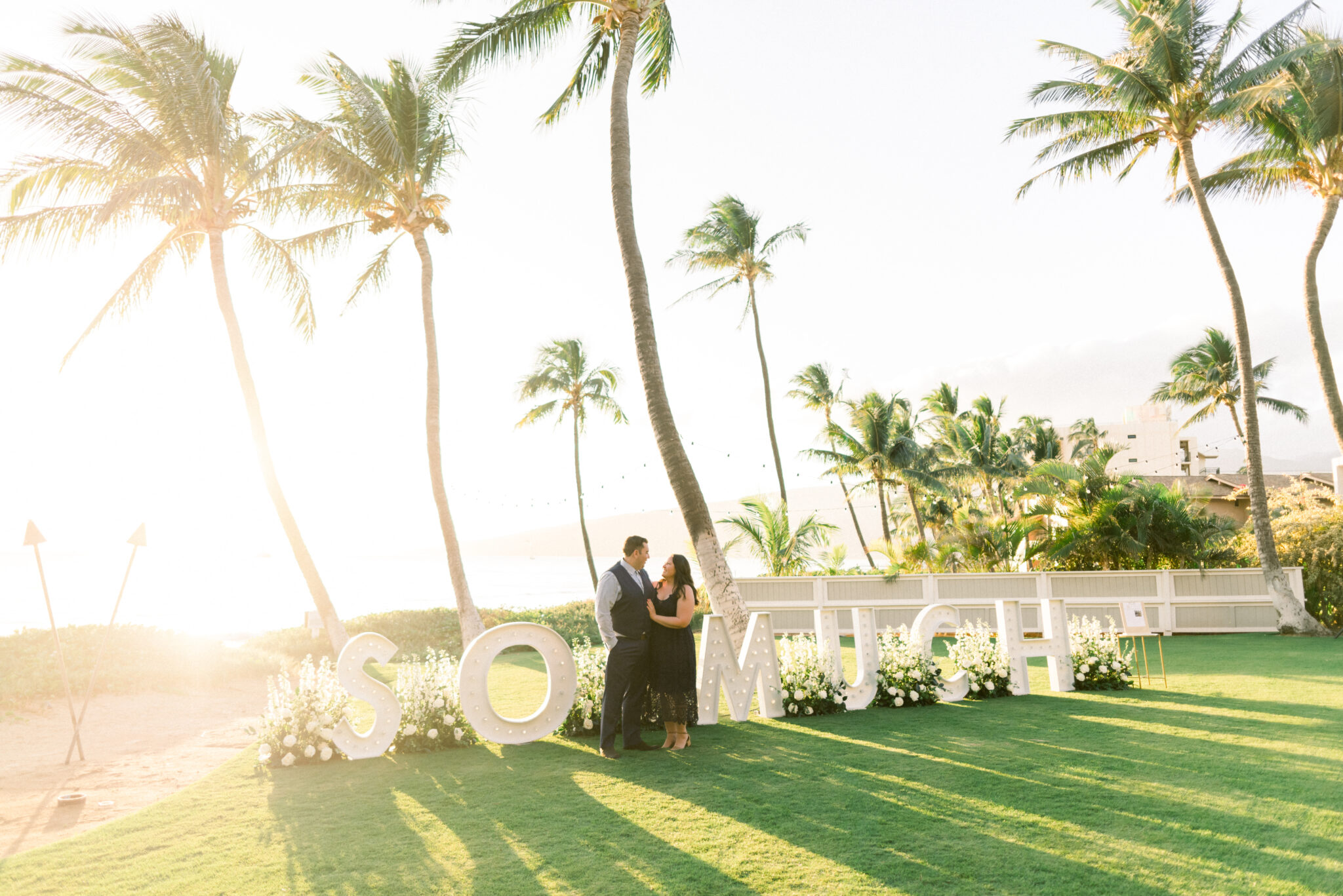 4. Marriage Proposal Idea: A romantic spin on the standard Marry Me? Letters.
Relationship Inspiration: Instead the marquee letters read "SO MUCH" which was a special saying between this adorable couple. To top off their tropical paradise stay, The couple got engaged at a private estate in Malibu for just the two of them!
Marriage Proposal Location: Maui Hawaii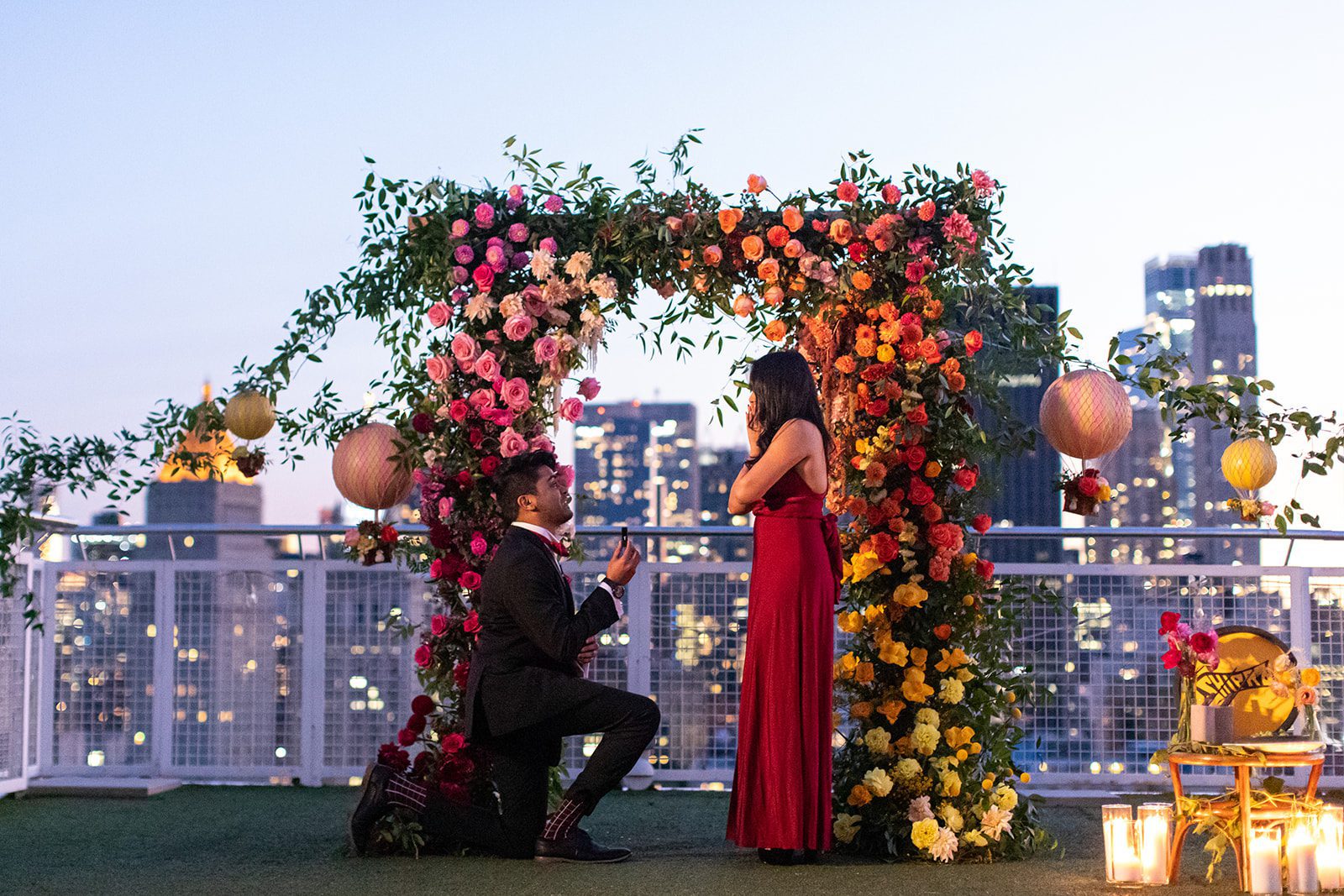 5. Proposal Idea: Love beyond the Skyline
Relationship Inspiration: Akshay and Shipra's love took flight with this hot air balloon meets luxury NYC rooftop marriage proposal. The couple toasted with her favorite crafted cocktail post proposal and celebrated with their closest family and friends.
Proposal Location: NYC, NY

6. Marriage Proposal Idea: For a true nature and wine lover
Relationship Inspiration: At a private luxury resort in Napa Valley, he wanted to keep it classic like her so the circle represented their unending bond as they stepped into their future together wine tasting in beautiful at vineyards and wineries.
Proposal Location: Napa, California

7. Proposal Idea: Her Favorite Hobby with A Twist
Relationship Inspiration: When a gal is obsessed with getting her nails done – we mean has a special nail technician and all the works, then we couldn't stop ourselves from helping him create a full-blown personal salon just for her. From the chosen nail colors to her custom monogram logo, this proposal idea came to life in such a fun and dreamy way in New Mexico.
Proposal Location: Santa Fe, New Mexico
 
8. Proposal Idea: A fairytale proposal inspired by Disney's Tangled
Relationship Inspiration: Her love of the iconic floating lantern scene was the inspiration for this proposal idea. The proposal took place at a private estate in San Francisco with ocean views which was the perfect blend of whimsical and modern love.
Proposal Location: San Francisco, CA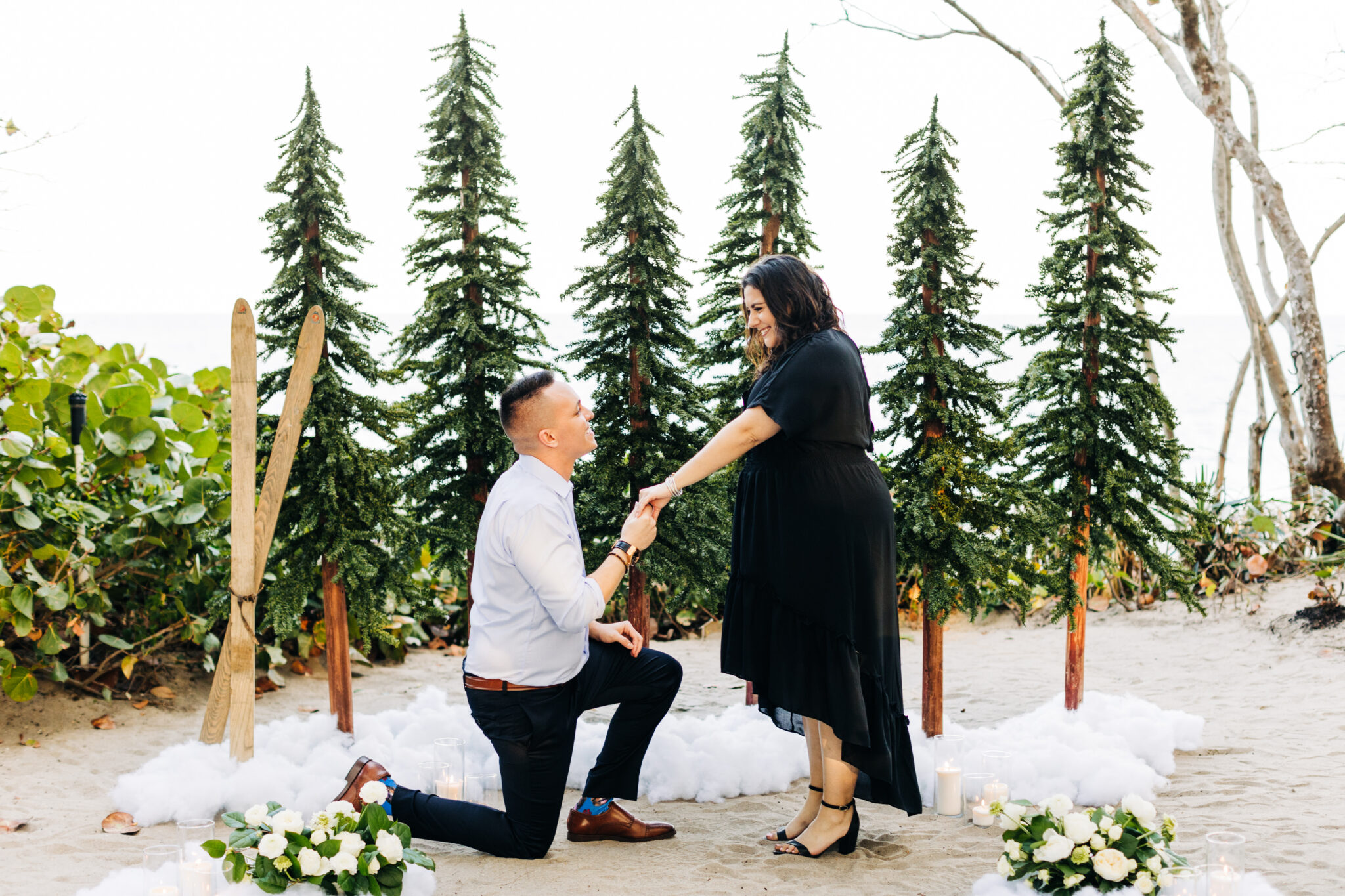 9. Proposal Idea: Bringing her favorite place to her!
Relationship Inspiration: Jacksonhole meets Florida beaches for this intimate proposal. To highlight one of their most beloved trips and memories, we brought the unexpected elements like faux snow and pine trees to this private sandy beach.
Proposal Location: Palm Beach, Florida

10. Proposal Idea: Ditching Cliché Rose Petals for a Meaningful Rose Petal Display
Relationship Inspiration: Instead of rose petals in the shape of the heart like he originally planned, we crafted the rose petals into the map of the world. Map markers highlighted their relationship travels and milestones at this beautiful outdoor venue in Dallas, Texas.
Proposal Location: Dallas, TX
"All I can say is WOW! I am absolutely blown away by your idea and I love it! I know Allysson will too! Thank you so much for such an expansive and intricate take on my original idea. I am all for this new direction. I can't emphasize enough how incredible this sounds!!" – Ndaba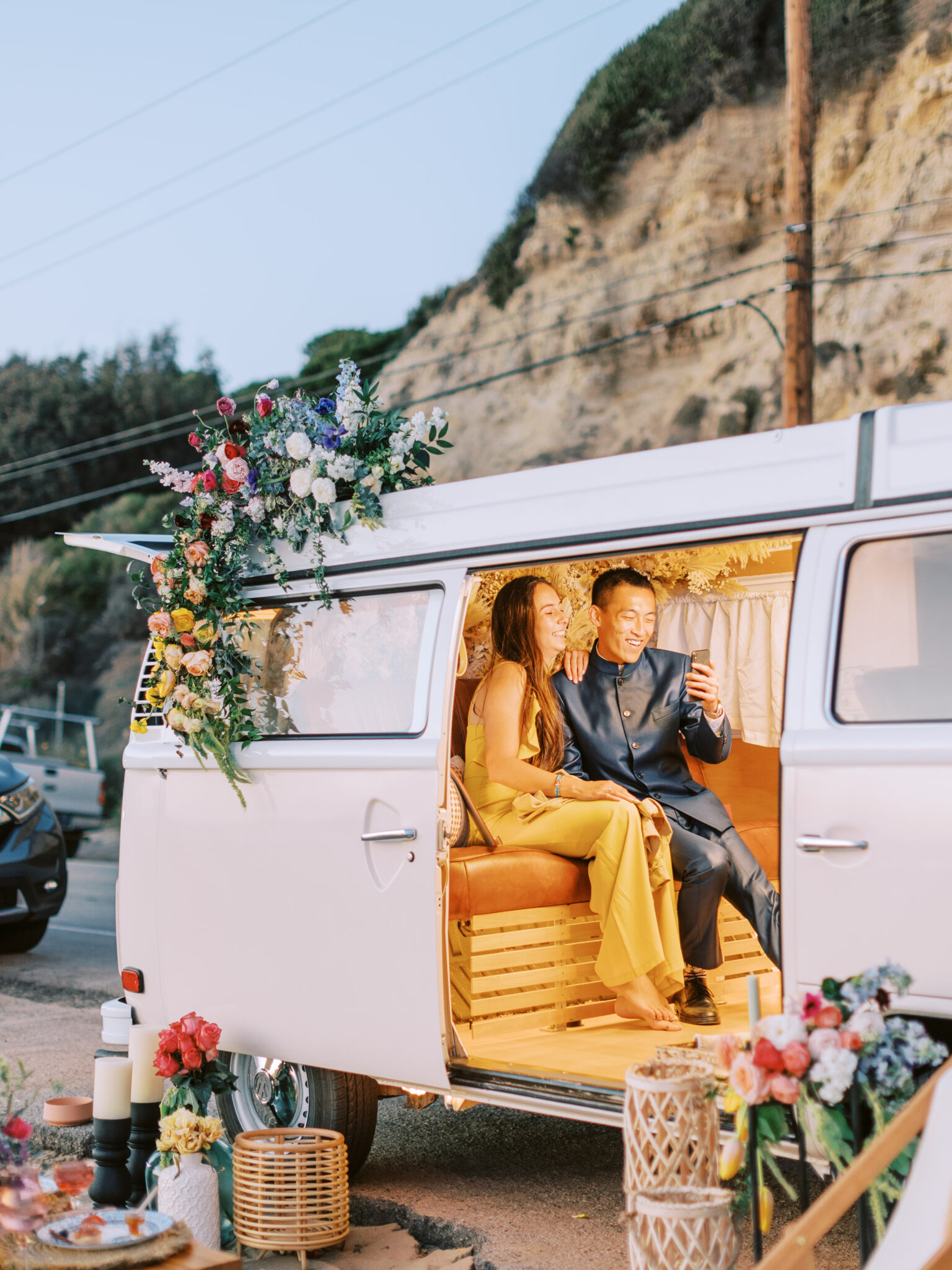 11. Proposal Idea: A Pink Vintage Bus + Photo Booth proposal for an adventure and travel guru.
Relationship Inspiration: Evelyn got quite the surprise proposal during their trip along the Southern California Coast where this adorable bus awaited their arrival for dinner and photos (the bus was actually remodeled to be a traveling photo booth). For a gal who loves all things beach and Instagram, this was epic.
Proposal Location: Orange County, CA

12. Proposal Idea: A Birthday Gal Turned Engaged Gal
Relationship Inspiration: A tribute to his Italian fiancée, Maria, and her love of limoncello, a private chef and a serenading musician, was the epitome of romance at this private Hamptons Beach estate. Maria thought they were going to celebrate her birthday, but it quickly became much more!
Proposal Location: Hamptons, NY

13. Bonus proposal idea because we could go on and on for days about personalized proposal ideas.
Relationship Inspiration: Kyra and Oscar's winter wonderland proposal in Park City, Utah on a serene snow covered deck while highlighting favorite memories through various ornaments was a tear-jerker.
Proposal Location: Park City, Utah
On one final note, if you're looking for a truly unique and meaningful way to propose, consider a vintage engagement ring as an addition to the experience. These one-of-a-kind rings have a history and charm all their own, making them a perfect way to show your partner how much you care. From the Art Deco era to the Mid-Century Modern period, a vintage ring is sure to be a treasured and sustainable piece of jewelry for years to come.
---
Excited to get started on your own custom proposal idea(s)?
Whether you are starting from scratch or have a few ideas but not a full proposal plan, Package 1 (our Custom Proposal Ideas Package) is created for those looking to add that extra special touch and thoughtfulness factor to her dream proposal, no matter your location.
What's included:
You receive two personalized wedding proposal ideas invented just for you, NOT from a stock list of ideas. Your custom ideas will be catered to your relationship, memories, location, budget, and timeline.
An experienced Yes Girls marriage proposal expert will put together a step by step "To-Do" list walking you through exactly how to set up your proposal, including the vendors and decor links we would personally recommend.
10-minute consultation with proposal planner included to review ideas and questions.
Package 1: custom proposal ideas | $499 (view more info here)
---
Get Started Below On Your Proposal!