On what was assumed to be a rainy day (prayers were answered!) The Yes Girls headed down to San Bruno, CA (near San Francisco) to set up an extremely unique and intricate marriage proposal. I can't say I've ever set up a maze for a proposal before Eric and Joanna's engagement! Eric wanted to surprise Joanna by using an inside joke/saying they share together…"Our love is perfect sometimes everything else just gets in the way." With that, The Yes Girls helped Eric create a maze for Joanna to walk through side by side with her man as a representation of their little saying and a reminder that any obstacles that come they will always get through it together. Within the maze, memorabilia in suitcases were framed; this symbolized moments together that were "framed" in his mind forever. Furthermore, maps were placed at every stop indicating the location that specific memory took place!
Here's how the maze was laid out… meeting Joanna in junior high (the red lockers and their yearbook…so cute right?!), their first run in after years gone by (the menu and her favorite virgin mojito), trying new things together such as cake decorating and going to high tea, all the places they want to travel together such as Africa for a safari and the Maldives where she is hoping he'll take her on their honeymoon, and lastly her engagement ring, favorite flowers and a map that marked the exact location he was proposing!
There are soooo many more thoughtful and intentional details in this proposal I can go on and on. Luckily details were captured in the video taken by Eric's friend, Eugene, from Marmalade Sky Films. Fun fact: they all went to junior high together. Brilliant work by Marmalade Sky Films and a special thanks to One True Love Vintage Rentals for her adorable red locker and suitcases that could not have been be more perfect for this proposal! This proposal truly just makes me smile; such a sweet couple! Here are some photos I took for fun of all the details.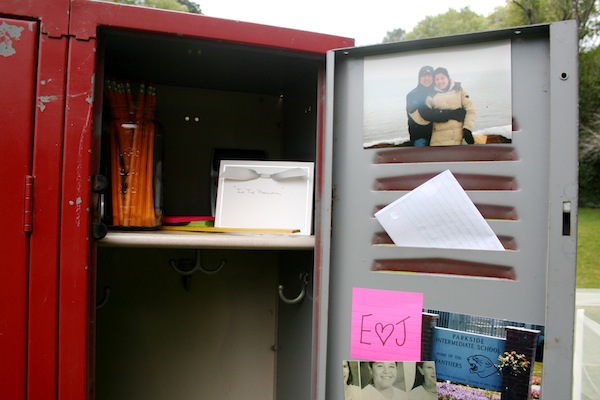 For the perfect ending, a few photos from their engagement photos immediately after with Marmalade Sky Films.
Love,

Video For Iphones:
Eric & Joanna – Proposal from Marmalade Sky Films on Vimeo.


Want to create her dream marriage proposal? We have the perfect way. Contact The Yes Girls to get started on your personalized marriage proposal, wedding plan, vow renewal, anniversary or date night today! We're so excited to work with you!