Alright y'all- Mother's Day is just around the corner (seriously, it's THIS SUNDAY!) so today we are sending out some sweet ideas for you to gift the mother in your life. Wether it's your loving wife, or your actual mother, these are easy Mother's Day gift ideas that won't break the bank! :)
Photo Gift: Most mom's (mine included) are a sucker for pictures of their kids! So why not get creative with the photos! Get her a personalized, photo cell phone case; or a personalized photo planner; or even better, a personalized photo mouse pad! Okay, maybe I was just kidding on that last one… but if my mom reads this today she will get a giggle out of it ;)
Jewelry: This is probably the most common Mother's Day gift, so be careful not to go too cheesy with it. I mean, I'm sure some moms out there would love a necklace with each of her kid's initials… but others, not so much. So if you're gonna go with this category, try thinking outside the box. Like a monogramed jewelry tray for her bathroom!
Home Decor: I love home decor! There is something about that just perfect piece of decoration that makes a room all come together that brings my heart so much joy! For Mother's Day this year, you could think about a personalized cutting board like the one pictured below; or you could go with a beautiful new wreath for her front door (score extra points if you make it yourself!); or a fancy name plaque like this one!
Gift Card: Okay I knew you men would be just waiting for this to be on the list so that it's "okay" to buy her a gift card, but here is the thing… it's not. What I mean by that is you can't just run up to Target and buy her a gift card. If you're going to go the "gift card" route it needs to be thoughtful and genuine. For example, your wife loves manicures? Great, go to her favorite salon/spa and buy a gift card in the exact amount for 5 manicures. That way you've at least put some thought and effort into this easy gift.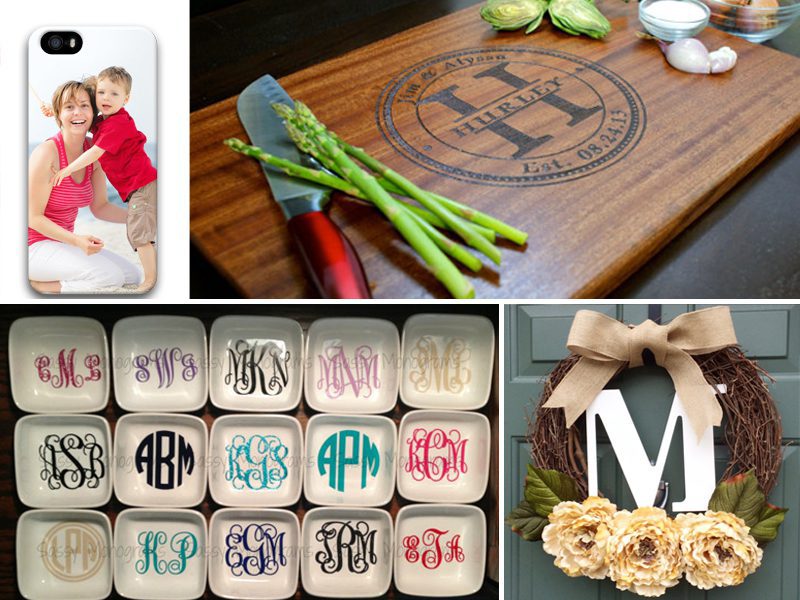 Photo credits: photo phone case ; monogramed jewelry tray ; personalized cutting board ; monogram wreath


Want to create her dream marriage proposal? We have the perfect way. Contact The Yes Girls to get started on your personalized marriage proposal, wedding plan, vow renewal, anniversary or date night today! We're so excited to work with you!